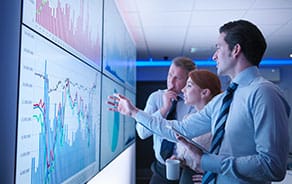 Euro slides as Italy agrees budget
Tria backs down: The Italian government finally reached an agreement on a 2019 budget draft during a late evening cabinet meeting last night.
In the end the heads of the two populist parties  Di Maio (5 Star) and Salvini (Lega) got their way, with Finance Minister Tria backing down on a more restrained budget. In the end the cabinet agreed on a 2019 deficit target of 2.4% of GDP - it was also revealed that the deficit would be maintained at this level for the following two years. Both Di Maio and Salvini were able to squeeze in a number of their election promises, with 5 star managing to include their 'citizens income' and the League including a tax cut for 1 million self-employed, whilst pension changes were also included.
Irish REITs: CBRE yield data
The latest property investment yield data from CBRE reveal some trends for Ireland's property market. While most asset classes are stable, there is some tightening in the industrial and office markets. Prime and Secondary Dublin industrial yields have each fallen by 25bps in the past month (to 5.25% and 7.75% respectively). Prime Cork (7.25%) and Provincial (10%) industrial yields were unchanged in the past month. Turning to office, while Prime Dublin CBD yields were flat at 4.00%, tightening of 25bps was evident across Secondary City Centre Dublin (to 5.00%), Prime South Suburbs (also to 5.00%) and Prime CBD Cork (to 5.50%). There was no change in PRS yields (Prime Dublin flat at 4.00%).
Dalata: Strong tourist numbers in the current operating environment
The latest Overseas Travel statistics from the CSO show strong growth in the number of trips to Ireland in the peak summer period. Trips to Ireland by overseas residents increased by 7.6% y/y in August, following a 12.5% y/y increase in July. In total, visitors to Ireland grew by 9.9% y/y in the two-month peak summer period and are 7.8% higher in the YTD. Visitors from all geographic areas are increasing, but the growth is greatest in the North American segment which has posted a y/y rise of 13.2% in the year to August. The number of European (ex-GB) visitors are +10.5% YTD and visitors from Great Britain are +2.5% YTD. For the first time in the current CSO series, the number of trips by European (ex-GB) residents is higher than by British residents in the year to August. Visitors from Other Areas (mainly Asia-Pacific) are +5.3% YTD. Against this backdrop, Dalata reported H118 RevPAR growth of 10.7% in Dublin and 8.1% in Regional Ireland.
Irish Banks: Bankinter enters Irish market through Avant acquisition
Spanish retail bank Bankinter has announced that it is acquiring Irish consumer finance lender Avant, through its purchase of Avant's Spanish parent company EVO Banco. Avant purchased the old MBNA credit card business in 2012, and currently has 151,000 Irish customers, with €280m in revolving card (AvantCard) and deferred payment receivables, and €66m in personal loans.
Irish Economy: Parliamentary arithmetic becomes even trickier
According to the Irish edition of The Times, a government backbencher, Peter Fitzpatrick, is set to resign from Fine Gael and become an independent TD (MP). There appears to be no turning back for Mr Fitzpatrick on this decision, as he did not attend last night's Fine Gael selection convention in Louth at which the party selected two candidates to contest the constituency in the next general election. The Times says that "his support in the [October 9th] budget is not guaranteed". Were the budget to not pass it would trigger an immediate general election, although given that the government is in cutting taxes and increasing spending mode we think this outcome is less likely than during the austerity years. However, the loss of Fitzpatrick will make the parliamentary arithmetic much trickier for the minority Fine Gael administration, which relies on a smattering of independent TDs and the acquiescence of one opposition party, Fianna Fáil, with whom it has a confidence and supply arrangement, to pass its policies. Adjusting for Fitzpatrick's departure, Fine Gael will have only 49 seats in the 158 seat lower house. It needs 57 votes to pass measures, assuming that Fianna Fáil abstains.
The party can rely on the 'Independent Alliance' group of four TDs (Shane Ross, John Halligan, Finian McGrath and Kevin 'Boxer' Moran) and independent Minister Katherine Zappone, while we think another up to another six independents (Sean Canney, Denis Naughten, Michael Lowry, Michael Harty, Noel Grealish and – possibly – Peter Fitzpatrick) are likely to support the government in key votes. The increased 'dependence on independents' arising from Fitzpatrick's departure leaves the minority government even more vulnerable. We have previously (see our last two Irish Economy Monitors) stated a belief that the government will go to the country next year in search of a stronger mandate. Analysis of election data going back 50 years suggests that there are only two credible windows for such a move – February or May/June. Next February is clearly out given the Brexit backdrop, but May 24 offers an intriguing prospect as European and Local elections will be held on that date. With Fine Gael enjoying a lead of up to 11pc over its nearest rival in the polls; its 32-33% polling numbers suggesting meaningful seat gains (it won 25.5% of the vote in 2016); and the holding of simultaneous elections offering synergies in terms of election spending and campaigning, might the Taoiseach decide to also hold a General Election on the same day? It is worth noting that following last night's convention in Louth, Fine Gael has now selected candidates to context 36 of the 39 Dáil constituencies in the next General Election.
October 15 deadline: The full budget will now need to be finalised ahead of a 15 Octoberdeadline for its submission to the European Commission. Key questions will now centre on the EU's response, as whilst a deficit target of 2.4% is below the 3% limit, Italy had previously committed to reduce the deficit given its large stock of outstanding debt (132% of GDP). The response from the ratings agencies will also be carefully watched, with Moody's (currently rates Italy Baa2, negative watch) having delayed its latest decision to October, in order to  take account of the budget. Italian bonds are trading lower this morning following the news, with the 10 year yield rising sharply by 16bps to 3.04%. Meanwhile futures on the FTSE MIB are pointing to a marginal fall at the open and the benchmark EUR/USD rate continues on its downward trajectory to hit two week lows of just over $1.1600.
UK GDP due this morning
In its first estimate of Q2 GDP, the ONS calculated that growth had doubled on a sequential basis to 0.4% from the 0.2% recorded in Q1. While this appears positive at first glance, the lack of a more pronounced rebound was disappointing given the double weather whammy resulting from the shift from snowy conditions in Q1 to temperatures at (or near) record highs in Q2. Subsequent figures suggest that the UK economy started Q3 on a firm footing. In July, GDP grew by 0.3% on the month after having risen 0.1% in June. Though this was supported by temporary factors which are set to fade over the remainder of Q3, we believe July's GDP outturn is consistent with Q3 growth of 0.5-0.6%. The figures will be released at 09.30 this morning.
Economic Releases
09.30 UK GDP
12.40 EC ECB's Lane speaks
13.30 EC CPI
13.35 EC ECB's Praet speaks