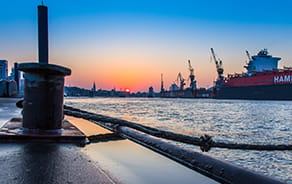 European immigration crisis back in focus
After Spain offered safe harbour to an African migrant ship with hundreds of sub Saharan immigrants that Italy turned away days previously, it seems that the European immigration question could now begin impact Germany political stability.
German Interior Minister, head of the CSU party and one part of the current tri-party German coalition, Horst Seehofer, has put the German immigration issue right up to German Chancellor, Angela Merkel. He has insisted that she starts talks (by the end of the month) with other EU governments regarding repatriation of migrants to the countries that they were first registered. Mrs. Merkel yesterday conceded to his timeline demands and has agreed to report back on July 1st, it's highly unlikely she will have any kind of working solution at that stage. This whole thing backs Mrs. Merkel in a tight spot and it's hard to see how she will come out of this situation unblemished, given her two options; 1) Firing Mr. Seehofer which will result in a break-up of the coalition or 2) conceding to his demands which will result in some serious political reputational damage given her ardent stance on open borders.
 
EU Withdrawal Bill update
 
Amendments to the Bill were debated in the House of Lords yesterday. Peers voted against the government, backing an amendment to give MPs a 'meaningful vote' on the final Brexit deal. The government's own amendment had favoured a 'neutral' motion, which would see Parliament debate but not able to amend, the final Brexit package. The Lords vote was 354-235 in favour of the 'meaningful vote' and means that the Lords amendment, requiring an 'active' meaningful vote will be sent to the Commons for debate tomorrow. There looks to be a good chance that the government is outvoted, with Tory-rebel MPs led by former attorney-general Dominic Grieve, frustrated that PM May did not stick to the offer as they saw it last week, that the government's amendment would give Parliament a substantial say. The major concern for the government is that giving Parliament a bigger say would weaken its negotiating position with Brussels, with Parliament unlikely to accept a 'no deal' outcome such that the government cannot threaten to walk away from talks completely. The House of Commons is scheduled to debate the Bill from midday onwards tomorrow, after Prime Minister's Questions.
 
Markets react to tit for tat tariffs
 
Chinese stocks are currently close to 5% down today after the tit for tat tariff impositions by the US and China (Chinese markets were closed yesterday) and as President Trump threatened to impose a 10% tariff on a further $200bn of Chinese goods. The sanctions would take effect "if China refuses to change its practices, and also if it insists on going forward with the new tariffs that it has recently announced," the President warned. Beijing responded with a warning that it would react with 'qualitative' and 'quantitative' measures and that it would 'fight back firmly'. The Shanghai composite index is at a two year low. Meanwhile the US dollar is down overnight, dropping just over .4% against the euro to 1.1580.
 
Origin Enterprises: Expanding into Brazil
 
Origin Enterprises this morning announced that it has taken a 65% stake in Brazilian-based agricultural company Fortgreen with a put and call option to acquire the remaining 35% at future unspecified dates. It has also purchased a 20% stake in Ferrari Zagatto, a similar business under the same ownership. While Fortgreen is primarily a B2B distribution business at the higher end of the market in terms of products and, therefore, margins, Ferrari is more B2C with a greater grain trading element, hence the lower stake. Both are based in Parana state in which holdings tend to be between 300 to 1000ha in size (small for commercial agriculture in Brazil). Origin has paid €41.3m for its 65% stake in Fortgreen, which reported revenue and adj. EBITDA of €28.4m and €9.3m, respectively, in 2017.
 
Origin Enterprises: Q318A impacted by weather but guidance retained
 
Given the well-flagged prolonged winter weather conditions over the reporting period, Origin Enterprises this morning issued Q318A revenue numbers 4.0% behind Q317A at €526.7m despite a 6.2% contribution from acquisitions. LFL revenue dipped 7.8% on reduced demand given the weather impacted delay to seasonal activity. Ireland and UK LFL revenue was down 5.5%, with reported revenue down 1.1% (acquisitions +6.4%; FX -2.0%) primarily driven by a delayed start to in-field crop drilling and maintenance activity. Continental Europe reported revenue down 5.2% where a 7.1% contribution from acquisitions was more than negated by an 8.5% LFL decline and a 3.8% FX headwind. Again, severe weather conditions and temperatures resulted in delayed spring growth, disrupting input applications. Management has maintained guidance of diluted EPS in the 47.5c to 48.5c range as cropping activities picked up at the end of the quarter and have continued to strengthen in Q4 to date
 
ICG: Concludes additional €80m financing facility with the EIB
 
ICG has announced that it has concluded an additional financing facility with the European Investment Bank ("EIB"). This additional facility comprises a committed €80m drawing limit and is available for drawing during July 2018. Repayments are on an amortising basis over a 12-year term. The interest rate applicable to the facility has been fixed at 1.616% per annum. The facility will be used to finance the construction of the second new vessel for ICG's Irish Ferries operations announced in January and which is due for delivery during 2020. This vessel when delivered will be the largest cruise ferry in the world in terms of vehicle capacity and provide the group with an effective 50% increase in peak freight capacity. The above facility is in addition to the suite of financing agreements announced late last year and illustrates once again how the Group is able to secure very attractive financing terms.
 
PTSB: Citigroup hired to help with split mortgage solution
 
Today's Irish Times reports that PTSB has hired Citigroup to help refinance €900m of split mortgages, thereby removing them from its balance sheet. PTSB initiated the disposal process for what was originally a €3.7bn portfolio of non-performing loans ('Project Glas') back in February, but, amid significant levels of media and political criticism, has since downsized this portfolio to €2.2bn, with restructured owner occupier split mortgages in particular now excluded from the proposed disposal. The BTL portion of the portfolio is also believed to have been reduced due to a stronger than expected take-up of their Voluntary Surrender scheme being offered to BTL borrowers. As such, the underlying loans contained in the portfolio up for disposal remain mainly owner occupier in nature. News of a Project Glas sale is expected by the time that PTSB releases its H1 results on August 1st. According to today's paper, the restructured owner occupier split mortgages will be dealt with by way of an RMBS transaction, with September seen as the likely timing for this. In order to move the split mortgages off the group's balance sheet, a >50% equity share in the SPV holding the loans would have to be sold to third party investors, although PTSB will continue to service the loans.
 
Ferguson: Strong Q3 driven by the US once again
 
Q318 results show Group LFL revenue growth of 7.1% vs 7.3% in Q2. Trading profit was +17% to $356m. The trading margin was +40bps to 7.0%. Margin expansion was supported by the gross margin +40bps to 29.3%. Management indicates that organic growth in the current quarter is broadly in line with Q3 and that it is well positioned for a successful outcome for the year. Net debt now stands at $260m before the Group pays its special dividend of $4 per share ($1bn) on 29 June to shareholders who were on the register on June 8. In the US LFL sales were +10.6% vs +9.1% in Q2 with price inflation coming in at about 3%. Residential continues to grow well, Commercial is growing but at a lower rate than Residential, and Industrial continues to recover. The trading margin was +60bps to 8.1% and management indicated that gross margins improved. In the small UK division LFL sales were +0.7% vs +2.1% in Q2, with price inflation of about 3%. Organic revenue fell by 10.9% due to the closure of branches and the exit of low margin wholesale business as previously flagged. The trading margin declined 70bps yoy to 3.7%, but was +120bps on a sequential basis. In Canada and Central Europe LFL sales were +6.5% vs 7.8% in Q2, while the trading margin was +20bps to 3.2%.
09.00 EC ECB's Draghi speaks

10.00 EC Construction Output

12.00 EC ECB's Lane speaks

12.00 US Fed's Bullard speaks