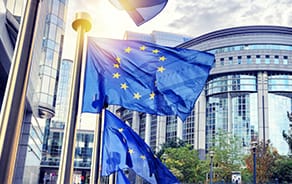 European political turmoil weighs on the euro
After Italian President Mattarella rejected the appointment of Paolo Savona as Finance Minister, the Five Star and Lega (Nord) alliance handed back their mandate to form a government.
President Mattarella has now asked Carlo Cottarelli, a former IMF official, to serve as a stop-gap Prime Minister. However it is very unlikely that Cottarelli will win a vote of confidence in parliament, which implies that a fresh set of elections will follow soon, possibly in September. The danger here is that these events will turn any election into a de facto poll on euro membership, even though constitutionally it is very difficult for Italy to leave. Opinion polls show that support for Lega has grown since March's election, while Five Star's standings have slipped. Markets reacted negatively to this elevated uncertainty yesterday with the benchmark EUR/USD rate hitting nearly seven month lows of just below $1.16 this morning. Italian 10y sovereign spreads with Bunds have widened by nearly 30bps to 234bps and the MIB index fell 2.1%.

Spain

Spanish PM Mariano Rajoy is set to face a vote of no confidence in his leadership this Friday. The Socialists have put forward the vote after a corruption case ruling last week which included members of the PP (Popular Party). However Friday's vote will be preceded by a debate Thursday over whether the Socialist leader, Pedro Sánchez, should replace Mr Rajoy. That proposition is unlikely to be supported by enough by other parties, particularly Ciudadanos or by a grouping of other parties, a "Frankenstein alliance" of regional nationalists and the far-left Podemos. As such, with opposition parties feuding over how to top Rajoy's government, Mr Rajoy may well survive the week. Even so, there now is now a clear effort underway to see Rajoy's government removed/replaced and as such, alongside political issues in Italy, new elections in Spain now look increasingly likely. Alongside Italian markets, Spanish stocks weakened yesterday too and Spain's government bond yields continued to rise, with the 10-year up to 1.53% (highest since February).

EUR/USD approaches strong technical support

As European markets opened (after the UK and US holiday weekends) and digest the not particularly savoury European political situation, it's no real surprise that a fresh bout of euro selling greeted us as we sat at our desks this morning. As is the norm, markets tend to focus on the benchmark EUR/USD rate, particularly as it is now approaching some key technical support levels. With a combination of softer Eurozone data (more dovish ECB), stronger US data (more hawkish Fed) and now a shaky European situation, the pair has had an almost straight line (over 600 point) drop just above 1.24 in less than six weeks. FX markets will now be keenly eyeing the early November 2017 low of 1.1554 as a key support level for the beleaguered pair. Whatever way the Italian and Spanish political situations pan out over the next few weeks/months, a EUR/USD rate of just below the 1.16 level this morning should prove hugely attractive to dollar sellers particularly when compared to an average (previous) six month rate of just over 1.21.

Frutarom: Q118A release, meeting on IFF takeover pending


Frutarom issued Q118A results this morning, reporting a 44.3% increase in reported EBITDA (before nonrecurring expenses and on a constant currency basis) to $80.4m from a 27.2% increase in revenue to $384.8m. At a divisional level Flavors grew operating profit 28.9% to $46.3m from a 28.3% increase in revenue to $281.5m (Investec $264.5m). Speciality Fine Ingredients grew operating profit by 80.4% to $16.1m from a 29.9% increase in revenue $86.7m. Management notes that on 07 May 2018 Frutarom signed a merger agreement with IFF on completion of which Frutarom will become a wholly-owned subsidiary of IFF. It does caution that before the convening of the shareholder meeting and before realisation of the terms in the agreement there is no certainty that the merger will be approved. The General Meeting will be convened after a detailed report is circulated to shareholders in the "near future".

Irish Economy: Positive retail sales outlook supported by rising earnings 


Two releases from the CSO provide clues on the health of the Irish consumer. To start, average weekly earnings were +2.4% y/y in Q118 and now stand at €742.19. On a seasonally adjusted basis, average weekly earnings were +1.1% q/q in the quarter, helping to grow the cumulative increase from the Q311 trough to 7.2%. The CSO data show that while economy-wide earnings rose 2.4% y/y in Q1, the increase was far from uniform. ICT wage growth is running at 7.6% y/y, reflecting the buoyant conditions in the technology sector, with the next strongest wage growth in Financial Services (+4.9% y/y, likely reflecting bonus payments). Some of the public sector dominated areas have seen strong headline growth – Education, Health & Social Work and Public Administration & Defence earnings were between 3.5% and 4.6% above year-earlier levels in Q118, helped by the reversal of crisis-era paycuts under the terms of the Lansdowne Road Agreement. Most other areas saw pedestrian growth of c. 1% y/y, with the only area to record a decline in Q118 being Administrative & Support Services, -1.1% y/y (mix effects have likely driven this outcome). Elsewhere, retail sales bounced back in April following the disruption caused by the weather events in March. Headline retail sales data from the CSO show very strong monthly growth (+1.5% in volume terms, +6.8% in value terms). This follows the declines of 1.9% m/m (volume) and 4.8% m/m (value) recorded in March as a result of the inclement weather. On an annual basis, sales were +3.8% and +4.8% in value and volume terms respectively, while core (ex-motor) sales were +1.8% and +3.8% on the same basis. Data for the 13 different segments unsurprisingly show that consumer discretionary areas enjoyed the biggest bump to sales in the month. Furniture & Lighting volumes soared 13.2% m/m, while fuel volumes rose 5.6% m/m as motorists didn't have to contend with snow and ice as they did in March. With unemployment having fallen to a 10 year low of 5.9%, we expect to see the pace of wage growth to continue to pick up – it was 1.1% in 2015, 1.3% in 2016 and 2.0% in 2017. This requires careful monitoring from a competitiveness standpoint. Elsewhere, the monthly retail sales data are clearly distorted by weather effects, but our sense has been (and remains) that 2018 will be another strong year for Irish consumer spending given the positive momentum in employment and labour earnings noted above. Retail sales volumes were +4.4% y/y in Q118, with the value of sales +2.1% y/y. 


IRES/Housebuilders: CBRE yield data


The latest property investment yield data from CBRE shows a broadly stable overall picture for June, save for the multi-family residential segment in Dublin, where yields compressed 25bps to 4.00% in the month. CBRE says that demand in the build to rent segment has been "boosted by investors keen to avoid hedging risk by investing in Euro-denominated jurisdictions with particularly strong demand for core opportunities and large lot sizes". There have been a number of high profile PRS deals in Dublin in recent times (with the likes of IRES and Irish Life picking up apartment assets).

Economic Releases

11.30 EZ ECB's Mersch Speaks

14.30 US S&P/CS HPI Composite

15.00 US CB Consumer Confidence

17.30 EZ Lautenschlaeger Speaks