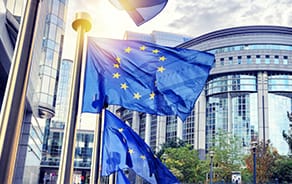 Eurozone inflation rises modestly to 2.1%
Yesterday morning's eurozone figures presented a mix bag of outturns.
On the inflation front headline HICP inflation firmed marginally to 2.1% in July from June's print of 2.0%, keeping inflation at or above the ECB's target of 'below, but close to 2%' for the third month. Core inflation (ex food, energy, alcohol and tobacco) also strengthened to 1.1% from 0.9%, but remained within the 0.8%-1.1% range it has been in for the last year. Both headline and core inflation figures were firmer than expected, with consensus being for a steady reading of 2.0% for headline inflation and for a rise to 1.0% for 'core'. GDP numbers were released at the same time and were a touch disappointing, with euro area GDP growth slowing in Q2 to +0.3% qoq from the +0.4% qoq pace recorded in Q1. GDP growth in Q1 had witnessed a notable slowing from Q4 2017, driven at least, in part due to special factors (winter weather, strikes) and as such consensus expectations had been for some stabilisation in Q2, as the impact of these factors began to dissipate. However, whilst President Draghi had suggested that some of the sluggishness might persist into Q2 for some countries, the actual slowing in GDP growth in Q2, may again raise some questions over the growth outlook. Following the release, markets largely ignored the numbers, with EURUSD remaining within a 1.1720-40 range and 10-year German Bund yields holding around 43bps.

FOMC policy meeting

Just to note, the FOMC will announce its latest policy decision tonight at 7pm. Given June's meeting raised the Federal Funds Target Rate range by 25bps to 1.75-2.00%, there are no expectations for any change in Fed policy. With tonight's decision only set to be accompanied by the FOMC statement (there is no press conference following this month's meeting), there is likely to be little for markets to digest. Particularly given that Chair Jerome Powell's testimony before Congressional committees in July, mirrored the assessment of the economy in June's FOMC statement. As such there should be no real surprises or firm policy clues in tonight's decision.

China PMIs

The 'official' Chinese PMIs released yesterday eased back in July. On the manufacturing front, the decline was relatively modest from 51.5 to 51.2, close to market expectations of 51.3. The decline on the non-manufacturing front was from 55.0 to 54.0, disappointing against market expectations for a more steady 54.9. However, neither are seen as soft enough to elevate China growth concerns. In any case, the authorities in China said last week that they are looking to enact "more proactive, proactive fiscal policy" to provide support to the economy.
US inflation report

US inflation figures for June were softer than expected, with the Fed's preferred measure, PCE inflation holding steady at 2.2% (May's estimate was revised down to 2.2% from 2.3%). Core PCE inflation was also softer than expected, again holding steady at 1.9% (with the outturn for May revised down to 1.9% from 2.0%). Consensus expectations had been for PCE inflation to stand at 2.3% and core at 2.0%. Adding to the softer tone was the Employment Cost Index, which saw growth in employment costs slow to +0.6% in Q2 from +0.8% in Q1, suggesting there were still few signs of a significant pick up in wage pressure. Finally personal income and spending numbers were in line with expectations, both recording growth of +0.4%, although there was a positive back revision to the personal spending numbers.

FBD: Strong H1 results despite Storm Emma hit

FBD has delivered a strong H118 PBT of €18.4m (H117 €11.9m), with Gross Written Premium +1% y/y to €192m (H117 €190m), this heavily supported by a further drop in the loss ratio to 63.3% (H117 70.5%). The improvement in the combined operating ratio to 88.6% (H117 93.1%) includes a positive prior year development of €6.0m helping to net off the Storm Emma net costs of €6.6m. Annualised total investment return of -0.4% (FY17 +0.7%) is likely related to the increased exposure to risk assets (now c.10% of investment portfolio) and the low interest rate environment, while the H1 annualised ROE was 12%. Basic EPS of 46c for H1 (H117 30c) and an improvement in the NAV to 800c. However, no outcome yet to the internal investigation into a complaint made against the CEO Fiona Muldoon so that may still act as a bit of a drag on the stock. A reminder – the Fairfax convertible note (strike €8.50) mandatory conversion window opens up in September, so if the share price trades above the strike for a period of 6 months (which seems highly likely), Fairfax will mandatorily convert the bond into a c.19.2% stake in Q119.

IRES: Slow and steady wins the race

IRES will release its H118 results on Friday 3 August. May's trading update leaves little room for surprises in terms of the underlying performance, with favourable market conditions continuing to lend support. During the period the group continued to make good progress on expanding its portfolio, while its strong balance sheet and development pipeline leaves it positioned for material growth in the future. During H1 the group acquired 128 apartments at Hampton Woods for €40m and began taking delivery of 99 units at Hansfield Wood (the last of which should transfer to the group at the end of Q318). On completion, these deals will increase the portfolio size by c. 9%. Apart from inorganic growth, market conditions remain supportive. CPI data show that rents are +2.9% in the ytd, while the supply of units available to rent in Dublin (where all of IRES' portfolio is located), is 62% below the long-term average. This mismatch is unlikely to be resolved in the near-term, with trailing 12 month national residential completions of 15,193 units well below the 30,000-50,000 range of estimates of annual new household formation. One thing to note is that IRES' shares in issue increased by 3% in H1 due to the exercise of options. As these were settled for cash this shouldn't impact headline (basic) EPRA NAV, but it will moderate reported growth in EPS and (mechanically) DPS. However, the proceeds also lift IRES' investment capacity, which could lead to accretive deals in time. Please see our report, "Slow and Steady Wins the Race", published yesterday, for more information.

PTSB: Project Glas sale the first sign of tangible NPL progress

PTSB yesterday announced the sale of €2.1bn in non-performing loans (NPLs) to two Irish-domiciled affiliates of US debt investor Loan Star. With a €1.3bn cash consideration, the transaction is flat to provisioning, and releases c.200bps of CET1 through a decline in RWAs. Importantly, it reduces the NPL ratio from c.25% of gross loans to c.16%, easing regulatory pressures. The loans are to be purchased by Start Mortgages and LSF Irish Holdings 97 DAC, two Irish affiliates of US debt investor, Loan Star. The disposal process began in February when a €3.7bn portfolio of NPLs dubbed "Project Glas" was identified for disposal. Following critical political and media reaction to the potential disposal of some owner occupier mortgages within the portfolio, a downsized €2.1bn portfolio was eventually selected for the formal sales process. PTSB last month announced a delay in its interim results announcement, to August 29th, in order to try and include details of some of the transactions relating to its disposal of NPLs. The Project Glas portfolio that has been sold includes c.3,300 BTL loans and c.7,400 owner occupier loans totalling c.€2.1bn in par lending, with one third of the owner occupier loans deemed to be not cooperating, and almost half either refusing to accept or unable to stick to loan "treatment" (restructuring) terms. PTSB will receive €1.3bn in cash consideration for the portfolio, a more positive development than the market (somewhat) had expected, given the potential for sizeable disposal losses. This transaction is flat to provisioning, and will release 200bps of CET1 through a reduction in RWA, also reducing the NPL ratio from c.25% to c.16%. However, the near term management target remains 10%, the minimum level that is likely required by the regulator to show progress.

Dalata: 9% VAT rate to increase in 2019?

The Department of Finance yesterday published a review of the reduced 9% VAT rate that applies to hospitality services in Ireland which seemingly opens the door to a potential increase in Budget 2019. The review notes that the estimated cost of the lower rate was €490m last year and the scale of the costs since its introduction when measured against its benefits points to "significant deadweight". The report also notes that demand in the sector "is not expected to be materially affected by a rate increase". The government lowered the VAT rate from the standard 13.5% for certain goods and services in the hospitality sector (including accommodation and food services) during the depths of the economic recession in 2011. Initially introduced as a temporary measure until 2013 to attempt to stimulate demand in labour intensive tourism-related sectors, the 9% rate has been maintained in each government Budget since then. While this review could be seen as giving political cover for a rate increase in October's Budget, we would also note that there was much speculation on the potential for a rate increase in advance of Budget 2018, but the Minister for Finance ultimately adopted a "no change" strategy. While a higher VAT rate for the sector would be unhelpful, STR data indicates that Dalata continues to benefit from strong growth in the hotel sector in Ireland.

Irish Economy: Manufacturing PMI moderates to 56.3 in July

The latest Investec Manufacturing PMI report shows that sector activity continued to expand at a brisk pace in July. The headline PMI of 56.3 was slightly below June's five month high reading of 56.6, nonetheless it is comfortably above the series average. We also note that a number of panellists reported that the recent hot weather had impacted output and new business (either to the upside or the downside), so we would not necessarily read too much into the monthly change in the headline PMI. Today's report shows continued strong growth in New Orders, although this outcome seems to have been driven more by domestic demand as the rate of increase in New Export Orders cooled to a three month low (signalling the second-slowest pace of growth in the past 12 months). Elsewhere, for a fourth successive month Backlogs of Work recorded only a slight uptick, which is likely explained by yet another decline in Stocks of Finished Goods (the fifth in as many months), as manufacturers utilised inventories to help meet client orders. Companies also took on additional staff in July, extending the sequence of above-50 readings for that component of the release to 22 months. Turning to margins, we note an acceleration in the rate of growth in Input Cost inflation, which panellists attributed to higher prices for fuel, oil and plastics in the main, although US tariffs were also credited by some respondents for contributing to higher costs. Firms responded to all of this by raising Output Prices, although this (combined with volume growth) failed to prevent a sixth successive decline in the Profitability index. While the forward-looking Future Output index moderated to an eight-month low, it remains well above the 50 mark, signifying strong optimism by panellists. Other signs of confidence include the build-up of Stocks of Purchases (for a fifth successive month) and the Quantity of Purchases which, while slightly lower than what was recorded in June, was still the second-highest reading seen in 2018 so far. While the international backdrop has become slightly more uncertain in recent times, we think the upbeat stance by manufacturers on the outlook remains warranted.

Economic releases

09.00 EC Manufacturing PMI
09.30 UK Manufacturing PMI
12.00 US MBA Mortgage Applications
14.45 US Manufacturing PMI
19.00 US FOMC rate decision