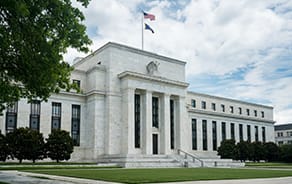 Fed happy to proceed with gradual tightening path
The minutes to the FOMC's March policy meeting, at which it opted to raise the Federal funds target rate by 25bps to 1.50-1.75% were published last night.

Much like the tone of the statement they showed a committee that was broadly optimistic about the outlook for the US economy and content to continue along a gradual policy tightening path. Despite concerns over a possible trade war which the committee judged added downsides risks to the forecasts, overall the FOMC still saw the balance of risks to its projections as in line with the average of the last 20 years. Of course, developments on the trade front have moved on since the March meeting, but comments from Fed officials in that time have continued to express the view that they hope the scale of the trade dispute will recede and not materially affect US growth. The minutes also highlight the modest upgrade to medium-term projections for GDP growth, which reflected the expected boost to GDP from the Federal budget agreement enacted in February. In terms of opinion on the FOMC on the where policy should be set going forward, 'Almost all participants agreed that it remained appropriate to follow a gradual approach to raising' whilst 'several' also warned that it would likely become appropriate at some point for the Committee to set the Federal funds rate above its longer-run normal value for a time (currently 2.9%).
Fed happy to proceed with gradual tightening path
Overall, the minutes suggest the FOMC remained happy to press ahead with its gradual tightening path, with a watching brief on trade discussions. The Fed's 'dot plot' implies that it judges three hikes this year is appropriate (just, it is a high three). Given the substantial discussion over the lack of spare capacity, particularly in the labour market, the FOMC could well be persuaded on the case for four, if pay growth and inflation pressures gather steam and trade war risks to growth settle back. On Wall St, amidst broader geo-political concerns too, stocks turned negative, having recovered from early morning losses. At the close, the S&P 500 was down 0.6%. US Treasury yields are now down at (2.78%), also primarily driven by the world political situation, whilst the USD after initially moving higher post-FOMC minutes, reversed out those gains.
UK output data disappoints
Figures from the ONS indicate that economic activity was hit in February amid the heavy snowfall seen towards the end of the month. Manufacturing output fell by 0.2% (mom) in February, in line with our forecast but disappointing consensus expectations for a 0.2% gain. This was the first month-on-month (mom) decline recorded in a year, while January's outturn was revised down to flat (from +0.1%) such that its record nine-month streak of sequential growth has been trimmed to eight. Overall industrial production fared better, rising 0.1% (mom) as colder weather prompted households to reach for the thermostat, thereby boosting utilities output. Meanwhile, construction saw the greatest hit from the weather, with February's decline of 1.6% (mom) building on the revised 3.1% drop seen in January. Some positive news came on the trade front with the headline goods deficit narrowing to a five-month low of £11.2bn in February (consensus and Investec -£11.9bn). Yesterday morning's disappointing figures pulled sterling about 30 pips lower against the EUR to a high of .8740, however has reverted slowly back to the lower 87p levels as we go to print this morning.
Grafton: RICS survey continues to point to a weak UK market however Selco, Ireland and Netherlands help
This morning's March RICS survey continues to suggest that activity in the UK's housing market is subdued. The headline national house price balance (i.e. the balance of surveys expecting property price rises versus price falls) remained unchanged at a joint five-year low of zero in March. Activity remained sluggish with new buyer enquiries having now declined at the national level for twelve consecutive months with the balance easing to -17% from -16% in February. Meanwhile, the new instructions balance rose to -17% in March, after last month's outturn of -23% was the lowest since July 2016 last month, with average branch inventory remaining at a record low of 42. However, a number of anecdotes point to poor weather early in the month having hit activity.
Bank of Ireland: Expansion of UK Post Office mortgage offering
Bank of Ireland has this week announced a widening of the distribution of its Post Office for Intermediaries mortgage product in the UK, expanding the current offering to a larger network of brokers and distributors, with this being rolled out by the end of June. The bank will also introduce two new products in tandem with this widened distribution. Bank of Ireland currently only distributes to intermediaries via the UK Post Office through the L&G Mortgage Club, but this offering will now be widened out to a larger network of intermediaries and distributors. The bank will also introduce a Family Link product which will allow borrowers to raise a 10% deposit against a close relative's unmortgaged property, this is specifically aimed at first time buyers struggling to raise their initial deposit given the difficulty in saving while also paying rent. The 10% deposit loan is interest free and repayable over five years, with many customers expected to do a full refinancing of the mortgage at that point having either built up savings/repaid capital against the mortgage, and/or having built up equity in the house through house price inflation. It will also roll out a new Retirement Link product that will allow retired customers over the age of 55 to take out an alternative form of equity release on their home, on either an interest only (up to 30% LTV up to the age of 80) or principal plus interest basis (up to 50% LTV up to the age of 90), and use a portion of their pension to fund this. The maximum loan under this product offering will be £500k.
Irish Economy: Central Bank upgrades growth forecasts
The Central Bank of Ireland (CBI) has today released its second quarterly bulletin of 2018. The document sets out, inter alia, the CBI's projections for the economy. At a headline level, it sees GDP +4.8% (was 4.4%) in 2018 and +4.2% (was 3.9%) in 2019. In a nutshell, the 40bps upgrade for this year and 30bps upward revision for 2019 reflect a more positive view on net exports and investment. On the latter, the CBI has raised its estimates for housing completions to 23,500 (was 23,000) units in 2018 and 28,500 (was 27,000) next year. The latest data from the Department of Housing show that completions, at 3,158 units, were +26% y/y in the first two months of 2018. Turning to the consumer, the CBI's forecasts show personal consumption growth of 2.9% (+20bps on the previous projection) in 2018 and 2.5% (unchanged) next year. This growth is supported by ongoing growth in employment (estimated at +2.4% in 2018 and +2.0% next year) and real earnings (HICP expected to be sub-1% in both this year and the next). Notwithstanding the positive revisions to growth in net exports, the CBI concedes that "Ireland is exposed to some prominent international tail risk factors", citing Brexit, US tax reforms, EU tax moves on digital activities, rising protectionist rhetoric and FX market volatility as threats.
Cairn/Glenveagh: Department of Housing report highlights high cost of housing delivery
The Department of Housing has published a report titled "Review of Delivery Costs and Viability for Affordable Residential Developments" which examines the challenges associated with delivering affordable housing. While the primary issues identified in the report are not a surprise, increased government focus on costs in the industry may ultimately lead to further action in this direction. Among the challenges highlighted in the report is the availability of affordable finance, which is described as a "significant challenge" with the main lenders "generally supportive of a limited number of strong "bankable" developers and builders" which acts as a constraint on housing supply. A skills shortage in key construction trades is also discussed, but the report also emphasises that the industry must look to innovate and reduce reliance on labour where possible. Land availability, and its cost, is also considered a constraint, particularly at the affordable end of the price spectrum, but the report recommends an enhanced and coordinated strategy to strategically manage State land to support the flow of this land to the private sector. Further efficiencies in the planning system could also be achieved, although those looking for a reduction in VAT rates on new housing (13.5%) will be disappointed – the report noting that this is "not achievable" given EU VAT Directive requirements.
IRES REIT: Appointment of a new non-executive director
IRES has announced the appointment of Tom Kavanagh as an independent non-executive director with effect from 01 June, subject to standard shareholder approval at the forthcoming AGM. Mr. Kavanagh is currently a partner at Deloitte and brings to IRES wide-ranging experience in professional practice as a business adviser, including time spent advising on the restructuring of property assets following the downturn here.
Economic releases
10.00 EC Industrial Production
12.30 EC ECB minutes of March meeting
13.15 EC ECB's Coeure speaks
13.30 US Initial Jobless Claims
17.00 EC ECB's Weidmann speaks