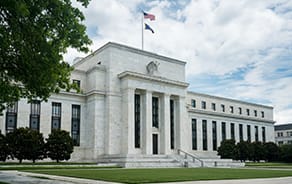 The Fed policy decision and forecasts will be released at 18:00 this evening and the press conference will start at 18.30.


The post-meeting press conference will be Jay Powell's first as Fed Chair. Ourselves and the market fully expect the FOMC to announce a 25bp increase in the target range for the Federal funds rate taking it up to 1.50-1.75%. We also expect the Fed to confirm that it is continuing with its balance sheet reduction plans where it will take the next step-up in its monthly QE roll off plans as of April. The pace of roll-off will rise from $20bn per month ($12bn Treasury Securities and $8bn agency debt and MBS) to $30bn ($18bn Treasury Securities and $12bn agency debt and MBS).
Dot plot crucial
For markets scrutinising the Fed communications, a key focus, and more so than the immediate policy decision, will be any sign of a shift in view of the appropriate pace of rate rises going forward. In this respect the publication of FOMC participants views of the 'dot plot' (i.e. the appropriate path for rates) will be key. The last 'dot plot' was published under former Fed Chair Janet Yellen back in December. Much has happened since then, with Congress having passed a fiscally stimulative 2-year spending bill and signed-off on tax reforms (the latter the FOMC had sight of (albeit ahead of its signing into law) in December). On the data front, the run of economic releases since December has added to confidence in the US economy having solid economic momentum and reinforced expectations that inflation will rise steadily this year. With Chair Powell's feet only just under his new desk, we suspect that he (and his FOMC) would favour holding off shifting the 'dot plot' at this time, taking some time to assess the normalisation strategy. Hence we continue to see the 'dot plot' pointing to three hikes this year and continuing to factor in two rate rises in 2019, with the balance sheet roll-off cap set to have risen to its maximum rate ($50bn a month) by that point.
Fed heads
Although we now know a little more of the view of the new Fed Chair, following his recent monetary policy testimony, we are aware that the balance of views on the FOMC might shift again over the coming months. One reason is that we are due a new Vice-Chair following the departure of Stanley Fischer last autumn; Richard H. Clarida has been touted as a possible replacement but is far from guaranteed the job and has not yet been nominated. We also note that NY Fed Chief Dudley leaves this summer, whilst there are a number of Fed Board of Governors positions still to be filled. These appointments could well change the shape of opinion on the FOMC, particularly if Chair Powell, without the economic academic background of his predecessor, is to rely more on wider opinion and perhaps one or two key confidantes to shape his views.
UK inflation eases but focus on employment ahead of BoE
UK CPI data for February was softer than expectations, with headline CPI slowing from 3% to 2.7% (vs an expectation of 2.8%). Core inflation also eased down from 2.7% to 2.4%, again coming in below expectation. The fall in inflation comes just a month after the Bank of England raised their inflation forecasts in their Quarterly Inflation report. Focus will now turn to this morning's employment data ahead of Thursday's Bank of England gathering. Policymakers are wary that tightening labour market conditions will give way to wage growth, which will in turn generate further inflationary pressures. A strong print today could give the pound a further boost this morning before markets enter wait and see mode as we await guidance from the Bank of England on the timing of future rate hikes on Thursday,
GRN: Confirms letting of top floor at One Molesworth Street
Green REIT (GRN) has today announced that it has signed an agreement with TD Global Finance Unlimited, a subsidiary of Toronto-Dominion Bank, to lease the 10,600 sq ft top floor of its One Molesworth Street office development. TD has agreed a 20 year lease with a tenant break option at the end of year 13, which are the same terms that Goshawk agreed for its letting of the fourth floor back in October. TD will pay an annual rent of €0.74m, which equates to c. €70 per sq ft. For reference, Goshawk is paying €65 per sq ft while Barclays, which has agreed to take the first, second and half (to date) of the third floor, has agreed to pay €62 per sq ft. Some 88% of the total office space at One Molesworth Street has now been let. The balance of 7,800 sq ft is the subject of a Barclays option which is exercisable by the end of this month. The development also comprises some retail space, with two of the three units so far let to The Ivy (€0.55m a year for a 20 year lease) and Le Pain Quotidien (€0.24m a year for a 20 year lease with a break option at end-year 15).
IFG: FY17 results
IFG's FY17 preliminary results, released this morning, show a loss before tax of £0.4m (FY16 £6.4m), as exceptional costs increased to due to a number of legacy matters. IFG further says that they will continue to consider the disposal of Saunderson House if accelerated shareholder value can be achieved. With regards to the underlying performance in both the James Hay and Saunderson Houses businesses in 2017, assets under administration and advice (AuAA) increased 15% y/y to £30.6bn (FY16 £26.7bn). James Hay added 6,100 clients and had net inflows of £3.4bn as total assets under administration increased by 15% to £25.5bn (FY16 £22.1bn). Assets under advice at Saunderson House increased by 11% to £5.1bn (FY16 £4.6bn) as 247 new clients were added. Revenue remained broadly flat y/y at £78.4m (FY16 £78.5m), despite a £5.9m reduction in interest income, as repricing of fee income agreements at James Hay undertaken in H217 offset the impact of lower BoE rates. Adjusted operating profit increased 5% to £10.5m (FY16 £10.0m), adjusted EPS increased by 10% to 8.34p (FY16 7.57p), basic loss per share of 0.32p (FY16 earnings 4.98p). The board, as previously flagged, has decided not to pay a dividend given the exceptional costs and remaining legacy issues.
Economic events
09.30      UK     Unemployment (Jan)
09.30      UK     Public Sector Net Borrowing (Feb)
18.00      US     FOMC announcement
18.30      US     Fed's Powell post FOMC press conference
20.00      NZ     RBNZ announcement