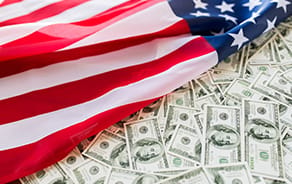 The US Federal Open Market Committee (FOMC) June policy announcement is due at 7pm this evening.
We, in line with market expectations, expect the Fed to press ahead and raise the Federal funds target rate range by 25bps taking it to 1.75-2.00%. The June policy decision will be accompanied by an updated set of economic projections and Fed Chair Jerome Powell's second post meeting press conference in the job. The last set of economic projections were published in March. On the global political stage much has happened since then. In particular, this new policy statement, projections and press conference will be scrutinised for clues on how the Fed is viewing the latest developments on US trade disputes. With US economic activity indicators having actually firmed in recent weeks, it seems unlikely that the Fed would see fit to downgrade its projections.
 
Pay growth moving in right direction
 
Developments in labour market indicators and pay growth metrics over the past month, if anything, will also leave the Fed feeling relatively comfortable that PCE inflation will not run too far ahead of target over the next few years. The unemployment rate has come down more quickly than Fed participants had expected, now already at 3.8%, the Fed's end-2018 forecast. But that still has not created a marked upturn in compensation metrics. Some measures of pay growth have been firming, not least the Employment Cost Index which the Fed pays close attention to. Other metrics like the hourly earnings data wage pressures look more subdued still and  the possibility of the participation rate rising back towards pre-crisis levels still under debate, we do not expect the Fed to present a picture whereby it is clearly more concerned about medium term inflation pressures.
 
QE unwind to gather pace
 
Whilst much of the focus is on the Fed's interest rate adjustments, it also continues to slowly ramp-up the pace at which it unwinds QE. Since the start of April the pace of roll-off has been $30bn per month ($18bn Treasury Securities and $12bn agency debt and MBS). We expect the Fed to confirm that it is continuing with its next step up which takes place from the start of July and will see the pace of roll-off rise to $40bn per month ($24bn Treasury Securities and $16bn agency debt and MBS) as the Fed approaches its maximum planned roll-off velocity of $50bn per month. We doubt the Fed will listen to overseas voices such as RBI Governor Urjit Patel, calling for a slowing in the pace of balance sheet normalisation. That is, unless we see a wider fall-out in Emerging Market economies or a rising dollar which threatens the Fed's prospect of achieving its policy mandate.
 
US CPI inflation reaffirms Fed rate hike
 
CPI inflation figures released yesterday for the month of May rose by 0.2% on the month to stand 2.8% up year on year. The increase in May matched expectations and was up from 2.5% in April. Core inflation was also seen rising, albeit to a lesser extent, and also matching market expectations. Here core inflation was up 0.2% on the month to stand 2.2% up year over year, from 2.1% in April. This will reinforce Fed expectations that inflation is on the rise, albeit gradually and less so on a core basis, and with some base year effects driving the increase. The shape of these numbers will not leave the Fed feeling like it needs to shift its emphasis on gradual policy tightening, with its next rate rise (+25bp increase in the Federal funds target rate range, to 1.75-2.00%) and new projections expected this evening. A detailed preview of the Fed's meeting is provided in our main commentary.
 
Bank of Ireland: Ambitious strategy to focus on cost cuts and loan book growth
 
Ahead of today's capital markets day being held in London, Bank of Ireland Group (BIRG.I) has this morning issued an RNS and accompanying in-depth presentation outlining the medium term strategy for the Group under the new CEO Francesca McDonagh, with ambitious cost cuts and loan book growth contained within the business outlook. The key financial targets contained within this (all to be achieve by/in FY21) include a reduction in the cost base of the bank to €1.7bn (FY17 €1.9bn ex levies), a reduction in cost/income (ex-levies) to 50% (FY17 62%), loan book growth of 20% (to c.€94bn gross) and a sustainable/underlying ROTE in excess of 10%. Previous guidance on progressing to a 50% dividend pay-out ratio and maintaining a fully loaded CET1 in excess of 13% also remain in place. Key to this strategy will be a focus on technology investment and resulting cost cuts, with the already announced and ongoing c.€900m investment in the core banking platform (Temenos) now being buttressed by a €250m spend on front end technology and an additional €250m cost for 'business model' adjustments which will likely include significant headcount reduction. The purpose of this extra €500m in investment costs will be to accelerate and support the benefits that can be harvested from the Temenos investment, in terms of both costs cuts as well as business expansion, with a firm commitment to reduce the cost base of the bank to €1.7bn by FY21 pivotal in this regard. Also dealt with in some detail within the strategy presentation is a plan to significantly reposition and improve the UK franchise business model, with some subtle shifts in the mortgage market proposition (away from mainstream mortgage lending and towards under-serviced segments such as first time buyers and late-in-life borrowers), a possible exit from the Group's credit card business, and a continued focus on the expansion of the asset-financing business they have there. Additionally, the strategy outlines a plan to significantly improve and expand the Group's wealth management proposition in the Irish market, harnessing the investment in technology the Group has already outlined and better penetrating the large customer base already available to it.
 
ICG: Ship delay
 
ICG has been informed once again by the German shipyard, FSG, of a delayed delivery of the W.B. Yeats. It is now expected that the W.B. Yeats will only be deployed in September and most likely directly on to Dublin-Holyhead for the winter schedule vs the previous expectation for end July and the summer schedule on Dublin-Cherbourg. As a result, ICG has cancelled another 6,000 bookings (vs initial cancellation of 2,500 bookings), the cost of which to the Group is expected to be €4.25m-€4.75m. Customers will be offered alternative sailings or a full refund and all customers will receive a voucher of €150 for 2019.
 
Irish Economy: IDA reports a strong H1 for FDI in Ireland
 
IDA Ireland, the inward investment agency of the Irish Government, has reported another strong period for inward investment into Ireland in the first half of the year. The IDA expects that investments approved in H1 will lead to the creation of over 11,300 jobs, a 3% increase on the same period last year. Gross job creation by IDA-supported firms reached 19,851 last year, not far from the record 20,982 jobs in 2015. In terms of volume of new projects, 139 were announced in H1 – an increase of 25 on H117. Martin Shanahan, CEO of IDA Ireland, noted that he was particularly encouraged by investment activity from China, South Korea and India in the first half of the year but he also reported a "slowdown of decision making" from potential US investors owing to the prevailing political climate on the far side of the Atlantic.
 
Economic Releases
 
09.30 UK CPI

10.00 EC Industrial Production

10.00 EC Employment Data

12.00 US MBA Mortgage Applications

19.00 US FOMC Rate Decision

19.30 EC Fed's Powell press conference