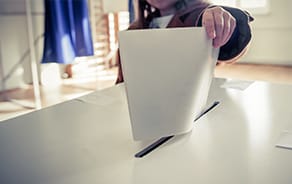 Gains for Tories and May in local elections
With just over half of the 4371 results in so far, it seems that it has been a good night for the Tories.
So far the Conservatives have made net gains of around eight seats – reports suggested that the party would have been happy with any net losses below 100. Labour (+25), the Lib Dems (+41) and the Greens (+6) have all increased their representation well, with UKIP collapsing (-92). Significantly the Tories did not suffer a wipeout in London - they held onto their flagship councils such as Wandsworth, Kensington & Chelsea and Barnet, although they did lose control of Richmond to the Lib Dems. In summary this will help to cement Theresa May's position for a while longer. Separately, Sinn Fein held on to a UK parliamentary by-election in West Tyrone, with a majority of 7956. Sinn Fein MPs do not take their seats at Westminster.
UK services PMI
IHS Markit reported yesterday that the services PMI had risen to 52.8 in April, marking a small rebound from March's snow-disrupted 51.7 (a post-July 2016 low), though markedly below expectations (consensus 53.5, Investec 54.7). Detail of the survey indicated that uncertainty surrounding the economic outlook had dampened business activity among corporate clients, while consumer-facing firms had similarly experienced a soft patch as consumer spending had remained subdued. The employment component pointed to the weakest pace of hiring for 13 months, with respondents citing tight labour market conditions and higher payroll costs as causing recruitment difficulties. More positively, cost pressures eased further which led to output price inflation slowing to the lowest since July 2017. Taken with the drop in Tuesday's manufacturing PMI fell to a 17-month low of 53.9 in April, the composite PMI accordingly declined to 53.2 in April (consensus 53.7) from 52.4 in March. Sterling was bruised by the weak services PMI, with cable dropping from $1.363 to $1.361 and 10-year gilt yields dropped around 2bp to 1.45%.
Eurozone inflation
Also released yesterday were Euro area inflation figures for April, which were weaker than expected. Headline HICP inflation edged back to 1.2% from the 1.3% seen in March and below the market expectation of 1.2%. However it is the slowdown in core inflation (excludes food, energy, alcohol and tobacco) which is more striking. 'Core' HICP softened to 0.7% from 1.0% and hit its lows level since March 2017.
Nonfarm Friday
March's jobs report showed a relatively subdued +103k in non-farm payrolls. Softness was recorded across a number of sectors, but the main point was that this followed a hefty gain of 326k in February. Our interpretation is that the trend increase in jobs is around 200k per month and indeed +200k is our forecast for April. The rate of unemployment has been steady at 4.1% for six months. However we suspect that the current pace of the growth in jobs is consistent with a drop in the jobless rate at some stage soon, even bearing in mind that the unemployment numbers are based on a different survey from payrolls and that it is feasible that more workers could be absorbed via increased labour participation. Accordingly we are forecasting an unemployment rate of 4.0%, which would be a low since December 2000. With 10-year Treasury yields having moved above 3.0% last week, markets will be alert to the hourly earnings data which strengthened a notch in year-on-year terms to 2.7% in March, towards the top of the 2.1%-2.8% range which has prevailed over the past three years.
SKG: Q1 results
SKG has reported Group EBITDA +22% to €340m. Rather than reporting full quarterly results, the company has issued a short IMS in line with most FTSE 100 companies. Looking forward, management expects the FY outcome to be materially better than 2017 and for the second quarter remains very encouraging. There is no new news relating to IP's proposal but we may get more details during the conference call at 8.30am. Within the quarter underlying sales growth was +7% with organic volumes in Europe +3% on a days adjusted basis, similar to the Q4 run rate of +4%. Corrugated price recovery was fully in line with SKG's expectations and the company sees further recovery through 2018 as the latest containerboard prices are recovered. The Group EBITDA margin expanded to 15.7% from 13.1% in Q1. There is no divisional split provided for Europe and the Americas. The quarter benefited as expected from lower OCC costs in the quarter (€17m), but faced a higher cost for the shutdown of its large mill, Facture (€9m). That said, some of the Facture impact is set to be recovered later in the year so that the net impact is in line with previous guidance. FX was another headwind.
Vulcan Materials: Q1 results
Vulcan, a key US peer of CRH, has reported Q1 figures. The company maintains its full year guidance of $4.00 to $4.65 from continuing operations but is flagging strong recovery in demand in several markets as business recovers from poor weather earlier in the year. Same-store shipments for aggregates increased 1% yoy – they were down 3% in February, accelerated to +7% yoy in March and have since increased by c.10% in April. Overall pricing for aggregates increased 3% over the quarter and April price increases were described as well received and the company expects there to be room for further price increases as the year progresses. They describe a catch-up by transportation authorities and higher available funding levels while private demand (residential and non-res) also continues to recover. The backlog for highway work is described as the highest for three years.
Aryzta: Second Picard dividend would suggest later stake sale
Picard issued a second dividend bond tap of €60m yesterday, which will be paid out to its shareholders. This follows the €110m dividend paid out in early December 2017, of which Aryzta received €53.9m. On the same shareholder basis, Aryzta will receive a €29.4m dividend.
FBD: Brief trading statement ahead of AGM
FBD have this morning released a brief trading statement ahead of today's AGM, reaffirming previous guidance around the cost of Storm Emma, but noting attritional weather claims being somewhat higher than last year. The trading statement released this morning coincides with the holding of the company AGM today, and reaffirms the previous guidance around the cost of Storm Emma which hit Ireland in March. FBD had previously (March 21st) flagged an overall net cost (after reinstatement premia on catastrophe property reinsurance) of €6-8m, and this morning has said it now expects this to be "marginally less than €7m", this resulting from over 1,200 claims made in relation to the storm, predominantly in the East and South of the country. However, they note that attritional weather claims are somewhat higher than last year given the prolonged poor weather seen in Q1.
Irish REITs/Builders: Daft Rent Report shows rents +3.4% q/q in Q118, +11.5% y/y
The Daft.ie quarterly rent report shows rent in Ireland increased by +3.4% q/q in Q118 and are now +11.5% y/y. The figures in this latest Daft.ie Report show that for the 23rd quarter in a row rents have risen, with the annual rate of increase of 11.5% well above the government-imposed nominal cap on rent increases of 4%. The annual rate of rental inflation has now also been above 10% for over two years. The rental trends continued to show a strong urban basis, with rents in the Dublin area +12.4% y/y, and rents in Dublin city centre leading the way at +13.8% y/y. Rents in the Ireland's five cities increased by over 12% y/y, with Limerick City +17.1% y/y, Waterford City +14.6%, Galway City +13.6% and Cork City +9.3%. By contrast, the rate in the large cities was almost twice that seen in the more rural Connacht-Ulster area (+6.4%). Rents have now risen by 70% on average across the country from their trough in 2011/12, though the regional variance on this can be quite large, with rents in Dublin increasing by 87% from their low point, this compared to +68% in the other cities and +53% elsewhere. In Dublin rents are 30% higher than their previous Celtic Tiger peak, and rents are now above their previous peak across almost the entire country, the one exception to this being Donegal in the North West of the country (still 7% below peak) where some Brexit related concerns may be playing a part (the only regional markets in the country suffering rent declines were both in Donegal). The stock of available properties for rent also continues to decline, highlighting the relatively limited level of new rental supply hitting the market, especially when considered against the continued strong demand for this. There were fewer than 3,100 properties available to rent nationwide in April, down over 15% on the same date a year ago, and the lowest recorded by Daft for this time of year.
Economic releases
10.00 EZ Retail Sales
13.30 US Nonfarm Payrolls
17.00 US FOMC member Dudley speaks
22.30 US FOMC member Quarles speaks