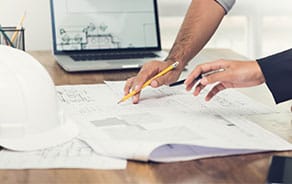 Glenveagh Properties – H118 Update: Operations on track
Glenveagh delivered a solid update on operational progress this morning accompanying its financial results for H118. Given the still early phase of its scaling journey, there is only limited informational value in the financials themselves. Nevertheless it reported revenue of €1.2m from six unit sales, in addition to rental income of €0.1m. An underlying gross margin of 16.7% was achieved.
Operationally, the group reports that it is on track to deliver 250 units this year. It has sold/pre-sold 278 units as at 31st August (the majority are houses which will complete in FY18, but c.20 apartments for FY19 completion are included in this figure). The group has reiterated confidence in its target of 2,000 unit sales per annum from its Homes business by FY23, and has formalised its target of 2,500 units' p.a. between the Homes and Living businesses by the same year. No new land acquisitions were announced this morning, although the Group has amassed a landbank of 11,370 units across 40+ sites and has c.€200m of fresh capital to deploy following the recent equity raise (which may equate to c.4,000 additional units). Glenveagh has maintained its guidance of 4% construction cost inflation.

Investec Manufacturing PMI rises in August
The latest Investec Manufacturing PMI Ireland report shows that the sector gained momentum midway through Q3. The headline PMI rose to 57.5 in August, a seven month high, from 56.3 in July amid sharp increases in both output and new orders.

New Order growth quickened to the fastest in the year so far, with strong demand reported from both domestic and export markets. The rate of expansion in New Export Orders was marked and the highest in three months with panellists citing the UK, the Eurozone and the Middle East as sources of new work.

Given the strong order-book growth, it is no surprise to see further increases in the Backlogs of Work (to the highest since March), Quantity of Purchases (to the highest since December) and Employment indices. The current sequence of job creation in the manufacturing sector has now extended to 23 months.

Margins remain under some pressure however with input costs showing another sharp increase in August, albeit the latest increase was the slowest in ten months. Panellists reported higher costs for a range of raw materials including metals and timber. Supply shortages were also mentioned as a source of cost inflation in some cases, as well as contributing to delays in the receipt of purchased items (suppliers' delivery times lengthened to the greatest extent in six months in August). Although firms were able to defray at least a portion of this cost inflation by raising Output Prices, a seventh successive decline in the Profitability index was recorded.
The forward-looking Future Output index remains very elevated and reached a three-month high in August. 56% of respondents expect a rise in production over the coming 12 months, while just 4% anticipate a decline. With a positive economic backdrop both in Ireland and abroad, we think this optimism is well-founded.
Weekend Brexit news
A number of developments over the weekend have soured Brexit sentiment. Firstly, in an interview with the Frankfurter Allgemeine Zeitung, the EU's chief negotiator Michel Barnier said that he "strongly" opposed parts of the Chequers white paper, arguing that the UK's proposals "would be the end of the single market and the European project". Reports also suggest that a number of Tory Eurosceptic MPs are working with political strategist Sir Lynton Crosby to campaign against the Prime Minister's proposals. In a direct appeal to Tory Eurosceptics, Prime Minister Theresa May wrote in the Sunday Telegraph said that she would not "be pushed into accepting compromises on the Chequers proposals that are not in our national interest. Note that MPs are set to retake their seats in the House of Commons tomorrow after its six week summer recess.
Economic releases
US Bank Holiday
09.30     GDP Manufacturing PMI