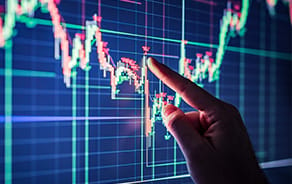 Global equities rally as trade war concerns ease
Following a more conciliatory tone between the US and Beijing with regards to trade actions, risk appetite looks to have improved markedly.

That improvement followed comments from US Treasury secretary Steven Mnuchin on Sunday where he said he was hopeful an agreement between Washington and Beijing could be reached over ways to cut the US trade deficit with China. Further conciliatory comments from US trade advisor, Peter Navarro, where he said that the Trump administration is "actively" involved in talks with China also helped to ease frayed nerves. Wall Street closed strongly last night, with all the main US indices posting their biggest one-day rises since August of 2015. The benchmark S&P 500, Dow Jones Industrial Average and the Nasdaq all having produced impressive gains of +2.72%, +2.84% and +3.26%, respectively. The mood carried through to Asian markets this morning also with the Japanese Nikkei closing 2.65% higher. Chinese officials appeared keen to smooth tensions too, suggesting an easing in foreign investment restrictions and offering to buy more US semiconductors.
The day ahead
After yesterday's comprehensive US expulsion of 60 Russian diplomats and the closing of the Russian consulate in Seattle, after the alleged Russian nerve agent attack on UK soil, markets will be keenly watching to see if any other allied nations follow suit.  All eyes will also  be on the Euro area March confidence indicators, where general consensus is for all prints to come in slightly weaker than last months.   In the we'll get to see the Richmond Fed manufacturing PMI, the  S&P/Case-Shiller house price index and the March consumer confidence print,. The BoE is to publish the details of its recent Financial Policy Committee meeting. We have a bit of Central Bank speak due from the ECB's Liikanen and the Fed will speak...
Central Bank chatter
Market expectations that the first ECB interest rate increase for the current cycle will come in the middle of next year are a plausible anticipation of the way forward, Governing Council member Jens Weidmann said yesterday. "Markets expect a first hike in interest rates at about the middle of next year that is probably not unrealistic". He also underlined that financial markets for some time forecast an end of the ECB's asset purchases in 2018. "The end of net purchases is only the starting point of a multi-year normalisation of monetary policy". Such a normalisation of policy will ensure the central bank can react to possible future economic downturns. "Because the current upswing won't last forever either," Weidmann stressed.In the US, the Fed's Mester noted in a speech at Princeton University that "gradual" hikes remain appropriate for this year and next year. The Fed must "avoid a build-up in risks to macroeconomic stability that could arise if the economy were allowed to overheat," she added. Elsewhere, she noted the threat of trade wars hasn't changed her economic outlook and that "this year is shaping up to be another good year for the economy".
Irish Banks – Mortgage approvals data show continued solid start to the year
Banking and Payments Federation of Ireland (BPFI) mortgage approvals data released this morning shows the solid start to the year seen in January continued into February, albeit with a slight moderation in the annual rate of increase. The February approvals of €691m in new mortgage applications show an +11% y/y increase for the month, although it is almost flat on the January outturn (€689m). The 12 month running total is now at €9.5bn, having registered at €9.3bn for FY17. The total number of approved applications in February was 3,137 which is +5% vs February 2017. The average value of approved mortgages in January was €220k, a 5.8% increase vs February 2017.
Bank of Ireland – Cost cutting plan to hit middle management
The Irish Times is this morning reporting that BIRG is planning on implementing a significant round of cost cuts aimed at reducing the ranks of middle management in the business by up to 15%. Having guided for lower underlying operating costs in 2018 vs 2017 when releasing their FY17 annual results last month, it is being reported this morning that BIRG's new CEO Francesca McDonagh intends on significantly cutting into the middle management ranks of the business in order to deliver on her lower cost promises. The Irish Times is speculating that as many as 200 jobs across Ireland and the UK may be eliminated under the plan, from middle manager grades right up to just under the bank's top executive committee level. This would represent 15% of staffing numbers within the management grade according to the paper.
Irish Banks – S&P says selected upgrades may arise if further improvements made
S&P yesterday released an updated report on the Irish banking sector, noting the steady rebuilding of its creditworthiness but still relatively high level of NPLs in place. Noting the relatively low level of credit upgrades seen over the last year (AIBG and BIRG's OpCos were upgraded by one notch in January 2017, and the HoldCo outlooks were upgraded from stable to positive in December), it said that additional selected upgrades may arise in the future if further industrywide improvements were made, particularly if banks successfully issue additional levels of MREL compliant securities. The S&P report said that recent published results from the Irish banking sector reinforced their view that Ireland's banking system is steadily rebuilding its creditworthiness, and that its industry risk profile "has the potential to be less of a negative outlier relative to other eurozone banking systems" than previously. However, the report also noted the challenges facing the Irish banking sector as business models needed to be adapted to meet new customer and regulatory requirements, necessitating a lower cost base, particularly given the still low level of interest rates.
SKG - Revised bid from IP
Yesterday, IP made a revised proposal to acquire SKG and is now offering €25.25 in cash as well as 0.3028 IP shares. It also provided more detail on in its synergy plans, targeting $450m by year four. IP's share price reacted positively to this update and the share price moved up 4.4% to $52.37. The current proposal is therefore worth €38.05 per SKG share. IP remains highly determined to acquire SKG given its strategic fit, scope for synergies and the potential ability to apply best practices from both companies across the enlarged Group. We understand that IP will now continue to present its case directly to SKG shareholders and at the same time seek the SKG board to engage with its proposal. In its pursuit IP management confirmed that all options are on the table.
INM - Staff to be briefed on new plan
According to today's Irish Times, INM "will bring together some 70 senior staff from across the group at Croke Park today to outline a new strategy for the media group". In the group's FY17 results earlier this month management said that they were "collaborating closely with EY on the development of a strategic plan which will provide a roadmap for the future. This plan will involve reshaping the business model to address the challenges faced by the industry". INM guided that this plan would require "significant investment". Today's press report says that the strategic plan has been titled the "One Programme" and that management will use it as the basis of a reshaping of the business model to "future proof" the company. While we await the details on this new plan, it is worth noting that it will involve an up-front drag on INM's cash balances at a time when the group has also warned of likely "material costs" relating to the ODCE investigation (see yesterday's morning note for details on that). INM reported net cash of €91.5m or 6.6c a share at end-2017, a figure we had expected to climb to €98.3m by end-2018 before the ODCE announcement. Our model assumes costs of €10m relating to the One Programme, of which €4m is pencilled in for this year.
Economic Releases
10.00     EZ     Consumer Confidence
09.30     UK     BoE FPC meeting minutes
15.00     US     CB Consumer Confidence
16.00     US     FOMC member Bostic speaks