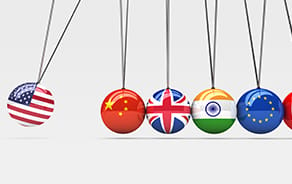 Hawkish FOMC minutes halt dollar slide
The minutes to the 01 August meeting (released last night) served as a reminder that further interest rate increases are on the way (the Fed funds target range was kept steady at the meeting at 1.75%-2.00%).
'Many participants' suggested that it would be appropriate for interest rates to rise soon if data 'continued to support their current outlook'. This is not a huge surprise. We continue to forecast hikes at both the Fed's September and December meetings and indeed the committee's own 'dot plot' foresees a need for a further two moves over the remainder of the year. The meeting also discussed the risks posed to the economic outlook by the ongoing trade disputes, while 'many' members agreed that as rates continued higher, the Fed would have to stop labelling the stance of policy as 'accommodative'. There was no lasting reaction in markets, although the USD has gained some ground generally overnight, reversing some of the week's losses.

UK to release Brexit 'technical' papers

The UK government is due today to release a drip feed of 'EU Exit Technical Notices'. The papers will encompass over 70 areas such as finance, fisheries and aviation. The aim of the papers, which are believed to be short and sweet in content, is to provide the public and corporate domains with crucial information in the event of a no-deal Brexit scenario. Cynics within the UK government are saying that Theresa May could be using these papers to paint an apocalyptic picture in order to terrify the public and her government into accepting her Chequers deal, which resulted in a spate of cabinet resignations. The new UK Brexit secretary, Dominic Raab, is due to give a speech later today in relation to the release of the papers.

Oil looks set to test $75/b

As further dollar weakness lends support to the commodity complex, oil has rallied sharply this week. Data released from the US Department of Energy yesterday showed US stockpiles declined 5.84 million barrels last week, more than double what was expected from survey of analysts. Oil has regained some of its losses this month on easing fears over trade tensions between the U.S. and China. Renewed U.S. sanctions aimed at curbing Iranian oil exports from November could tighten global supplies. Brent has rallied overnight to a high of $74.85/b while the dollar has weakened to a low of 1.16 against the euro, down nearly 2% on the week. Having bounced off lows last week around the 200-day moving average $70.30 Brent is now looking to test $75/b.

Bank of Ireland Group: HoldCo issue garners huge demand

Bank of Ireland Group (BIRG) launched its first senior unsecured HoldCo bond issue yesterday, selling €750m of 5 year bonds with a coupon of 1.375% and a reoffer yield of 1.415%. Demand for the bank's first senior HoldCo issue was very strong, with an order book north of €2bn allowing it to tighten in initial pricing suggestions of mid swaps +130bps to mid swaps +115bps. We would view the bond issue as a successful start to the planned issuance by BIRG of between €4-5bn of MREL eligible debt over the next two years, as the bank looks to meet ECB and BOE MREL liability requirements by the start of 2021.

Cairn Homes: New debt facilities

Cairn Homes (CRN) has announced the refinancing of its debt facilities. The group separately announced (yesterday) that its H1 numbers will be released on 4 September. CRN has replaced its previous €200m senior debt facility with AIB and Ulster Bank (RBS) with a new €277.5m term loan and revolving credit facility (rcf), adding Barclays to its syndicate of lenders in the process. Additionally, the housebuilder has completed a €72.5m private placement of loan notes with Pricoa Capital Group. The term loan and rcf mature in December 2022 and the loan notes mature between 2024 and 2026. The new facilities are secured by a corporate level debenture.

Frutarom: Q218 ahead of expectations

On 06 of August 2018 Frutarom's shareholders overwhelmingly voted to support the proposed offer from IFF (94.6% of votes cast representing 74.7% of all outstanding shares) and the deal is expected to close in Q418 subject to clearance by the relevant regulatory authorities and other customary closing conditions. As such, we only retain a passing interest in the company's Q218 results which were ahead of expectations at the profit line on stronger than expected margin expansion. The company reported a 35.0% increase in reported EBITDA (before nonrecurring expenses and on a constant currency basis) to $91.0m from a 16.8% increase in revenue to $401.3m. At the revenue line, solid LFL growth of 4.5% was augmented by a 9.5% contribution from acquisitions coupled with an FX tailwind of 2.8%. At the divisional level Flavors grew operating profit 20.5% to $55.1m from a 16.4% increase in revenue to $296.0m. While acquisitions were the main revenue driver, LFL growth of 6.1% was still impressive. Speciality Fine Ingredients grew operating profit by 88.0% to $17.1m from a 33.7% increase in revenue to $88.8m. Again acquisitions were the main contributor to revenue growth although the division did also record strong LFL growth of 8.9%. An FX tailwind of 2.3% added to the reported growth.

CRH: H118 results in line

H118 EBITDA is up 1% (absolute and LFL) to €1.13bn. The EBITDA margin was flat at 9.5% as group sales grew 1% to €11.9bn. EPS grew 11% and DPS was increased 2% to 19.6. Phase 1 of the buyback has been completed with €350m returned to shareholders, leaving another €650m still to be returned. Net debt increased by €1.7bn yoy to €8.1bn due to the significant net acquisition spend. FY guidance in terms of EBITDA is for "another year of progress" while the message on the Europe is slightly more cautious as management flags "an inflationary cost environment", while Asia H2 EBITDA is expected to be in line with H118.

Economic Releases

09.00     EC     Manufacturing & Services PMI
14.45     US    Initial Jobless Claims
14.45     US     Manufacturing & Services PMI
15.00     US     New Home Sales
15.00    EC     Consumer Confidence