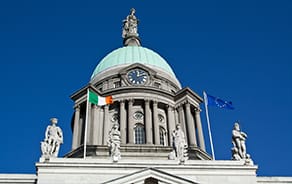 Italian concerns weigh on markets
Italian markets suffered a bad day yesterday with the FTSE MIB closing down 1.5% and the 10yr yield spread over German Bunds widening 20bp to 185bp, as concerns grew over the new coalition government.
Following agreement between the two parties over a joint policy platform last week, the remaining issues to be addressed are the position of Prime Minister and various other cabinet posts. On the former, 5 Star and Lega Nord put forward a little known law Professor, Giuseppe Conte, for the role of Prime Minister to President Mattarella yesterday, who has yet to accept the proposal. Instead he has asked for further consultations, suggesting that he may have some reservations about the Prime Ministerial candidate. At the same time markets are awaiting news on the remainder of the cabinet. On this there has been relatively little news flow, although there have been some reports that Lega Nord's Salvini may become Interior Minister and 5 Star's Di Maio may become Labour Minister. Mr. Salvini's comments in relation to Europe did little to calm nerves, he said yesterday "enough is enough, cuts can kill, austerity can kill and European limits can kill". Italian markets may remain nervous as they await further information - futures prices are suggesting a mildly negative open for the FTSE MIB (-0.1%) this morning.

Fedspeak
 
Yesterday we had a deluge of opinion from three different Fed members. First up was Philadelphia Fed President, Timothy Harker (non-voter) saying that while he wasn't seeing " a rapid acceleration in inflation" but that it could "go as high as 2.5%" and that he could envisage a third rate hike this year. Neal Kashkari, Minneapolis Fed President and a non-voter also always uses his speaking engagements to bang home his dovish leanings and yesterday was no different. He feels that the Fed should now begin to adopt a neutral stance "until we see more evidence that wages are climbing". The only FOMC voter speaking yesterday was Raphael Bostic, the Atlanta Fed President who was slightly more hawkish where he noted that he wouldn't be too "surprised to see a modest overshoot of our long run (2% inflation) target". He is of the mind that two more rate (0.25%) hikes would be appropriate for the remainder of the year.
 
European Union free trade talks with Australia and New Zealand
 
The European Union is expected to give the go ahead to enter free-trade agreement negotiations with Australia and New Zealand.
 
A deal with the EU would be considered a major coup for both Australian & New Zealand economies. The agreement will pave the way for a multi-billion dollar deal before the United Kingdom leaves the EU in March 2019. The EU's Foreign Affairs Council is meeting in Brussels today and will discuss formally approving the talks.
 
IRES: Closes Hampton Wood purchase
 
IRES has announced the closing of the purchase of 128 apartments (with parking) at Hampton Wood in Finglas (North Dublin) for c. €40m (including VAT, but excluding other transaction costs). The consideration for this purchase has been met by IRES' existing credit facility. Some 24 of the apartments had already been leased by the vendor.
 
Greencore: Half year results
 
Greencore 1H results released today. Reported PBT of £47.2m and EPS of 5.5p. Interim dividend increased 4.8% to 2.2p. Strong revenue growth from UK and US but profits impacted by losses in US legacy operation (as warned in March) but the company anticipates strong organic growth in 2H and FY EPS guidance maintained at 14.7-15.7p.
 
First Derivatives: Full year results
 
First Derivatives FY results released today. The results include +20% organic revenue growth performance and high teens EBITDA growth, with slight fall-back in margin as the group invests to penetrate new verticals. However, similar to recent years, on an adjusted R&D capitalisation basis, underlying adjusted EBITDA / EBIT growth is actually stronger (+20%) than the "headline" adjusted figures. All verticals are growing with financial services and Prelytix still the main drivers of growth, and other verticals relatively small at c.£5m of revenue. This should now change in FY19E with new verticals set to make a material difference, underpinned by the big fault detection win from March 2017 which had limited impact in FY18. The only blot on a strong set of results is poor adj CFFO / EBITDA cash conversion due to receivables bulge, at c.74% at headline level.
Grafton: Forterra says weather effected start to year but outlook positive
Forterra, the UK brick manufacturer has announced that trading in first four months of the year to 30th April was affected by bad weather, particularly in March. Overall revenue for the period was up +12%, boosted by the acquisition of the Bison business in September '17. Recent weeks have seen activity levels recover and while some products may lag the company expects overall that any shortfall will be made up over the remainder of the year. Price increases for the year have been agreed with most customers, to offset cost increases. The company has also announced a new capacity expansion in Leicestershire which is expected to be operational from 2022.
 
IPL Plastics: Detail of the buyback



The Board is making available to Shareholders a Buy Back Offer of up to Can$50 million (or such greater amount as may be determined by the IPLP Inc. Board). Shareholders will be able to tender all or a portion of class B common shares at the price that the IPO is priced at. The indicative range is Can$13.50 to Can$16.00 for each Common Share (equivalent to Can$2.70 to Can$3.20 for each ordinary share in IPL Plastics plc) €1.79-€2.13. The buyback period starts on Tuesday, 22 May 2018 and ending on Thursday, 31 May 2018 (inclusive). Buyback closing date 1.00 p.m. on Thursday, 31 May 2018. Buyback record date 6.00 p.m. on Thursday, 31 May 2018.

UDG: Half year results


UDG has reported interim results broadly in line with consensus expectations. Net revenue grew +11% on a constant currency basis to $568.7m with operating profit also up 11% on a constant currency basis to $67.4m. EPS expanded 21% on a constant currency basis to 20.19c and the DPS has been increased by 19%, which marks the 30th year that the dividend has either been maintained or increased. At a divisional level operating profit was driven by Ashfield (+25% to $45.6m), while the Sharp (-2% to $18.9m) and Acquilant (-11% to $2.9m) businesses recorded lower results. The Group has taken a $49.7m impairment of goodwill charge on Acquilant. Looking forward, the Group has reiterated its FY guidance for constant currency EPS growth between 18% and 21%.
 
Economic Releases
 
09.15 UK BoE Governor Carney Speaks
10.00 UK Inflation Report Hearing
11.00 UK CBI Industrial Trends Orders
15.00 US Richmond Manufacturing Index