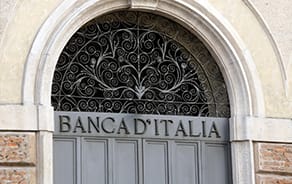 Italian political crisis may result in fresh elections
Italian markets fell again yesterday as a failure by the main parties to reach an agreement to form a government resulted in the likelihood of fresh elections.
The FTSE MIB declined by 1.6%, while the 10y BTP spread with Bunds widened out by 7bps to 130bps. While a last minute accord between the 5* party and the 'centre-right' bloc is not entirely impossible, President Mattarella announced yesterday that he would give a mandate to an independent person, as yet unnamed, to form a government. The aim would be to put together a budget for 2019 and to prepare for fresh elections, which could take place this autumn or early next year, partly depending on progress with the budget. A July election may be favoured by some, but Mattarella would reportedly reject this on the grounds that many voters are likely to be on holiday. Of course parliament would still have the final say over legislation, but the President can determine whether or not an election can take place. It could be argued that there is no more uncertainty compared with the period ahead of March's election, when it was clear that the end result would probably be stalemate. The key difference however is that Italian markets have rallied since that point – even after yesterday's move, the MIB is some 10½% up on the year so far.
US withdraw from the Iran nuclear deal
As widely expected, President Donald Trump announced yesterday that he would withdraw the US from the Iran nuclear accord, thereby reinstating sanctions on Tehran which have been waived since the deal was signed in 2015. In a statement on its website, the US Treasury said that sanctions would not be re-imposed immediately, but would be subject to 90-day and 180-day wind-down periods. The move has been swiftly condemned by co-signatories to the original accord, with the EU's Federica Mogherini saying that the bloc regretted the decision but were "determined to preserve" the deal. Brent crude futures have rallied since the President's announcement, rising $2 to $76.60 a barrel.
UK retail sales disappoint
The British Retail Consortium (BRC) reported that on a like-for-like basis (i.e. accounting for floor space), the value of retail sales had contracted by 4.2% (yoy) following March's rise of 1.4%, the sharpest decline in 13 years. Meanwhile, total retail sales values dropped by 3.1% (yoy) in April after having increased 2.3% in March, the worst outturn since the survey began in 1995. However, this month's survey is heavily distorted by the timing of the Easter weekend which fell equally across the March and April trading periods this year, whereas it fell squarely in the latter month in 2017. As such, the March figures have been boosted at the expense of April's. Looking beyond the recent weather and holiday distortions, we would expect consumer spending to pick-up over the coming months amid moderating inflation and firming wage growth.
IRES REIT: Acquisition and trading update

IRES has announced the acquisition of 128 apartments with 128 car parking spaces at The Square, Hampton Wood, Finglas (North Dublin) for just under €40m (including VAT, but excluding other acquisition costs). This deal is expected to close at the end of May. Separately, the group has issued a trading update covering its performance from 1 January to 31 March (i.e. Q1 of its financial year). The Hampton Wood deal was flagged by the company last month, when it disclosed its preferred bidder status for the new development of 82 two-bed and 46 one-bed units. The apartments first came to market in late 2017. The acquisition will be funded by IRES' existing credit facility. On the trading performance, management state that this has been in line with its expectations. Net income from rental activities (in line with established practice, IRES' investment properties were not revalued in the period) was c. €6.3m, representing a 7% increase on the prior year period. This growth is produced by underlying rental increases and the increase in the size of the portfolio (notably, 68 units completed at The Maple in H217, which added c. 3% to its residential holdings).
Given the mismatch between supply and demand in the Dublin residential market, it is unsurprising to see that occupancy levels were maintained at c. 99% during the period. Apart from Hampton Wood, management detailed progress on a range of development opportunities. In March IRES received a full grant of planning permission to convert commercial space at Tallaght Cross West to 19 residential units, while a further grant of permission was received for a change of use of other commercial space to educational, gym and medical uses from the current vacant retail/foodcourt elements. Management is advancing applications for other development assets (B4 and Rockbrook in Sandyford, with a view to submitting applications in H218; Bakers Yard, where an application to build 61 units is in discussions and final submission stage to the planning authority; and Priorsgate, where 31 units are envisaged for the Bruce House site and a separate application is in the offing to convert vacant commercial space to five residential units).
REITs / Housebuilders: News round-up 

Today's Irish Times contains a number of interesting pieces of relevance to the REITs and housebuilders. In The North Docklands, NAMA is bringing a c. 6 acre landbank with planning permission for 347 apartments and 332,497 sq ft of office space to the market with a guide price of €110m. The site is available in either one or two (residential €45m, office €65m) lots. City Block 3 is situated at the rear of the Dublin Landings development, making it a prime location. The paper lists many of the usual suspects – Ballymore/Oxley; Ronan Group; BlackRock; the TIO-NAMA partnership; Kennedy Wilson; Marlet; and Cairn – as potential bidders. It should be noted that the apartment permission was secured before the recent relaxation of design rules, which could see increased density to as much as 450 units, depending on mix and layout. In other news, the Dublin Crane Count jumped to 78 on May 1st, reversing the decline to 71 that had been recorded in April. Some 58 of the machines are located on the south side of the city. Activity peaked at 80 cranes in December and has generally been in the high 70s since then. In The South Docklands, vehicle technology group Aptiv has leased 60,000 sq ft at TIO-NAMA's 5 Hanover Quay development for €58 per sq ft. A further 100,000 sq ft in the building is awaiting tenants, but buoyant demand (city-wide take-up was 900k sq ft in Q118) should solve for that in due course.
Grafton: IMS

Grafton has issued an IMS in advance of its AGM to be held later today. Group revenue in the year to date (four months to 30th April) is +7.0% or +1.3% lfl to £907m. The company said that positive January and February trading gave way to weaker trading in March and the first two weeks of April, principally due to poor weather conditions. They state that the overall outlook for the group is positive and expectations for the year remain unchanged. In the period the company has reported divisional lfl growth of; (0.3)% UK Merchanting, 4.6% Ireland Merchanting, 8.0% Dutch Merchanting, (4.8)% Belgian Merchanting, 4.7% Irish Retailing, and 15.1% UK Manufacturing. Within UK Merchanting, a small decline in lfl revenue was attributed to the transfer of business from a number of established Selco branches that had limited capacity to new branches – total revenue growth in UK Merchanting was +5.0%. These trends are much in line with recently reported retail data from the UK market.
Building Materials: HeidelbergCement Q1 results

Somewhat similar to LafargeHolcim yesterday HeidelbergCement's Q118 results were behind expectations with Group EBITDA -26% on a lfl basis to €252m. As a reminder Q1 typically accounts for less than 10% of FY EBITDA. HeidelbergCement has however maintained its FY guidance. FCF declined to an outflow of €1.1bn from €0.6bn in the prior year due to much higher investments and a working capital build-up due to poor weather. In absolute terms EBITDA fell in all regions except Africa ME. While North America and Europe were hit by poor weather, management points out that current order backlogs signal solid growth for the rest of the year and that the Easter impact has already reversed. Energy costs are also expected to flatten through the year. For Italy the company points out that the election results have left some uncertainty in the country. Within Asia Pacific, Indonesia reported strong volume growth and pricing stabilised with the first signal of a trend change also being reported. Price recovery is expected to offset some of the pressure on margins from high fuel costs. In Africa, Egypt recorded strong volume growth and price increases (helped by the security situation which has cut off competition from the Sinai).
IFG: Trading update 

IFG has released a trading update this morning ahead of its AGM being held today. The statement suggests a slowdown in asset acquisition in the first quarter, at least partly related to the uncertainty created by the previously stated (and subsequently reversed) management decision to consider a sale of the Saunderson House business. IFG's assets under administration in the James Hay business at Q118 were £25.4bn, this +9.1% from Q117, but slightly below the end Q417 level of £25.5bn, with net inflows during the quarter offset by adverse market movements. Additionally, while customer and asset acquisition continued to flow in in Q118, the pace of new client wins slowed considerably, with the c.1,400 additions 10.8% lower than that seen in Q417 and 14.2% lower than Q117. IFG believe this reflects the performance of the wider platform market, driven by a slowdown in the DB transfer market, equity market volatility, and adviser focus on factors such as GDPR and MiFID. Meanwhile, the Saunderson House business achieved 77 new client wins across both advisory and discretionary management services in Q118 and now serves 2,214 clients, +9.8% from Q117, with assets under advice at 31 March 2018 of £5.1bn +8.0% on Q117. This figure is in line with Q417 level, with net inflows during the quarter offset by adverse market movements. IFG further comment that while the proposed sales process for Saunderson House had not had a material effect on new client wins in Q1, some existing clients deferred making new investments, and they believed they may see some adverse knock-on impact in the coming months as the creation of new client pipeline is likely to have been affected to some extent.
Economic Releases
12.00   US   MBA Mortgage Applications

18.15   US   Fed's Bostic speaks