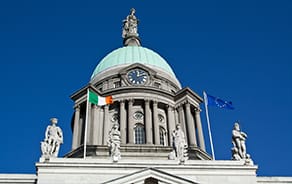 Italian political uncertainty rumbles on
Italian markets remained under pressure yesterday, with the 10yr yield spread widening 18bp on the day to 148bp, whilst the FTSE MIB closed down over 2.25%.
There has been little in the way of concrete news, but there are a few points of note. Reportedly 90% of policy discussions are now complete, with the remaining issues focusing on immigration, changes to retirement age and increased powers to tackle tax evasion and corruption. This suggests that the two political parties (5 Star & The League) have come to an agreement over key topics such as fiscal policy and Europe. What is concerning markets is what they have agreed upon in terms of key policies such as 5 Star's 'citizens wage' and the League's 15% flat tax rate. Not to mention their joint position on the Euro and Europe in which the two parties have intimated their desire to "return to the pre-Maastricht setting" and the necessity to revisit EU budget contributions.

Debt write-off

Most notably and probably the big headline grabber yesterday was that the League and 5 Star members confirmed that they are discussing a €250bn write-off of Italian bonds held by the ECB, seemingly suggesting that it could well feature in their joint policy platform. Comments from League economic advisor, Claudio Borghi, trying to downplay the potential debt write off didn't help either when he said that it would just be a "request for a change in accounting rules". There  is still no word on who might be proposed as Prime Minister, although the Italian press have reported that Di Maio and Salvini could take turns, which would make for a very unusual situation. Market nervousness is likely to continue through the rest of the afternoon, but more pressure could come tomorrow if a formal agreement is reached and a 'contract for government' reveals the two parties heading towards their original positions on the Euro and fiscal policy.

Daily Telegraph reports suggest that Britain will tell EU it is prepared to stay tied to the Customs Union beyond 2021. Sources at the UK Prime Minsters office have reacted by dismissing this report. However, the BBC are reporting that ministers recognise that extending the transition deadline beyond December 2020 is the only way to break the deadlock over the customs union and the Irish border issue.

The Telegraph also reported on Tuesday that the Brexit war Cabinet agreed to put forward a new version of the backstop, which would remove the reference to the single market but keep Britain aligned to customs union rules.

The Cabinet source said that Mr Johnson, Mr Gove and David Davis, the Brexit Secretary, had made clear their objections to the approach. However, Mr Davis was reassured after securing improvements, while other Eurosceptic eventually decided to "swallow" the proposed backstop.

AIB Group: Scaled down Redwood disposed of a €1.1bn portfolio of NPLs
 

AIB Group have this morning confirmed the disposal of a portfolio of non-performing assets to Everyday Finance DAC. At 31 March 2018, the loan portfolio had a gross balance sheet value of €1.1bn, which represented risk weighted assets of €0.8bn. At completion, AIB will receive cash consideration of €0.8bn. Although AIBG does not refer to it by name, this portfolio of NPLs being disposed of is understood to be the (initial) outcome from the much reported on Project Redwood sales process. Project Redwood was originally believed to have included up to €3.7bn in NPLs, but this has been gradually scaled back as regulatory/political risks saw the portfolio reduced down in size and narrowed down in scope of loan/borrower type. AIBG has said that the portfolio is characterised by levels of deep long term arrears, with c.90% over 2 years in arrears and c.70% over 5 years in arrears, reflecting a lack of sustained and meaningful engagement and/or debt sustainability from the underlying borrower. The portfolio includes c.800 customer connections (each connection often involving multiple individual customers) across c.3,700 assets, and is underpinned by investment asset properties. Importantly, it excludes private dwelling houses and family farm homes, as well as performing restructured customer connections, thus reducing the political and regulatory hurdles that may have acted as execution risks to the transaction (see our recent coverage of PTSB's proposed Project Glas NPL disposal). The buyer, Everyday Finance DAC, is regulated by Central Bank of Ireland, and is understood to be purchasing the portfolio in partnership with US private equity house Cerberus Capital Management.


Irish Banks: KBC Q1 shows large provision release


KBC Bank's Q118 results showed a large provision release in their Irish operation, due mainly to the continued rise in house prices. KBC's Q1 results showed a net performance on the quarter of €57m, this heavily supported by a net provision release of €43m. This release came about mainly because of the continued increase in house prices and, to a lesser extent, improved portfolio performance across the impaired or non-performing loan book. For Ireland, KBC guide for a loan impairment 'charge' for full year 2018 for a net release (i.e. profit) of €100m to €150m.

SKG: IP takeover developments


Yesterday the Irish Takeover Panel set, at the request of SKG, a deadline of 7am on 6 June 2018 by which time International Paper must either announce an offer for SKG or announced that it will not proceed with an offer. Both SKG and International Paper released statements indicated that they support this deadline. International Paper added that it will not proceed with a binding offer unless it is recommended by SKG's Board of Directors. It also indicated that it would seek a secondary listing on the LSE and provide SKG shareholders with a "mix and match" facility. In response SKG reiterated the Board's position that IP's proposals are "significantly below the Board's assessment of the Group's true intrinsic worth and prospects and remain significantly below the valuations set by recent industry transactions"


IRES: CAPREIT increases shareholding

IRES' largest shareholder, CAPREIT, has lifted its stake in the company from 15.7% to 18.1% following its purchase of 11.8m shares for €16.2m. The transaction arose from the exercise of share options by former IRES (and now CAPREIT) CEO David Ehrlich, which were sold to the Canadian REIT. Mr Ehrlich has also agreed to sell a further 716,667 shares to CAPREIT in the near future (those shares are currently held in escrow until 1 November pursuant to the terms of his prior employment agreement with IRES). The exercise of these options by Mr Ehrlich increases the number of shares in issue at IRES by c. 3%. However, the options will also result in IRES receiving proceeds of €12.1m which will bolster its investment capacity by c.10% to €122m.
 
Irish Economy: Trade surplus ticks up to €4.0bn in March

Goods Exports and Imports data from the CSO show that the seasonally adjusted trade surplus widened to just over €4bn in March, having been just below that level in the previous month. On a seasonally adjusted basis, both exports and imports were slightly weaker on the month. Unadjusted data show that in Q118 exports were +4.3% y/y at €33.5bn; imports were +3.7% y/y at €19.9bn and the trade surplus was 5.2% above year-earlier levels at €13.6bn. Drilling down in the data reveals a slightly less positive picture than what the headline figures suggest, however. Only four of the nine major commodity groups posted annual growth in Q118. Elsewhere, a sharp fall in aircraft exports (from €2.1bn to €0.6bn) weighed on headline export growth, although this was more than cancelled out by a jump in chemical exports (from €17.5bn to €21.3bn). On the import side, we again see annual growth in only four commodity groups, along with material distortions caused by the aviation and chemicals sectors. We are loath to draw too many conclusions from the above data given the early stage of the year that they relate to and the distortions produced by some of the segments that are dominated by the multinationals. Nonetheless it is good to see expansion in both aggregate exports and the trade surplus in the year to date.
 
Economic Releases
 
10.00 EZ Trade Balance

11.30 EZ ECB's Constancio Speaks

13.30 US Jobless Claims

13.30 US Philadelphia Fed Manufacturing Index

14.45 US Bloomberg Consumer Confidence

15.45 US FOMC Member Kashkari Speaks

17.00 UK BoE MPC Member Haldane Speaks

18.30 US FOMC Member Kaplan Speaks