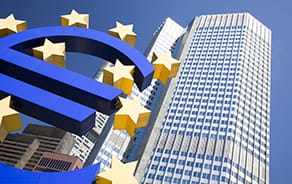 Italy no closer to forming coalition government
There has yet to be a final agreement between 5 Star and the League over a coalition government.
Reports yesterday had suggested that a final agreement had been reached, only for the both parties to correct those reports, stating that a few minor points still needed to be agreed. Italian markets had a bit of a whipsaw day, with the FTSE MIB closing 0.3% higher despite having been down 0.5% in the morning. A possible reason for the swing in markets yesterday was a comment from both 5 Star and League members that the final draft 'contract for government' did not include anything on a euro exit. Will an agreement be reached today? Perhaps not, as both 5 Star's Di Miao and the League's Salvini have broken from the official talks to campaign in the Valle d'Aosta regional election which is set to be held this Sunday, although it is not impossible informal talks could be held at some point. Note that in March's general election 5 Star's candidate took the seat from the regional coalition.
 
ECB's Nowotny gives warning
 
Governing Council member Ewald Nowotny says he's among policymakers who think that ECB "shouldn't wait too long with normalizing monetary policy, given the situation of the economy." It is expected that the ECB will offer a clearer picture in June or July as to how it will wind down the current stimulus, with QE due to expire at the end of September this year. With September firmly on the horizon and approaching, Nowotny has urged the ECB not to wait too long to start the normalization process. Nowotny went on to add "as in every institution, there are discussions and different perspectives"; "The asset purchase program that runs until September should be ended around that time, or step by step. There should be a rate increase within a foreseeable period, and as third step, the ECB should begin to stop replacing the maturing assets".
 
Oil trades over $80/b – First time since 2014
 
The International Energy Agency's monthly report was released yesterday with downward revisions to the amount of crude the IEA estimates OPEC needs to produce to balance the market for the remainder of this year. The revisions have mostly been driven by less optimistic demand estimates. They said that "While recent data confirms strong growth in 1Q18 and the start of 2Q18, we expect a slowdown in 2H18 largely attributable to higher oil prices. World oil demand is expected to average 99.2m barrels/day in 2018.".

This dovish report has done little to hamper oil's move higher setting a new high of $80.50/b
 
Dalata: RevPAR growth in April


The latest data from STR Global for April 2018 show a continuation of RevPAR growth in the Irish and Dublin markets. RevPAR in Ireland in April was +7.6% y/y and +8.5% y/y in the first four months of the year. Although higher ADR was the principal driver, occupancy also ticked up a little to 81.1% in April. Dublin RevPAR growth was slightly behind the national numbers but still robust at 6.6% y/y in April and 7.2% y/y in the January to April period. Again, the majority of the increase came via higher rates but occupancy of 86.3% in Dublin in April was the highest amongst STR's sample of 35 European cities. Across the Irish Sea, hotel markets were a touch weaker in April. UK RevPAR was -0.7% y/y in April (+0.6% YTD) and London RevPAR was -2.0% y/y (-1.3% YTD).
 
Irish Banks: Lloyd's sells Irish mortgage portfolio 


Lloyds Banking Group has announced that it has agreed the sale of its £4.3bn (c.€5bn) Irish residential mortgage portfolio to Barclays Bank, for a cash consideration of around £4bn. The potential sale of the Lloyds mortgage book has been reported on in recent months by the Irish media, and so the transaction is not a huge surprise, through Barclays Bank being the acquirer perhaps is. The Lloyds mortgage book had previously been described as highly performing but yield impaired given a high proportion of tracker and interest only mortgages within it. The transaction will generate approximately 25bps of CET1 upon completion, and will complete in H218, according to Lloyds. The transaction will also generate a pre-tax loss on sale of c.£110m, to be recognised in H118 results. The gross assets involved to the transaction are c.£4.3bn, of which £0.3bn are impaired, and in FY17 generated a pre-tax loss of c.£40m.
 
INM: Chairman's comments ahead of today's AGM


Independent News & Media has issued an update to the market ahead of its AGM which will be held later today in Dublin. In an address to shareholders, Chairman Murdoch MacLennan has set out the reasons why the group has opposed the appointment of inspectors by the Office of the Director of Corporate Enforcement (ODCE). The High Court heard details of this objection last week and a decision is expected soon. Notably, MacLennan says that "the Board is prepared to take such steps as are necessary to protect INM's interests and to obtain redress from third parties if advised that it is appropriate to do so". In terms of underlying trading, the Chairman says that he is "pleased to confirm that the group's trading performance year to date continues in line with market expectations", notwithstanding adverse weather in Q1 and "higher declines in digital advertising than expected". The group will treat costs relating to the ODCE and Data Protection Commissioner (DPC) investigations and business restructuring as exceptional charges, as expected, although no guidance is provided on the quantum of provisions that INM will book against the investigations.
 
Donegal Investment Group: Share conversion and redemption implemented 


As expected, following the approval of the return of capital to shareholders at the EGM held on the 16th of May, today it has been announced that the conversion and redemption of Donegal Investment Group (DIG) shares have been implemented. This results in Donegal returning €45m to shareholders. When added to the ongoing share purchases in the past number of weeks this will result in the company returning c.€50m to shareholders. Approximately 53.7% of each shareholders total holding was converted and redeemed at €9.25 per share. The company's issued share capital falls to 5.42m ordinary shares (4.19m outstanding, 1.24m treasury). The Board intends to cancel "an appropriate number" of treasury shares. Note that the ticker for the new shares is DQ7A.I (previously DQ7.I). After the sale of various assets including the Grianan Estate and its stake in Monaghan Middlebrook Mushrooms, the Board of DIG had announced that it was returning capital to shareholders and this marks the conclusion of that process. In its H118 results release on the 19th of April, DIG announced that the Board of Nomadic Dairy Ltd was reviewing its strategic plans for the business. In addition, given the significant change to the Group after the buyback it was flagged that the DIG Board was "undertaking a strategic review to consider all suitable options for the purpose of maximising long term shareholder value".
 
Rockwool: Q1 numbers released, trading in line with pre-release


Rockwool has this morning released a short statement on its Q1 trading performance, re-affirming the results in its previous Q1 pre-release and little new detail added. The company has reiterated its raised EBIT margin guidance for the full year from "at least 11%" to an expected level of 13%. The company cites strong demand for its products across all its major markets. Sales of €603m in Q1 were up +17%, boosted by FX +4%, acquisitions +3% and some stocking or hoarding by distributors of c.+2%. The operational benefits of the restructuring program started in late 2015 are still working their way through the Rockwool system. Some competitors have run out of capacity and Rockwool has successfully passed through price increases which they started to signal in Q417. While Rockwool are also facing capacity constraints, it is confident that ongoing de-bottlenecking can allow them to grow revenue at high single digit rates (7-10%) for the next couple of years, with 2% of this attributed to its Flumroc acquisition. There are also plans to increase capacity in the UK, with this increasing the investment level to €260m from the previously expected €230m. It also has new capacity coming on stream in 2020 (US and Romania).
 
Economic Releases


10.00   EC   Trade Balance

13.30   EC   Retail Sales 

13.30   EC   Consumer Price Index