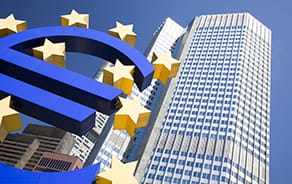 Migration agreement sees euro rally
EU leaders managed to come to an agreement in the early hours of the morning on how to deal with rescued migrants.
The summit came close to collapse after Italy threatened to veto the conclusion of the summit's entire agenda if migration wasn't addressed. Under the agreed accord, migrants rescued at sea will be sent to "controlled centres" across the bloc which will serve to distinguish between refugees in need of international protection and "irregular" asylum-seekers who would be sent back. All measures in the context of these controlled centres, including relocation and resettlement, will be on a voluntary basis, without prejudice to the Dublin reform. Originally, France and Italy had pitched a more ambitious plan, though this was watered down to make such centres voluntary in a concession to central European states who opposed compulsory quotas for refugees.
 
Market reaction
 
The euro has rallied overnight against both GBP and USD as the migration breakthrough sees a removal of major political risk among the EU member states. The ease in risk sentiment also saw a relief rally in commodity currencies AUD, NZD and NOK against the dollar.Though the euro strengthened after the deal was announced, it isn't clear at this stage whether it will be enough to defuse a political crisis between German Chancellor Angela Merkel and her CSU coalition partners. In terms of Brexit discussions, these are set to get underway today. Reports suggest talks will start at a later-than-scheduled 11:00am due to the late finish of the migrant debate.
 
UK: Focus on GDP
 
GDP growth in Q1 was confirmed at a paltry +0.1% at the second estimate, the weakest quarter for economic growth since Q4 2012. Right now our GDP forecast for 2018 as a whole is +1.5%, implying more robust economic growth over the remainder of the year.


There is no real clarity in what the new GDP figures might look like, but on the back of the plans for construction, we are tentatively suggesting that Q1 GDP could be revised up to +0.2% from +0.1%.
Right now our GDP forecast for 2018 as a whole is +1.5%, implying more robust economic growth over the remainder of the year. At this juncture we are comfortable with this view - anecdotal evidence suggests that consumer spending growth is beginning to gain some traction, while the latest CBI Industrial Trends Survey points to the manufacturing sector emerging for a soft patch. We will be looking for signs of reinforcement of this outlook from today's data.
 
Glenveagh: Land acquisitions above €400m
 
In advance of its AGM today, Glenveagh has released a detailed trading statement with the highlight being the announcement of further land acquisitions costing €120m. This spend is across four sites, three for the Homes business and one for the Living business, and brings total capital deployment on land assets to €404m. Operationally, the business has 234 units reserved YTD which underpins the group's target of 250 unit sales this year. Construction has commenced on 12 sites for Homes with c.800 expected to be under construction by year-end. Of the new acquisitions, the largest (in terms of cost, at c.€60m) is a 650-unit 2.44 ha site at Castleforbes Business Park in the North Docklands of Dublin. This site is adjacent to Glenveagh's existing site at East Road and the combined land should be capable of delivering c.1,100 apartments for the Living business in the fast-regenerating area close to a number of significant commercial developments currently under construction. Two of the remaining sites are at undisclosed locations in the Greater Dublin Area (cost of at least €29m) and can deliver a combined 1,100 units, while Glenveagh has acquired its first site in Cork city centre with a 4.6 ha purchase in the city's Docklands (costing €15m and delivering up to 1,000 units).
 
Irish banks: Ulster Bank cuts fixed rates again
 
The Irish Independent is reporting that UB has introduced a two-year fixed rate mortgage with a rate of 2.3%, the lowest rate on any standard mortgage product in the market. Although it did not previously have a two year fixed rate product to compare this new rate against, the current three-year product offers rates of between 2.90-2.99% (depending on LTV). UB has also simultaneously cut the rate on its seven-year fixed rate product to between 2.99-3.29% (depending on LTV), from between 3.29-3.49% previously, and also loosened the criteria needed to qualify for its market leading four year fixed rate of 2.6%. UB now has the leading two year, four year and seven year fixed rate products in the market (though the gap to headline competitor rates is smaller when cash-back deals are amortised in), and is clearly attempting to reclaim some of the market share it lost in 2017.
 
Economic Releases
 
All day EZ EU Leaders Summit

09.30 UK GBP

10.00 EZ CPI

15.00 US Michigan Consumer Sentiment