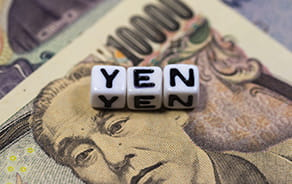 No fireworks from the Bank of Japan
The ECB wasn't the only Central Bank show in town yesterday. While we were sleeping, the Bank of Japan (BoJ) delivered their very own monetary policy musings.
It was a comprehensive 8-1 majority in favour of leaving policy unchanged with Kataoka again dissenting, calling for additional easing. The new deputy governor, Wakatabe, voted as part of the majority of eight putting fears to bed that he may be a fully-fledged dove similar to Kataoka. The main news from the meeting was that the BoJ removed wording on reaching its 'fiscal 2019' 2% target, markets have taken that as a simple abandonment of their 2% inflation target. JPY was little changed on the news.
Bank of Ireland: BIRG to close 27 service centres, cut 200 staff
Bank of Ireland has announced it will close all 27 of its back office service centres across Ireland, leading to approximately 200 job losses. The 27 service centres employ around 420 people, but BIRG has decided to centralise the function and use some of the freed up head count to redeploy staff to a number of customer facing roles in the retail branch network (+100) or for other roles across the bank (+60). However, the bank will be seeking over 200 job losses through voluntary redundancies or early retirement. The service centre closures are the latest cost cutting initiatives announced by CEO Francesca McDonagh who has pledged to lower underlying operating costs this year versus 2017.
Irish Banks: Lloyds to push on with €5bn mortgage sale
Reports in The Irish Independent suggest that Lloyds will continue to push on with the proposed sale of its remaining €5bn Irish residential mortgage book. This is despite some recent media reporting that Lloyds would seek to delay the sale, given the current sensitive political environment on loan book disposals. Lloyds retains approximately €5bn in residential owner occupied (OO) and buy-to-let (BTL) mortgage in Ireland, a holdover from the previous Bank of Scotland Ireland exposure which it gained following the takeover of HBOS. According to The Irish Independent, the "Project Porto" portfolio is roughly 85% OO, 15% BTL, and is highly performing, with only 2.64% of the book over 90 days past due. Additionally, the weighted average LTV on the book is 75%, and the majority of the loans are secured on property in Dublin or its immediate commuter belt. As such, the loan book appears to be prime credit quality in nature. However, the portfolio is described as "yield impaired" with 55% of the book still on an interest only repayment basis (46% for OO, 94% for BTL), and 77% of the loans are contractually tied to tracker rates. This mix of high credit quality and low repayment yield suggests that it will be of little interest to the specialist distressed debt funds who have been the most active in the Irish residential mortgage space in recent years.
Irish Banks: Ulster Bank Q1 results
RBS has released its Q118 results this morning. While our colleagues in London will deal with its performance at a group level, our focus here is on its Irish unit, Ulster Bank RoI. Ulster Bank RoI reported a 1.8% y/y fall in total income to €165m, driven by the continued reduction in income from free funds. This is in spite of a 4bps increase in NIM in the quarter. The group was able to more than mitigate the top-line decline by cutting OpEx (as part of the group's restructuring programme) from €164m in Q117 to €145m in the last quarter, but an impairment loss of €9m (Q117: net release of €28m) saw operating profits come in at €11m versus €32m a year earlier. The impairment charge was mainly driven by "an €11m provision for remediation and project costs associated with legacy business issues", which is presumably tracker-related. Ulster's ROE was 1.6% in the quarter, versus 4.0% a year ago. This is in spite of the payment of a €1.5bn dividend to Natwest Holdings Limited at the end of January. Ulster Bank's net loans and advances fell €0.3bn in Q118 (including a €0.2bn fall in its tracker mortgage book).
Dalata: Record number of overseas visitors to Ireland in Q1
Overseas visitors' data from the CSO show a pick-up in the growth rate of visitors to Ireland in Q118. In the three months to the end of March 2018, the total number of trips to Ireland increased by 6.9% y/y with North America and Europe (ex. GB) again leading the way. Total visitors of 1.92m in the quarter was a record for Q1. The 6.9% growth in visitors in Q1 compares favourably with a full-year growth rate of 3.6% in 2017, a record year for overseas arrivals into Ireland. The number of British visitors was marginally higher y/y in Q1 (+0.3%) and, while this remains the largest market for inbound travellers, the Europe (ex. GB) segment is closing this gap – this market showed growth of +13.8% y/y in Q1. Visitor numbers from North America also continue to expand and were +13.0% y/y in Q1, following growth of 16.2% in 2017. Q1 is very much the off-season for this segment, although it has an overweight level of importance due to typically longer stays and greater spend per trip. Other markets (principally Asia/Australia) were 1.5% higher y/y in Q1.
Travis Perkins: Q1 trading update
Travis Perkins has reported lfl sales growth of +3.0% and total sales growth of +2.4% for the first quarter. Sales from the restructured Plumbing & Heating division grew +19.7% on a lfl basis. Sales in the main General Merchanting Division were -1.9% with lfl sales -1.3%. The quarter was badly effected by poor weather in January & February and one less trading day v's 2017. The company say that "excluding impacts of adverse weather, General Merchanting lfl sales were positive" - Weather was particularly disruptive for Heavyside material sales which they estimate as reducing Heavyside sales by up to -1.5% to -2.0% in the period. While mixed trading conditions are expected to continue the Group says it is on track to meet expectations for 2018.
CRH/KSP/Grafton: Saint Gobain Q1 sales update
Saint Gobain has reported Q118 sales with organic growth +1.6% compared to +6.5% in Q4. While the pricing component remained relatively stable at +2.1% in Q1 vs +2.7% in Q4, volumes declined by 0.5% vs +3.8% in Q4. This was of course influenced by the weather and tough comps due to the timing of Easter. On a divisional basis LFL sales for Interior Solutions, which includes the Group's insulation operations were +4.6% (vs Q4 +8.9%) driven by Asia, EM and good underlying markets across Europe except the UK. Building Distribution sales were -0.7% (vs Q4 +4.0%). Within the UK management indicated that volumes continued to deteriorate, partly offset by a strong price effect, while France and Germany were hit by hard weather. On a regional basis LFL sales were highest in EM (+6.8%), followed by North America (4.6%), France (+1.3%) and Rest of Europe %-1.1%).
No change on key ECB policy rates
As widely expected, the ECB Governing Council (GC) held policy steady at yesterday's meeting, with the key ECB policy rates unchanged at -0.40%, 0.00% and +0.25% (deposit, refi, marginal lending). The ECB's current pace of asset purchases was also left unchanged at €30bn per month, running until September 2018. Perhaps the biggest question surrounding today's meeting was how much concern the GC would express over the weakness of economic data in the first quarter. As expected the opening statement and President Draghi's comments during the press conference acknowledged that figures over recent months had indicated a loss of growth momentum. Indeed the President revealed that future policy was not discussed during the GC meeting, instead each GC member had reported back on their individual economies. The general view is one of a broad slowdown across all countries and sectors. As a result the GC removed a reference to the fact that 'prevailing positive cyclical momentum could lead to stronger growth in near term' from its statement. However the risks around euro area growth were still deemed to be broadly balanced.
Trade & inflation concerns
Mr Draghi also touched on trade concerns, and it is notable that within the GC's assessment, risks from protectionism were now deemed to be more prominent. If anything the recent mood music around trade has been slightly more positive, with US Treasury Secretary Mnuchin set to visit China next week for talks. Nonetheless President Draghi warned of the rapid and profound impact a deterioration in the global trade environment could have on confidence. At the same time there appeared to be no change in the GC's assessment of the inflation outlook. The ECB continues to judge underlying inflation as being subdued, but that the underlying growth backdrop supports its confidence of inflation converging to target. The President did however make one note of certain 'encouraging signs' on wage growth, perhaps in reference to the recent announcement around German wage settlements.
ECB cautious approach
The overall take away from yesterday's press conference is that the ECB is taking a cautious approach to the slowdown witnessed in Q1. Indeed the President pointed out that there was no discussion about policy today because the GC needs to assess whether the slowing in economic activity is temporary or something more permanent. This means that at least one or two months of data will be needed to confirm its confidence in the outlook before making its next policy signal. Given the tone of today's meeting, we are no further forward in gauging the exact timing of the ECB's exit strategy. As such we see little reason to change our view on ECB policy at this point. Our current view on ECB sequencing envisages a i) decision on tapering and ending QE in June, ii) an adjustment to the 'well past' rate guidance in September and iii) the first hike in rates coming in Q2 2019 (+20bp increase in the deposit rate). The euro is weaker on the day, with EUR / USD currently trading at just over $1.21. German (10y) Bunds seeing yields falling 4bp to 0.59%. However this looks to be part of a wider US dollar and bond market move rather than ECB related.
Economic Releases
09.00 EC ECB's Mersch speaks

09.30 UK GDP
10.00 EC Confidence surveys

13.30 US GDP

15.00 UK BoE's Carney speaks