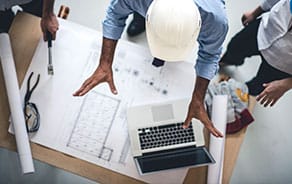 Yew Grove has released interim results covering the period from incorporation on 5 April to 30 June. This short timeframe proved to be a busy one for the group, which completed an IPO in June and agreed €55m of previously announced property deals.
Within the release, the key numbers are all in-line with our own expectations. The end-June NAV of €0.9655 and annualised rent of €4.6m suggest YEW is on track to meet our end-2018 NAV forecast and FY19 gross rents (from the seed portfolio and Gateway). The latter is part contingent on letting-up vacant space and, to this end, we are heartened by the reference to "a number of asset management projects on our current properties" in the RNS. Management is guiding a dividend for the period from admission to end-2018 of between 1.0c and 2.0c, with the higher payment "contingent on deployment of the remaining net proceeds of the IPO and target leverage (25%) by year-end". We are encouraged by management comments that YEW has "a strong pipeline of investments" and that its "board is confident that all of the...IPO proceeds will have been invested before the year end".

IRES/HBRN/Housebuilders: Irish house prices rise again

The latest Residential Property Price Index (RPPI) release from the CSO shows that Irish house prices rose for a 19th successive month in July, +1.0% m/m. The monthly rate of inflation outside of Dublin was 1.4%, double the rate of increase recorded for the capital, as Central Bank LTI and LTV limits on new mortgage lending continue to bite (separate Daft.ie data show that average asking prices in Dublin are 81% above the rest of the country). On an annual basis prices were +10.4%, the slowest year-on-year growth since April 2017. The latest monthly increase means that national prices have risen by a cumulative 81.3% from the trough (+93.8% in Dublin), but they are still 18.8% adrift of the Celtic Tiger era peak. Nonetheless, it's important to note that the peak-to-current move compares favourably with the 30-40% declines that we understand the domestic banks use in their provisioning models.

Strong UK wage growth encouraging for BoE

Key metrics in yesterday's UK labour market release were overall positive. The unemployment rate remained steady at 4.0% in the three months to July, a joint low since 1975. This was in line with consensus and Investec forecasts. The unemployment rate remained steady at 4.0% in the three months to July, still a joint low since 1975. This was in line with consensus and Investec forecasts. The unemployment rate remained steady at 4.0% in the three months to July, still a joint low since 1975. This was in line with consensus and Investec forecasts. What was more definitive however was a strengthening in pay growth. Total weekly earnings rose by 2.6% in the year to July (consensus and Investec 2.4%, June 2.4%). Importantly, ex-bonus earnings rose by 2.9% (consensus and Investec 2.8%, June 2.7%). In fact the 'stand-alone' figure for July was 3.1%, the firmest outturn since December 2008, helping to vindicate the Monetary Policy Committee's expectation that tight labour market conditions will force up the pace of wage increases. All in all, the report is likely to reassure the Bank of England that it was correct to raise interest rates last month, moreover it is likely to encourage it to maintain a slow pace of policy tightening.

Sterling gyrates on mixed Brexit messages

With so many moving parts and differing opinions, it's no wonder that the relentless drip feed of Brexit news is constantly pushing and pulling at the value of sterling. Shortly after 1pm yesterday some upbeat news broke that our very own Taoiseach, Leo Varadkar, had gone on record to say that we may get a Brexit deal "within weeks", prompting a forty point push lower in the benchmark EUR/GBP rate. This was only to be countered by some equally disheartening news some three minutes later that the EU warns Britain of too much optimism over 'red lines', pulling the rate back to and above the levels it had been at prior to Mr. Varadkar's comment. Not for the faint of heart, I think you'll agree.

Will Turkish Central bank action finally ease concerns over Lira?

Tomorrow see's the ECB and Bank of England holding their latest policy meetings, which would usually be the highlight of the data calendar. However both meetings are likely to take a back seat the Central Bank of Turkey's meeting, where a decision on a controversial rate hike could ease or stoke concerns over the embattled emerging market economy. The Central Bank took aggressive action to stem concerns over the country's currency in May, raising its one week repo rate from 8% to 16.50%. However they have run resistance in the form of President Erdogan's mistrust of rate hikes, and since May, the central banks actions have been more subtle and less effective. A 1.25% hike in early June gave the Lira a small nudge but that proved short lived, while the decision not to raise rates further in late July was seen as a major contributing factor to the Lira's collapse in August. Market consensus around tomorrow's meeting is for a 3.25% hike to bring the rate to 21%, however with inflation running at close to 18% and the Lira having made very little recovery since its August collapse, many economists suggest a large rate hike may be required to boost interest in the ailing currency. On the other hand, the central bank will no doubt be mindful of the markets disastrously counterproductive reaction to Argentina's 15% rate hike at the end of August, which saw the peso slide almost 25%. One thing Turkey certainly doesn't need at the moment is for a significant rate hike to simultaneously increase borrowing costs while also setting off a further slide in the currency.

Economic Releases

10.00 EC Industrial production
14.40 US Fed's Bullard speaking
17.45 US Fed's Brainard speaking
19.00 US Fed beige book