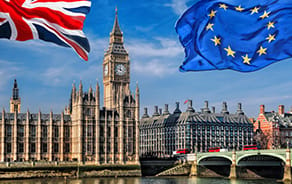 Sterling catches a bid on positive Brexit news
Brexit discussions look to be moving in the right direction again in the run up to the 22/23 March EU Summit.


Both sides in the talks are said to believe they are getting closer to a deal on a transition package, which bodes well for sign-off at the Summit next week. Reports indicate that the transition period is expected to last nearly two years until the beginning of 2021, with David Davis (Brexit secretary) saying he could 'live with' a period of less than two years; hence importantly this length of transition period does not seem to be a show stopper to a deal next week. Progress also looks to have been made on the trade front, where the EU's position has reportedly softened to say that the UK will now be able to both negotiate and sign trade deals during the transition period, in what looks to be a clear step forward in talks, from a UK perspective. Furthermore, the EU is also now said to have agreed that the UK will not have to defer to Brussels in WTO talks and will be able to participate 'in its own right', as long as it sticks to EU rules; this is seen as particularly important in allowing the UK to negotiate trade deals during the transitional period. Overall, ahead of next week's Summit, there appears to be positive momentum, although British officials are still flagging that ambiguities needed to be ironed out. Brexit Secretary David Davis looks set to head out to Brussels on Sunday to meet with negotiators and his EU opposite number Michel Barnier, so we may well hear more on progress at that point.
US retail sales data
Released yesterday afternoon, the print came in weaker than expected in February. Headline sales fell 0.1% m/m against a consensus of +0.3%. The core measure was also on the softer side of expectations at +0.2% against a consensus of +0.4%. US PPI figures released at the same time saw headline producer prices recorded at +0.2% m/m (consensus +0.1%) and  core prices +0.2% (consensus +0.2%). There was retail sales declines right across the board; food & beverage, electronics & appliances and automobile sales. Retail sales, which is probably the biggest part of the US economy, appears to be cooling after a nearly 4% rise in the last quarter of 2017. Overall it was the weakness of the retail sales numbers that are most noticeable, although there was minimal market reaction.
Oil reverses losses as US supply rises
The oil markets remain in a tight range at the moment. The Brent front month finished marginally stronger on the day yesterday and the mild USD weakness this morning in the Asian session has seen that bid tone persist – as it stands the benchmark EU contract is trading a whisker below the $65.00/bbl mark as we head into the EU open. Investors digested the EIA data overnight which showed a rise in crude inventories of 5mn bbls in the week ending March 9, this was strongly up on analysts' expectations of an increase of 2mn bbls. Arguably the more important number was the US Production statistics for the week; this showed a build as well with the US output hitting 10.38mn bpd. The march towards the forecasted break of 11mn bpd continues unhindered at present. OPEC has accepted a new reality and raised its forecasts for non-member oil supply this year. The revised figures are almost double what it had pencilled in 4 months ago as the higher prices boosted US shale drilling which offset their production cuts and a collapse in Venezuelan production. Reuters reported - In a monthly report, the Organization of the Petroleum Exporting Countries said non-OPEC producers would boost supply by 1.66 million barrels per day in 2018. That was the fourth straight rise from 870,000 bpd forecast in November. "For 2018, higher growth is expected on the back of the projected increase in U.S. shale production following a better price environment not only for shale producers, but also for other countries such as Canada, the UK, Brazil and China," OPEC said.
Irish Economy: Residential prices +12.5% y/y in January
The latest Residential Property Price Index (RPPI) release from the CSO shows that Irish residential prices were +0.9% m/m and +12.5% y/y in January. The RPPI has increased for 13 successive months, reflecting the ongoing mismatch between demand and supply in the housing market. Since the early 2013 trough, national prices have increased by 73.4%, led by Dublin where prices are 89.2% above their low point. In the rest of Ireland, prices are 65.7% above their nadir. Despite this growth, national prices are 22.3% below their all-time high. The RPPI data also show that transactions were +4.2% y/y in January, with this growth entirely driven by sales of new dwellings (+37.4% y/y to 683 units). While the increase in activity is welcome, it needs to be put into context. The latest Property Price Register data show that 54k transactions took place in 2017, which is equivalent to 2.7% of the housing stock (a level of activity that implies properties are changing hands once every 37 years on average). The RPPI increased by 10.9% in 2017, which was the third time in the past four years that double-digit growth was recorded. Usually such a rate of increase would give grounds for concern, but a range of indicators (affordability measures, employment and earnings data, residential yields and new mortgage lending) suggest that this recovery is very sustainable.
Irish Economy: Employment 0.5% below the Celtic Tiger peak
The latest Labour Force Survey from the CSO shows that total employment rose by 3.1% y/y in Q417. On a seasonally adjusted basis, employment rose 1.3% over the previous quarter. Over the 14 different sectors of the economy, 12 posted annual growth in Q417, with noticeable increases posted by Administrative & Support Services (+11.7% y/y); Construction (+9.9% y/y); Accommodation & Food Service Activities (+8.8% y/y); Public Administration & Defence (+8.1% y/y); and Education (+7.1% y/y). This is mainly explained by the strong growth seen in the domestic economy, which has allowed the government to loosen the purse strings a little. One surprise is the growth in ICT employment (+3.3% y/y) – we would have anticipated a stronger increase given bumper IDA Ireland jobs data, but this may be explained by sampling issues. The seasonally adjusted unemployment rate fell to 6.4% in Q417, -30bps q/q. The latest (revised) data show that the unemployment rate has fallen further since the start of 2018, to 6.1% in February. As a result of these data we can now see that overall employment rose 2.9% in 2017 following the very strong 3.7% increase that was recorded in 2016. Total employment is now just 0.5% lower than the Celtic Tiger peak, but the sustainability of this is far more solid than it was a decade ago, when a credit bubble inflated construction sector employment to a record 241.3k in Q207. Construction employment currently stands at 133.8k.  
Economic events
12.30      US     Empire Manufacturing
12.30      US     Initial Jobless Claims