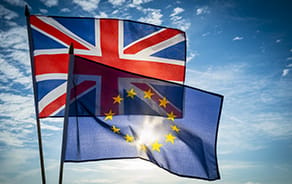 Sterling jumps on positive Brexit news
There seems to be no let up on the near constant Brexit news-flow, both positive and negative, depending on your standpoint.

With this relentless ebb and flow of news comes the ever present volatility in the value of the Pound, particularly against the single currency. Yesterday morning sterling jumped in value on news that a report to be published by the european parliament suggested that they would be pushing for the UK to retain "privileged" access to the european single market. Sources indicated the EU parliament was looking to adopt a resolution before the end of March. This is without doubt a dramatic softening of stance and has been the first real bit of positive Brexit news in the past few weeks.
All eyes on EU 'flash' PMI's
January's euro area composite PMI rose to its highest level since June 2006, at 58.8, following the upward revision to the flash estimate. The rise came despite a cooling in the manufacturing PMI which edged back to 59.6 from 60.6, albeit still indicating buoyant growth in the sector. However service sector activity firmed to 58.0 from 56.6, closing the gap with manufacturing activity which outperformed services over the course of 2017. The survey once again highlighted firm employment growth (there was a 17 year high in the manufacturing PMI's employment component), rising capacity issues and a continued upbeat tone on business optimism, suggesting that there are no signs of momentum in the euro area economy easing.
FOMC Minutes to boost USD?
This evening (7pm) sees the publication of the minutes to the Federal Reserve's January monetary policy meeting. The meeting itself was slightly hawkish and was interpreted by the market as indicating that a rate hike at the March meeting was likely. Today's minutes will likely reinforce expectations that the Fed is on track to raise rates again under its new chief Jerome Powell in his first meeting in charge of the Fed.
While the Fed's rate projections ('dot plot') won't be updated in these minutes, any suggestions that reinforce the expectation that the Fed will hike rates in line with the last 'dot plot' (i.e. three hikes in 2018) or even possibly more aggressively could give the dollar a bigger boost as markets are currently only pricing in just a ~60% expectation of the Fed hiking rates three times by the end of the year.
Glanbia: FY17 numbers, FY18 guidance in line
Glanbia has issued FY17A numbers this morning, reporting a 4.0% increase in adj. EPS to 89.17c from a 3.6% increase in EBITA to €283.2m and 7.0% increase in revenue to €2.39bn. Looking forward, management is guiding EPS to grow by 5% to 8% on a constant currency basis, impacted, at this stage by an 8% translational headwind. The dividend has been increased by 65% to 22.0c under a revised dividend policy targeting a pay-out ratio of 25% to 35% of adj. EPS. At the divisional level, Glanbia Performance Nutrition (GPN) reported a 4.4% increase in EBITA to €169.7m from an 11.3% increase in revenue to €1.12bn. LFL revenue grew 5.6% where strong volume growth of 7.1% was clipped by a weak pricing environment (-1.5% versus -0.8% forecast). Acquisitions contributed 8.1% to GPN revenue tempered by FX headwinds (-2.4%). Glanbia Nutritionals reported a 1.5% increase in FY17A EBITA to €113.5m from a 3.4% increase in reported revenue to €1.27bn. LFL revenue grew by 5.4% where volume growth of 3.9% was augmented by a 1.5% price increase. GN experienced a similar FX headwind as GNP, at -2.0% and there was no contribution from acquisitions. Glanbia's share of profit after tax from JV's was €42.8m.
CRH: ABI posts fourth month above 50, healthy guidance from Home Depot
The AIA Architectural Billings Index has come in this morning at 54.7, an increase over December's reading of 52.9, while yesterday Home Depot provided a reassuring outlook on the US market. For the ABI this is the fourth straight month above 50. In terms of the components, the Inquiry index came in slightly lower at 61.1 vs 62.0 in December. Design contracts offset this, moving up from 53.4 in December to 53.9. All sectors came in above the expansion number of 50.0. Multi-family residential was strong at 56.0, with institutional (52.5) and commercial (53.3) also solid. Mixed practice hovered just above the growth line at 50.1. Geographically the South (55.3), West (56.2) and Midwest (54.8) all remained healthy, though the Northeast (47.3) continues to struggle. AIA noted that strong billings and healthy growth in new projects at the start of 2018 has led to firms remaining generally optimistic about business conditions over the few month. Separately, Home Depot reported FY17 results yesterday which included total company comparable store sales of 6.8%. Looking out to 2018 the company is guiding for comparable store sales growth of approximately 5.0%. Beyond 2018 the company has reiterated its 2020 financial targets which also included compounded annual sales growth ranging from 4.5% to 6.0%.
HeidelbergCement: US takes the lead on pricing, but EU could follow
HeidelbergCement's FY17 preliminary results have been released. Preliminary results for HeidelbergCement have seen the company report Q417 operating EBITDA of €892m, +17% YoY and +16% on a LFL basis. Management expects demand to accelerate in 2018. More specifically, it expects demand growth in North America to be +2% to +6% (from East to West Coast), most European markets to show strong growth (DE +5%, FR, +4%, ES +10%, PL +4%, IT +1% and UK +1%) and Asia Pacific to remain strong (Philippines +12%, Indonesia +6%, India +7%). For the US it has assumed no gain from a Trump related infrastructure plan, but does see scope for further cement (+$5.5/t) and aggregates (+4% to 5%) price increases. In Europe the company is looking to implement several price increases (IT €10/t, NL €3/t, PL €3/t, DE €2.5/t, FR €1.5/t, RU €4/t) with Italy being a clear swing factor (~6mt production). The incremental gain from Italcementi synergies in 2018E (37m) is expected to be much less meaningful than 2017 (€295m), but the drag from key EMs (Indonesia, Thailand and Ghana) is also expected to be less meaningful.
PTSB: Political risks rising as bank outlines NPL portfolio for sale
PTSB yesterday disclosed details on the constituent parts of the proposed Project Glás portfolio for sale. This comes amid significant pressure being put on both PTSB and the Irish government on concerns that unregulated distressed debt funds may end up owning significant numbers of non-performing owner occupier loans. After a number of days dominating newspaper front pages and political soap boxes, the Irish government and PTSB both yesterday commented on the proposed sale by PTSB of c.€1bn in non-performing BTL loans and c.€2.7bn in non-performing owner occupier home loans (OOHL). This disposal is set to arrive via the 'Project Glás' portfolio which PTSB updated the market on last week and which newspaper reports have suggested would contain a significant level of OOHLs. PTSB last night outlined that there is approximately 18,000 loans included in Project Glás, with c.€1.0bn or c.4,000 categorised as BTL, and c.€2.7bn or c.14,000 categorised as OOHL. Of this €2.7bn, approximately €2.0bn were OOHL loans where the borrower had not engaged with the bank, whose mortgage was unsustainable in nature, or who have been unable to meet the terms of various restructuring treatments put in place. On average, this portion of the portfolio was in arrears of over 3.5 years. PTSB noted that regardless of who owned the underlying mortgage, whether a regulated or unregulated entity, significant consumer protections would remain in place to protect borrowers in arrears. Nonetheless, the Irish government yesterday stated that it would engage with opposition parties in looking at whether additional legislative protections were necessary for borrowers whose loans were potentially being acquired by non-bank investors, particularly any unregulated entities which would not fall under the supervision of the Central Bank of Ireland. We have long believed that any attempted sale of OOHLs to non-bank investors by any of the Irish banks would be met with significant political and media push back, and as such have not been surprised by the reaction seen in recent days.
IRES REIT: Kennedy Wilson for Cork, IRES for Dublin?
Today's Irish Times reports that Kennedy Wilson 'is in pole position' to buy The Elysian, the country's tallest apartment building (17 storeys and 217 apartments) after being selected by the vendor (Blackstone) as the preferred bidder. Elsewhere, a portfolio of 11 apartments at the Elmpark Green development in Dublin is likely to attract interest from IRES REIT. Kennedy Wilson is the second-largest private residential landlord in Ireland after IRES REIT. If confirmed, this would be its first significant move outside of Dublin. Data from Daft.ie show that only 277 residential units were available to rent across Ireland's secondary cities (Cork, Galway, Limerick and Waterford) at the start of February, 79% below the average for the series (which goes back to January 2007). For context, 1,339 units were available to rent in Dublin on that date, which is 60% below the long-term average. Separately, The Irish Times reports that a portfolio of 11 apartments at Elmpark Green in Dublin 4 (south-east of the city centre) is being brought to market today with a guide price of €3.4m. IRES owns 201 apartments and 203 car parking spaces in the same complex, which it acquired for €59m plus costs in 2016.
Dalata: STR data released
The first hotel performance dataset of the year from STR Global showed that the sector in Ireland started the year with RevPAR growth of 5.4% y/y in Dublin and 8.0% y/y in Ireland in January. These increases follow RevPAR growth in 2017 of 7.7% in Dublin and 8.5% in Ireland. In what is typically the lowest month of the year, year-on-year increases were recorded in both occupancy and ADR levels. In Dublin, occupancy was +1pp at 66.4% and ADR was +3.9%. In the country as a whole, occupancy climbed 1.7pp to 59.7% and ADR increased by 4.9% in the month. Of relevance to Dalata's existing and pipeline business across the Irish Sea, RevPAR increased by 1.6% y/y in the UK in January with the London market close to flat at +0.3% y/y.
Economic Releases
09.00      EC      Manufacturing PMI
09.00      EC      Services PMI
09.30      UK      Manufacturing PMI
09.30      UK      Services PMI
14.45      US      Manufacturing PMI
14.45      US      Services PMI
19.00      US      FOMC minutes