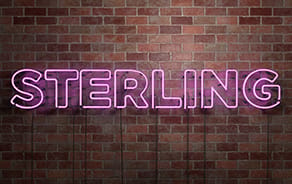 Sterling slumps on subsiding UK inflation
UK CPI numbers for March were published yesterday.

It may seem a little out of place for these figures now to be published on a Wednesday, after being a Tuesday release for many years. However the tale they are telling is becoming reassuringly familiar, namely that inflation is subsiding quickly. The targeted CPI measure fell to 2.5% from 2.7% in February (consensus 2.7%, Investec 2.5%), its lowest level for a year. Meanwhile CPIH inflation (which includes an estimate of owner occupier housing costs) dipped to 2.3% from 2.5%. The RPI measure (to which the value of the UK's stock of index linked gilts is tied), dropped to 3.3% from 3.6%.
Weak sterling effect wanes
The bigger picture is that we are beginning to see more tangible evidence that upward pressure on prices from sterling's post-referendum weakness is beginning to ebb. We expect this trend to continue and for it to be reinforced by the currency's more recent performance. Note that in overall terms, the pound has risen by 4% since the start of 2018. Inflation has fallen more rapidly than expected by the Bank of England at the time of February's Quarterly Inflation Report (IR). Indeed the IR expected the March CPI measure to be at 2.8%. Inflation also seems likely to undershoot the BoEs expectations significantly over the coming months, with a roughly even chance that inflation falls below its 2% target before the end of this year. By contrast, the latest IR forecasts envisage inflation at 2.4% in Q4.
May hike still on
Will this have a material impact on monetary policy? We think probably not. Certainly in the near-term, the Monetary Policy Committee will point to the tightness of the labour market and recent evidence that pay growth (excluding bonuses) is picking up. For that matter, it is also likely to dismiss any weakness in Q1 GDP growth as weather related and therefore temporary. This should help it to push through a second 25bp increase in the Bank rate to 0.75% next month and most likely a third move in November as well. We would note that the FOMC has raised rates in the US (and started to reduce its QE portfolio), even though inflation has been below 2% since the first half of 2012 (using the core PCE measure). Nevertheless from a presentational perspective it may become trickier for the MPC to justify rising rates, especially if evidence of firmer wage growth becomes less clear cut. Sterling fell back on yesterday's data with the benchmark EUR/GBP rate gaining more than 50 points to open this morning around the 0.8720 level. 10-year gilt yields fell by 5bps to 1.39%, while there were gains in short-term interest rate markets. On our calculations, the yield curve is still pricing in a substantial chance, now 76%, of a hike on 10 May.
UK retail sales (Mar) due
Sales volumes recovered by 0.8% on the month in February, following two successive months in which the series had posted declines. Data volatility is of course common at this time of year as the seasonal adjustment process struggles to cope with the Christmas and New Year periods. In addition the recent introduction of 'Black Friday' sales in November to the UK has further complicated the picture, with retailers reporting that buying has been brought forward from the very end of the year.
On the face of it, the recent BRC Retail Sales Monitor was relatively upbeat, stating that total annual sales value growth in March firmed to +2.3% from +1.6% in February. But it is important to note that Easter was relatively early this year. Easter Sunday fell on 1 April, and the survey's relative buoyancy may partly reflect the typical increase in shopping activity in the run up (note that the BRC numbers are not seasonally adjusted).
Overall we expect a weak weather related outturn (effects of the "Beast from the East" will be reflected in this month's data) and are forecasting an overall monthly decline in sales of 1.2%. The ex-petrol figure should not be quite so soft, but we are nonetheless pencilling in a significant drop of 0.8%. A final note is that this release says relatively little about the underlying pace of consumer spending. We remain more optimistic that inflation is set to fall relatively promptly over 2018, easing the squeeze on the household sector, especially bearing in mind that pay growth should also strengthen modestly as well. This should herald a firmer run of retail figures over the coming months.
Donegal Investment Group: H118 results, shares to be redeemed at €9.25 per share
While Donegal Investment Group has reported a solid set of H118A (numbers detailed below), the market has been awaiting details of the previously flagged return of capital to shareholders. Disposal of a number of non-core assets including the Grianan Estate and the Group's interest in Monaghan Middlebrook Mushrooms has the company in a net cash position of €46.1m at H118A. It is now proposed to return €47.5m to shareholders by way of a pro-rata conversion and redemption of up to 53.7% of all ordinary shares on the conversion record date of 18 May, if approved at a proposed EGM on the 16th of May. Shareholders will receive cash of €9.25 per share or a deferred share for each share, if unwilling to have their shares converted and redeemed. This price represents an 8.2% premium on yesterday's closing price and a 20.1% premium on the price before the announcement on the 16th of February that capital would be returned to shareholders. If implemented in full, c.5.13m shares will be redeemed. Given the significant change to the Group should the proposed buyback be approved and executed that the Board is "undertaking a strategic review to consider all suitable options for the purpose of maximising long term shareholder value". On the operational side, DIG has reported adj. EPS of 23.8c from trading profit of €3.2m and revenue of €44.2m. On a divisional basis, Produce reported an operating profit of €1.8m from revenue of €18.9m while Food-Agri & Property (FA&P) reported an operating profit of €1.4m from revenue of €25.3m. Produce, which is primarily seed potato production, suffered from adverse weather conditions in Europe, which reduced yields and drove seed potato volumes down. This was, to some extent, mitigated by better margins. In Brazil, seed potato demand was down significantly due to the economic climate. Within FA&P the specialty dairy business experienced good volume growth, while the Board of Nomadic Dairy Ltd is reviewing its strategic plans for the business, as previously announced. The Smyths animal feeds business "performed satisfactorily" over the period.
Irish Economy: Government support down slightly
The latest Ipsos MRBI poll for The Irish Times shows that support for the government has slipped, but not to the extent that would encourage the main opposition party to pull the plug on the 'supply and confidence' deal that keeps the minority administration in power. The poll shows that the governing Fine Gael party has 31% of the vote (-3pc on January's poll), with Fianna Fáil on 26% (+1pc), Sinn Fein on 22% (+3pc), Labour on 5% (+1pc) and Independents and minor parties on 16%, -2pc. The margin of error is +/- 2.8pc, so these changes in implied support are not especially meaningful, although we would speculate that the rise in Sinn Féin support is probably tied to the 'new leader' effect, with Mary Lou McDonald's approval rating of 39% some 12pc higher than Gerry Adams' in the last poll. In recent weeks there has been speculation that Fianna Fáil may pull its support for the minority government. Its confidence and supply agreement runs until after the introduction of the Budget in October. We have previously noted (see 'The show 'might' go on', April 4th) that "it is not clear that [Fianna Fáil] would benefit from such a move", given that it lags Fine Gael in the polls. While the gap between the two largest parties has narrowed to 5pc from 9pc in January, the fact that Fine Gael's leader, Taoiseach Leo Varadkar, enjoys a 55% approval rating versus Fianna Fáil leader Micheal Martin's 40% satisfaction level suggests that candidates running on the former's ticket would enjoy a bounce in terms of transfers under Ireland's PR-STV voting system. Today's poll supports our view that there is no incentive for Fianna Fáil to call an election this side of October's Budget. The party is also highly unlikely to want to fight a Christmas election. It's hard at this juncture to consider what might happen in 2019 – the old adage that 'a week is a long time in politics' comes to mind – but as we've said before, rhetoric aside, there isn't the width of a cigarette paper between the two largest parties on core economic policies. So we wouldn't expect any near-term election here to result in any real changes.
Aryzta: New CEO Europe announced
Aryzta has announced that Dermot Murphy has decided to step down from his position as CEO Europe, with Gregory Sklikas set to replace him. Mr Sklikas will join the company at the end of May, with Mr Murphy staying on to provide support and mentoring until August. The outgoing Mr Murphy has been with the company for 20 years. He had previously served in a number of roles, including COO Europe. Mr Sklikas comes on-board with considerable experience in food, having spent 14 years at Unilever and 11 years at Royal Friesland Campina. Most recently he served as COO EMEA for Friesland Campina, with a responsibility for €4bn in sales, 14 operating companies, overseeing 35 countries and 21 factories in the region.
Economic events
09.00    UK   Retail Sales
11.10    UK   BoE's Brazier speaks
13.00    US   Fed's Brainard speaks
13.30    US   Initial Jobless Claims