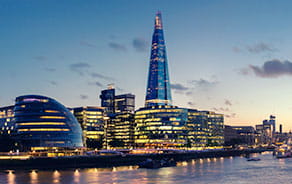 Sterling surges on Barnier comments
At a joint press conference with German Foreign Minister Heiko Maas yesterday afternoon, Chief EU Brexit negotiator, Michel Barnier, said that "we (EU) are ready to propose a partnership like there has never been before with any other third country."
This reinforces his slightly less chilly tone when he spoke with UK Brexit Secretary Dominic Raab at the end of last week. Separately, The Times reports that French President Emmanuel Macron is calling for other EU leaders to strike a deal with the UK and that he is aiming for Britain to stay in a close relationship with the 27 country group post-Brexit. Mr. Macron is planning to use a special EU Summit in Salzburg on 20 September to propose a new structure for European alliances. Sterling has built modestly on its gains from yesterday's close and is currently trading at a three week high against the USD at $1.3030 and £0.8980 against the euro. UK interest rate markets have also given back some of their recent gains. Of course, an agreement remains some way off and any deal looks more likely to be reached in November or December, not during October as originally envisaged. But UK markets had been beginning to brace themselves for no deal and the direction of travel has started to move in the opposite direction, for the time being at least.

Argentinian peso hits new lows

As the emerging market currency rout continues to rock the FX markets, yet another grim milestone was reached yesterday. While the Turkish lira and South African rand are both still under significant pressure, it was the peso that really took the brunt of the EM exit yesterday. The move kicked off after the Argentinian President, Mauricio Macri, yesterday asked the IMF to expedite bailout disbursements which prompted yet another speculative attack on the peso. The USD/ARS rate jumped over 7% yesterday to settle just below a new all-time low rate of ARS 34.00, that's a whopping 45% ARS depreciation since the end of December last.
Nafta overhaul by Friday?

Trump said talks with Canada to overhaul the North American Free Trade Agreement are going well, expressing optimism that the two countries could reach a deal this week, saying "I think Canada very much wants to make a deal", but also warned that "it probably won't be good at all if they don't". Canada has, to date, been regarded as an outsider in the Nafta talks but Canadian Prime Minister Justin Trudeau said his government is trying to reach a pact this week to update Nafta, but it won't sacrifice its goal of getting the "right deal" and saying that "no deal is better than a bad deal". Trump is pushing for the negotiations to be complete by Friday to accommodate a 90 day waiting period under US trade law and so that a new pact can come into effect before Mexico's change of government later this year. The jury is still out on whether Trump has the legal authority to abandon the decades old Nafta and turn a trilateral agreement into a bilateral one, and that the Friday deadline is merely politics, and that any deal that cut out the US' largest trading partner would not survive Congress anyway.

Irish Economy: Evidence of increasing wage inflation

The latest earnings data from the CSO show that wage inflation in the economy is accelerating. Average weekly earnings increased by 3.3% y/y in Q218, the highest rate of increase in at least 10 years, and following growth of 2.7% in Q118. Although employment in the economy has been rising for six years now (and has expanded by more than 20% in this period), consistent earnings growth has only emerged in recent quarters as the slack in the labour market has gradually reduced. As the economy continues to expand at a robust rate, and with unemployment below 6%, we expect positive earnings momentum to continue, although high rates of net inward migration (as evidenced by separate data this week) could constrain this upward pressure than may otherwise be the case. Looking at the individual sectors, all 13 recorded annual earnings growth in the quarter. The highest increase was in the Financial, Insurance and Real Estate sector which saw annual growth in earnings of 6.5%, a little ahead of the Professional, Scientific and Technical category which posted growth of 6.3% y/y. Both the IT and Construction sectors saw average weekly earnings increase by more than 5% y/y in Q218.

Total Produce: Solid H118, guidance (ex-Dole) maintained

Having flagged in its Q118 IMS that the unusual weather and FX headwinds would limit growth, Total Produce has issued a solid set of H118A numbers this morning, reporting a 7.3% increase in adj. EBITA to €45.6m from a 1.8% increase in Group revenue to €2.19bn. Adj. EPS was down 11.1% to 6.03c on the impact of the share placement to part fund the Dole deal. The company announced a 2.5% increase in the interim dividend to 0.9129c per share. In its FY17A results release management guidance only qualitatively stated that the company "is targeting continued growth in 2018 on a like for like basis". Ex-Dole, this guidance has been maintained. While a solid underlying business is important, the market is currently focussed on the Dole deal which cleared the final regulatory hurdle on the 30th of July and closed on the 31st of July 2018. Approval was conditional on the divestment of Dole's Saba Fresh Cut AB (Swedish bagged salad business) and a sale process has commenced. Dole will be equity accounted for as a joint venture from 01 August 2018.

ICG: H118 results

EBITDA declined €3.5m to €26.1m with the decline primarily driven by the absence of charter income following on from the sale of two vessels for a total consideration of €60.5m. While Ferries EBITDA fell €4.1m to €18.8m, Container & Terminal EBITDA was up €0.6m to €7.3m. Adj. EPS fell 12.9% to 8.1c, but the DPS was increased by 5% (in line with the Group's policy for a progressive dividend). Net cash remains very strong at €54.6m. In H118 car volumes were -2.1% and RoRo freight was +3.2%. While both drivers were held back by the operational disruption (delayed arrival of the W.B. Yeats and mechanical problems for the Ulysses), the Tourism market appears to have been slow (perhaps due to weather, Word Cup etc). Although the Ulysses is back in action and undoubtedly keen to restore its 16 year 99% schedule integrity track record, ICG has not yet received a reconfirmed delivery date for the arrival of the W.B. Yeats. That said, the expectation is the vessel will be delivered in late 2018 and drive earnings in 2019. For the remainder of the year ICG management expects its freight business to be in line with market trends overall, while additional marketing initiatives are being undertaken for its tourism business.

Economic releases

09.30     UK Household Lending
10.00     EZ Consumer Confidence
10.00     EZ Services Sentiment
13.30     US Jobless Claims
13.30     US Core PCE Price Index