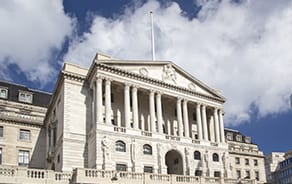 Sterling unchanged after UK public sector borrowing drops again
Figures out yesterday morning showed that public sector borrowing excluding state-owned banks, or PSNBx, amounted to £1.3bn in March (consensus +£3.0bn, Investec +£2.0bn).
Not only was this £0.8bn smaller than that borrowed a year earlier, but it was also the lowest March outturn since 2004. Flattering the figures were a number of factors. Principally, local government net borrowing came in surplus in March for the first time in four years. Further support came from the tight labour market which helped boost income tax receipts (i.e. PAYE, self-assessment and others) by 6.1% year-on-year to the highest March on record. Meanwhile, repayments on outstanding debt came to just £324bn in March, the lowest monthly disbursement since records began in April 1997.

UK tax cuts on the way?

The better-than-expected borrowing figures may raise calls for the Chancellor to relax the public purse springs at the autumn Budget. However, it is worth bearing in mind that today's figures remain prone to revision, with the OBR expecting borrowing figures 2017/18 to be upwardly adjusted as forecasts are supplanted by audited outturn data. Additionally, Q1 GDP looks set to be soft on account of the heavy snowfall, with subsequent economic momentum likely to remain subdued. Mr Hammond will also be mindful of the detailed spending review scheduled for next year, which will provide him with the opportunity to reappraise the UK's post-Brexit spending priorities. Following the publication of the figures, the Chancellor tweeted that the economy was at a "turning point" with debt forecast to begin falling. today's release may have been music to the Chancellor's ears but his work in tackling the UK's debt pile remains far from over.
Oil hits YTD highs
The front month Brent contract hit fresh year to date highs yesterday of $75.47/bbl, however these levels were not sustained with the market closing sharply off those levels at $73.86/bbl. The major reason for the pullback in the oil price overnight was the release of the API data which surprised the market with a build, not a draw, in US crude inventories which printed a 1.1mn bbl build in the week ending April 20. This sets the tone for the official EIA data later today which is congruent with the API stats. Oil has run hard over the past two months and there are questions starting to emerge regarding the sustainability of the move. The key to the sustainability of the high oil price relies on the balancing of the market; however there are no signs that the US Production juggernaut has reached its peak. The tightness of the forward curve needs to be watched, as it stands the price of Brent is now above the $70/bbl mark until the end of 2018 with prices above $60.00/bbl through to 2020. Given that most US producers are profitable around the $40.00/bbl mark and that the forward curve is significantly higher than that for a number of years to come, there is a strong case made for American drillers to continue priming the pumps given that they have the ability to hedge out the risk profitably. Looking at the day ahead the EIA data will be the focal point with Bloomberg forecasting a draw of 2.25mn bbls.

CRH: Q1 update


CRH's trading update points to Q1 Group LFL sales of -2%, with the Americas -3%, Europe -2% and the smaller Asia region -5%. For H1 management has indicated that EBITDA should be "in line with the first half of 2017 on a lfl basis", with Europe slightly ahead, Americas in line, while Asia behind. For H2 CRH expects Group EBITDA to be ahead on a lfl basis. For the acquisition of Ash Grove, management indicates that deal will now close in the coming weeks vs previous guidance for the end of March. More importantly, management points out at as part of its commitment to active portfolio management it is targeting a further €1.5bn to €2bn of divestments over the medium term. It has also announced a share buyback programme of up to €1bn to be completed over the next 12 months. Both the Americas and Europe faced tough weather conditions while the timing of Easter acted as an additional drag. Within the Americas LFL sales were -3% for both Materials and Products. Q1 is the least important quarter for the Americas, especially for Materials. That said, the company refers to positive pricing trends in aggregates, cement and RMC. Back in Europe, the LFL sales trend was -3% for Heavyside, +3% for Lightside and +1% for Distribution. In Europe Heavyside CRH refers to higher cement prices in most markets except Switzerland and Finland. In the UK there was a challenging start of the year with volumes impacted by significant weather disruption and behind 2017. In Asia the Philippines recorded lower volumes of but cement prices were ahead compared to Q1 2017.


Glanbia: Q118 IMS 


Glanbia this morning issued a Q118A IMS and reiterated 2018 guidance of pro-forma adj. EPS to grow between 5% and 8% at constant currency. On a constant currency basis, wholly owned revenue was down 8.1% on a reported basis comprising of a 7.2% increase in volume, a 6.0% dip in price and a 3.6% contribution from acquisitions. This was materially impacted by a -12.9% FX headwind. At the divisional level and on a constant currency basis, Glanbia Performance Nutrition reported a 9.3% increase in reported revenue where 5.5% volume growth was impacted by a weak price environment while augmented by acquisitions. Glanbia Nutritionals recorded a 1.1% increase in revenue, driven primarily by an 8.6% increase in volume although again this was impacted by weaker than expected pricing. Within Nutritionals, Nutritional Solutions revenue declined 3.6% where volume growth of 2.6% was more than offset by a 6.2% price decline, driven by lower dairy prices. US Cheese revenue increased by 5.0% with volume growth of 13.7% more than offsetting a 8.7% price decline. While not in reported revenue, JVs and Associates recorded a 29.7% increase in reported revenue driven by the inclusion of Dairy Ireland into the JV line. The underlying business reported volume growth of 4.3% but price was weaker -9.4%. While guidance is re-iterated, it is again flagged to be weighted towards the second half of the year, with dairy pricing and "planned investments" set to "deliver a reduced performance" in H118E.

INM: Sector consolidation 


The Competition and Consumer Protection Commission (CCPC) yesterday cleared the acquisition of The Irish Examiner by The Irish Times. This follows the previous approval of the acquisition of the radio assets involved in the deal by The Broadcasting Authority of Ireland. The proposed transaction now moves to the Minister for Communications, who will assess the merger on media plurality grounds. The CCPC's 'extensive investigation' produced few earth-shattering insights. Assuming the Minister gives his assent, the transaction will result in bring together the second (The Irish Times) and third (The Irish Examiner) most popular daily broadsheets in Ireland under the same umbrella. The Irish Examiner also comes with a portfolio of six regional newspapers, an evening newspaper, interests in three radio stations and a number of websites. Management at The Irish Times has previously said that the titles would retain their "core identity" and "editorial integrity" post the deal, with the company "fully committed to working with the respective union groups in each company on any restructuring proposals that will need to be made", which suggests that moves to eke out synergies will be modest to start with.

AIB Group: Q1 IMS 


AIB has issued a Q1 IMS this morning, with NIM holding at 250bps, NPEs 10% lower q/q and gross loans up €0.3bn to €63.6bn. Net interest margin (NIM) registered at 253bps on a headline basis and 250bps on an underlying basis ex-suspense interest (FY17 258bps headline, 250bps underlying), with lower funding costs offset by some AFS disposals and the impact from Q4 mortgage repricing actions. New lending volumes increased by 18% y/y, and the performing loan book continued to increase, with gross loans now at €63.6bn (FY17 €63.3bn).  Non-performing exposures (NPEs) reduced by €1.0bn during the period to €9.2bn, a 9.8% decline, aided by a harmonisation of definitions of defaulted loans under IFRS9. There is no reference to the Project Redwood NPL disposal in the IMS. There was also a net credit provision write back recorded in Q1, though management are cautious to expect this to continue over the rest of the year given the volatility that the IFRS9 introduction will provide as they move to lifetime expected loss calculation. Operating costs were in line with Q117 and as previously guided, management see some upward trends given wage cost inflation, continued investment in NPL resourcing and as prior IT spend feeds through into higher depreciation. The bank remains committed to a 50% underlying cost/income ratio by end 2019. Fully loaded CET1 decreased by 40bps to 17.1% (FY17 17.5%), this is mainly as a result of the 70bps adverse impact from IFRS9, but also from the dividend accrual and a slight increase in RWA, and these offset by solid underlying profitability. The bank also disposed of a €0.5bn high yielding government bond portion of their AFS portfolio during the period, the balance on this now at €15.7bn.

REITs / Housebuilders: Reading the paper 


Today's Irish Times property supplement contains multiple snippets of relevance to the REITs and listed housebuilders. One of the largest PRS opportunities to have come to market in Dublin for some time involves assets at The Grange in Stillorgan (South Dublin) where 274 apartments (out of a total of 507 completed units at the development) and a site that could accommodate another 263 units are being offered for sale. The joint agents are guiding €105m for the completed apartments and a further €30m for the development site. Given their prime location, these assets will have no shortage of suitors, and we would expect interest to come from the likes of IRES for the in-place assets and Cairn and Glenveagh for the development site. Elsewhere, Green REIT has reportedly signed up Vistra Alternative Investments to take part of its recently refurbished office space at George's Quay Plaza in central Dublin. Vistra will reportedly pay €55 psf for 5,330 sq ft under a 15 year FRI lease, with a tenant break option in year seven. Vistra is also to take four car parking spaces at €4,000 per annum apiece. GRN is currently marketing another 8,344 sq ft of space at the development. Finally, we note that the paper contains multiple listings for small infill type development sites around Dublin. We speculate that this uptick in sales activity for this type of asset may be influenced by the vacant site levy, which is currently 3% but set to rise to 7% from 1 January 2019 (payable in 2020, unless development is commenced before the end of next year).

Economic events


12.00    US      MBA Mortgage Applications