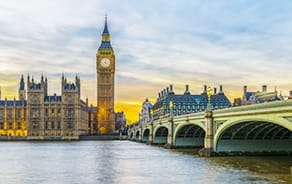 Sterling under pressure as Tories descend into chaos
After the resignation of David Davis, Brexit Secretary, on Sunday and Foreign Secretary, Boris Johnson, yesterday, PM Theresa May appeared before the 1922 committee of backbench MPs amidst speculation over whether she would face a leadership challenge.
Following a difficult session in Parliament earlier in the day, the PM was applauded by her lawmakers at the end of the committee meeting, suggesting that for now the PM has settled momentum against her. However it remains to be seen how many letters 1922 committee Chair Graham Brady now holds, calling for a leadership vote. BBC political correspondent Ian Watson tweeted yesterday evening that he was told Brady made it clear that the 48 signatures that would start a leadership contest hadn't been received. However, the Sunday Mirror reported at the weekend that Brady was just six letters short of the required number to trigger a vote and it would be surprising if that gap had not closed further after yesterday.
 
No confidence vote in the offing
 
If a no confidence vote is called then all serving Tory MPs would vote for or against May; if she loses she is obliged to resign and barred from standing in the leadership election that follows. But it does not necessarily lead us down the road of another General Election, particularly given that Tory strategists are likely to see little gain from holding an election on current policy standings. PM May did her best to pave over the cracks yesterday evening and presumably to try and move the debate along and stem any leadership challenge, appointing Jeremy Hunt as her new Foreign Secretary and filling other gaps created in the space of the last two days. Finally, the post-Chequers Brexit White Paper which was due on Thursday, has now been delayed to next week. The pound weakened on the political worries through yesterday and, despite finding a footing late yesterday after the 1922 gathering, it remains well down on Monday's open after the losses recorded following Boris Johnson's resignation around 3pm.
 
UK monthly GDP release goes live
 
While it will largely be lost in the political excitement of the past few days, the UK's Office of National Statistics (ONS) will change the pattern of GDP data releases from today with its first monthly GDP print. The ONS is set to scrap the publication of preliminary quarterly GDP estimates towards the end of the first month of each quarter and replace them with monthly estimates of GDP. This is possible since monthly estimates of services, industrial production and construction, covering some 99% of GDP are already available. One slight complication this month is the lack of up to date monthly back data which makes forecasting difficult. We do not construct official monthly forecasts for services but our guess is that services rose by 0.2% on the month in May and construction expanded by 1.5%. On industrial production, we are factoring in a 0.1% increase, which gives us our combined forecast for 0.30% growth in May (in line with market consensus).
 
Irish Banks: NTMA says government should sell bank stakes quickly
 
The Head of the National Treasury Management Agency (NTMA) yesterday said that the Irish government should look to take any opportunity available to them to sell down more of the equity holdings they own in the three listed Irish banks, given the risks of the investment cycle turning against them. Conor O'Kelly, the CEO of the NTMA, Ireland's debt management agency, warned the Irish government yesterday that given the advanced stage of the global investment cycle, there was a higher degree of risks that there could be a "material fall" in the value of the government's equity stakes it owns in the Irish banks. This was particularly relevant given the high level of debt which Ireland continued to run relative to government revenues, and the fact that investor sentiment in bond markets can turn very quickly, making Ireland "vulnerable" in the medium to long term. He noted the risks in relying on investment markets to always be there for the country to provide it with liquidity.
 
Irish Economy: New car sales -4.9% in H118 despite June pick-up
 
New car sales in Ireland were +3.7% y/y in June, bucking the recent trend of declining sales in the face of a weaker Sterling and strong competition from Sterling-based retailers. Despite the increase in June, new car sales were -4.9% y/y in H118 and this follows a decline of 10.5% in 2017. Imports of used cars continue to soar however and were +13.9% y/y in June and +11.9% y/y in H118. The data on new goods vehicle registrations tell a different story and were +5.4% y/y in June and +5.0% y/y in H118, indicating a willingness to invest on the part of Irish businesses. The volume of new car sales in Ireland has tended to closely follow the economic environment. New car sales fell to a 22-year low of 54,400 in 2009 before subsequently recovering to a post-crisis high of 141,900 in 2016. Sales have struggled since then however, despite strong economic growth, with the Brexit-induced fall in Sterling the key factor.
 
Economic releases
 
09.30    UK    Industrial Production

09.30    UK    Manufacturing Output

10.00    GE    ZEW survey