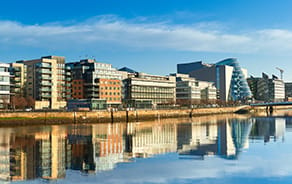 Tories win close vote over customs union status
Last night the UK government scraped a victory in the Commons over an amendment that would have forced the Prime Minister to join a customs union with the EU if it failed to agree a free-trade area with Brussels by 21 January 2019.
It was a close call, with the government winning 307 votes to 301. Notably, the government would have lost the vote were it not for 5 Eurosceptic Labour MPs siding with the government, in addition to a pairing system mishap that saw Conservative MP Brandon Lewis vote instead of abstaining. A total of 12 Tory MPs voted in favour of the amendment. Reportedly, chief whip Julian Smith warned Conservative MPs that a vote of confidence in the government would have been triggered today if the amendment had passed. Sterling had weakened throughout afternoon amid fears that the government would suffer a defeat on the amendment, with the selloff accelerating after another amendment (aimed at keeping the UK a member of the European Medicines Agency) surprisingly passed. This marked only the second time the government has been defeated on Brexit legislation and prompted fears another was shortly to follow. Downward pressure has continued on the pound in early trading today amid the fragile political situation with EURGBP currently above .8860. Do also note that the government has shelved plans to hold a vote on bringing forward the summer recess to this Thursday in the face of heavy opposition.
 
Fed to continue with gradual rate increases
 
Fed Chair Jerome Powell is delivering his semi-annual testimony to Congress this week, starting with an appearance yesterday afternoon before the Senate Banking Committee. The text published set out a view on the economic outlook that looks pretty consistent with that set out in the Fed's June meeting policy communications. In short, it looks as if the still relatively new Fed Chair has played a fairly straight bat. His comments on the economic and labour market backdrops continue to paint these in a solid light, albeit with trade policy discussions adding to the uncertainty around these. On inflation, the text again describes the inflation target as symmetric, again pushing back against suggestions the Fed might be willing to run the economy hot. Overall, there is no clear shift in policy direction with the text suggesting the Fed is happy to continue with a gradual approach to rate rises. The USD and Treasury yields were little changed following the testimony.
 
UK labour market data
 
The unemployment rate remained at 4.2% in May, on consensus and in line with Investec forecasts. Similarly the main pay metrics showed no significant surprises. Headline weekly earnings growth ticked down to 2.5% on a 3m yoy basis (consensus 2.5%, Investec 2.4%), from an upward revised 2.6% in April. Ex-bonuses, the figure softened marginally to 2.7% from 2.8%, in line with consensus and our own forecasts. There is nothing in the major headlines to knock an August interest rate increase off course.
 
Glenveagh: €0.2bn capital raise
 
Glenveagh announced after the market close yesterday that it was looking to raise gross proceeds of €213m (€205m net) from a firm placing and placing and open offer. Demand for all of these shares was secured in last night's accelerated book build, with the completion of the move conditional on an EGM to be held on or around 13 August. Concurrent to this, its largest shareholder, Oaktree Capital Management, has sold 55m shares (8% of the shares in issue before yesterday's announcement), or about half of its stake in Glenveagh. Of the gross proceeds, €85m will come from the firm placing of 74m shares and a further €128m from the placing and open offer of 185m shares. The issue price of €1.15 represents a discount of 5.4% to Monday's close. Glenveagh's trading statement in late June detailed how it had deployed €404m of capital by that point since the €550m IPO in October, arming it with a landbank of more than 10,000 plots, 31% of which are shovel-ready with 97% zoned residential. The new capital will be used to further grow this landbank, principally in the Greater Dublin Area and across Ireland's secondary cities (Cork, Limerick and Galway) and also (to a lesser extent) develop new and existing sites. Last night Glenveagh said that its pipeline sites include €65m of land in exclusivity and c. €361m under active negotiation, "in addition to many more future opportunities involving both Glenveagh Homes and Glenveagh Living". Beyond that, the group has identified a €5bn addressable land market in Ireland out to the end of 2022, of which €803m fits the parameters of its business plan and strategy. In terms of current trading, management has reaffirmed previous comments that the company is "ahead of schedule in delivering its key IPO targets", with c. 700 units currently under construction, a figure that will rise to c. 800 by end-2018. Delivery targets of 250, 725 and 1,000 completed and sold units in FY18, FY19 and FY20 remain unchanged. House price inflation and construction costs are tracking management expectations. Oaktree has committed to a 90 day lock-up in respect of its remaining stake in Glenveagh, while it has provided an irrevocable undertaking that it will vote in favour of the capital resolutions at next month's EGM.
 
Irish REITs: JLL Irish Property Index shows growth in Q218JLL released the Q218
 
Irish Property Index yesterday. The report shows a steady performance in the quarter, with overall returns of 1.9% q/q and 10.2% y/y. Capital values rose 0.7% q/q and were 5.0% above year-earlier levels, with growth in the quarter led by the industrial segment (+0.9% q/q). Overall income rose 60bps q/q and was 7.0% above year-earlier levels. While the pace of annual growth in overall returns continues to moderate, at 10.2% in Q2 it remains substantial. We see continued upside for the Irish commercial property market for the foreseeable future, helped by strong fundamentals (buoyant take-up and disciplined supply additions).
 
CRH: Divests of its Benelux DIY business
 
CRH has announced that it has completed the divestment of its DIY business in the Netherlands and Belgium, together with some property assets to Intergamma, the Dutch franchise organisation and existing shareholder as well as a US real estate investor for €510m. Previously, CRH owned 48% of Intergamma with individual franchise owners holding 43% and the business was an equity accounted investment. This sale does not come as a surprise as a) there were already media reports last summer that it was for sale and b) CRH has made it known this year that it is likely to make significant disposals within European Distribution as part of its strategic review. It saw scope for €1.5bn to €2.0bn of divestments.
 
Irish Banks: Mortgage competition heats up as KBC cuts rates again
 
KBC yesterday announced significant rate cuts to its fixed rate mortgage product suite, in what we view as a reaction to recent similar cuts by Ulster Bank (and PTSB to a lesser extent), as competition for market share within the Irish mortgage market continues to increase. KBC has announced significant rate cuts to its suite of fixed rate mortgage products, cutting all of its main 1-5 year fixed rates by between 25-55bps (depending on tenor and LTV) and by an average of 36bps, though it has left its 10 year fixed rate unchanged. The announcement brings all of its 1-5 year fixed rates on offer to between 2.50-2.80% (inclusive of 20bps current account discount), from 2.80-3.35% previously. It also puts KBC in line with Ulster Bank (2.30-2.90%, inclusive of current account "loyalty" discounts) as offering the cheapest headline fixed or floating rates in the Irish mortgage market, though Bank of Ireland would be broadly in line if their cash back offer is included (depending on how you amortise the value of this). The announcement by KBC will further increase the pressure on AIB and PTSB in particular, but also Bank of Ireland to at least some extent, to lower their fixed rates, as the market moves headline rates into the mid 2% area from 3% previously. The recent cuts in mortgage rates by KBC, Ulster and PTSB should be seen in the context of the NIM on offer in the Irish mortgage market for all the high street banks, which these actions do not change the fundamental picture on. However, increased competition within the mortgage market will act as a headwind to NIM for all three of AIBG, BIRG and PTSB going forward into H218 and FY19.
 
Economic releases
 
09.30 UK CPI

10.00 EZ CPI

15.00 US Fed Chair Powell Testifies