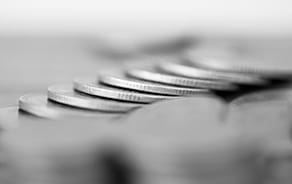 Markets have been rattled by the resignation of the US President's top economic advisor, Gary Cohn.


Concerns over the potential for a trade war had been receding after Trump's proposed aluminium and steel tariffs ran into heavy domestic opposition. The influential Mr Cohn had been one of the more globalist members of the Trump administration and had reportedly been trying to persuade the president to drop his tariffs threat. Markets have reacted negatively to the risk of protectionism having risen, in addition to concerns over the high staff turnover within administration following the departure of communications director Hope Hicks and with national security advisor H.R. McMaster reportedly considering his position. Overnight, the Nikkei shed 0.8% and the dollar surrendered around 0.5% against the yen to $105.65. futures markets point to US markets opening lower, with the S&P 500 projected to fall 1.1% when trading resumes.
Italian election update
Whilst there are still a few more seats left to assign, information published by the interior ministry now gives us a fairly clear picture of the composition of the new Italian parliament, which is set to convene for the first time on 23 March. To recap, 316 of the 630 seats are needed in the chamber of deputies (lower house) for a majority. Of those allocated, 5* has won 221 seats, the centre-right coalition (Lega Nord, Forza Italia, Brothers of Italy and others) 260 seats and the centre-left led by the incumbent democratic party (PD) 112 seats. 23 seats are still be to be confirmed. Looking forward, president Sergio Mattarella is set to hold informal talks with the party leaders in the coming days, which may give some clue as to which direction negotiations may take. Both the leaders of the 5* and Lega Nord have been claiming the ability to lead a government, but ultimately it will come down to the president who will effectively nominate a prime minister to try and form a government. One piece of news which has surfaced this afternoon is a report of growing dissent within the democratic party against party leader Matteo Renzi (although he has announced his intention to step down). Whilst Renzi has stated he would 'never govern with extremists' in reference to 5*, unnamed party officials have suggested that several senior party members disagree with his views and could back a broad coalition. Indeed the PD's Puglia Governor suggested that the PD should support a 5* led government. Mathematically 5* backed by the PD would have sufficient seats for a majority. Overall the situation remains very much uncertain, Italian markets have however outperformed their euro area peers today, with the FTSE MIB +1.8% higher on the day and the 10yr spread over Bunds narrowing 4bps to 131bps.

Canada watchers eye Central Bank
With a Central Bank firmly in the middle of a rate hiking cycle, and oil prices recovering to close to 70 $/barrel in recent weeks, it's easy to forgive the confusion over the recent decline in the canadian dollar. While USDCAD is trading in the middle of the range of the last 2 years around 1.3000, EURCAD has traded above 1.6000 for the first time since 2009. Much of this move has been on the back of a resurgent Euro, shaking of the political concerns of last year, and turning its attention towards a shift in monetary policy from easing to tightening over the coming year.
On the Canadian side, while the bank of Canada saw a January rate hike as a no-brainer, the head of the central bank has since urged caution over the pace of future hikes. Markets will be keenly watching this afternoons Canadian central bank meeting for further hints as to whether the cycle of hikes is over. On the other hand, Canada has also been one of the major victims of Trumps recent trade tantrums, both in threatening to tear up the nafta agreement, and put tariffs on Steel. Ultimately we are expecting no change to interest rates at today's meeting, with the market currently pricing in just a 13% probability of a rate hike.

SKG: IP statement
Following on from SKG's announcement that it had rejected an unsolicited approach from International Paper (IP), IP confirmed its approach after the close of the European market. It detailed that its offer was for €22.00 in cash and 0.3028 new IP shares, which worked out as a bid price of €36.46 per SKG share, a premium of 28% to the closing price pre-announcement. IP argues that the enlarged Group would be a premier global packaging company and be able to realise "meaningful" synergies.

Kingspan: NCI Building Systems results
NCI Building Systems reported Q4 results yesterday. The Insulated Metal Panels business, which competes with Kingspan in North America saw a sales increase of 16.4% to $110.8m. Operating income was $8.7m compared to $2.2m in the prior year period. The business has seen increases in input costs over the last eighteen months but these continue to be passed through quickly and NCI credit the better operating performance to both "improved operating leverage across the cost structure on higher volumes and committed commercial discipline on rising input costs". NCI has a high exposure to non-residential construction in North America. With regard to the prospects for the rest of the year they note that the key leading indicators for them are indicating underlying market growth of +2% to +4% for 2018 – "combined forward projection of these metrics, based on a 9- to 14-month historical lag for each metric, indicates an expected positive growth of 2.0% to 4.0% for new non-residential low-rise construction starts for the Company's addressable market in fiscal 2018". Kingspan generates c. 10-15% of revenue from Panels in North America, with NCI and Kingspan representing 80% of the market.

Paddy Power Betfair: Report above the recent guidance
Reports FY EBITDA of £473m ahead of recent guidance of £450m-£465m driven by strong Q4 sports results. With the European systems integration completed in January 2018 the company will focus heavily on new product development. There will be increased marketing spend building the Paddy Power brand in the UK and Betfair brand in Europe.

Irish Economy: Weak February tax revenues likely to be just a blip
Exchequer Returns for February show an underwhelming performance on the tax side, with total receipts of €2.8bn in the month marginally down (-0.3%) compared to the same month last year. Year to date receipts still show growth of 3.0%, but this is precisely half the annual growth rate forecast for FY18 in last October's Budget.  The annual decline in overall revenues recorded in February was principally down to VAT, which came in at €321m versus a profile (target) of €503m. February is not a VAT-due month so we would be loath to read too much into this miss, while we also note that the MOSS scheme can cause distortions in the monthly data (it is difficult to project the amount of VAT retained by Ireland because business models can change and businesses can opt out at any time and register for VAT locally in other EU member states). Other tax headings were more in line with what we would expect in February – Income Tax +6.9% y/y to €1.6bn (reflecting growth in employment and earnings); Excise +10.1% to €379m (this was also 1.6% ahead of profile, suggesting that the VAT miss isn't linked to any domestic consumer weakness); Stamps +37.9% y/y to €105m (reflecting higher transaction volumes); CGT +15.2% y/y to €67m; CAT +35.3% y/y to €14m (taken together, these two headings' performance reflects rising asset values); Customs +36.5% y/y to €36m (like Excise this was ahead of profile). Apart from VAT the other main laggard was Corporation Tax, -9.6% y/y to €188m but this can be volatile on a monthly basis, reflecting the 'lumpiness' of receipts under this heading.

On the spending side, gross voted (discretionary) current expenditure was 1.0% lower than projected at €8.6bn in the opening two months of the year, while capital expenditure (on the same basis) was 16.1% lower than profile at €435m. National debt interest costs were bang in-line at €469m in the period.  Excluding transactions that have no general government impact shows that the year to date deficit, at €701m, is ahead of the €758m deficit that had been projected, so the spending discipline has made up for the underwhelming revenue performance in the opening two months of the year. It is too early to draw firm conclusions for the full year from these data – with 22% of projected FY18 tax receipts due in Q118, this quarter is the quietest for the public finances – but from the ongoing robust growth signalled by the PMIs we would anticipate a stronger performance as the year goes on.
REITs: Press round-up
Today's Irish Times contains a number of stories of relevance to the commercial REITs. The newspaper reports that Bank of Ireland is likely to seek "in excess of €35m" for its New Ireland premises on Dawson Street, just down from where GRN is putting the finishing touches to its One Molesworth Street development. Architects Henry J Lyons believe that there is scope to replace the tired New Ireland building with a new 66,941 sq ft property comprising office accommodation over retail/food offerings. Further down Dawson Street, the 'bulky' 10,709 sq ft Trailfinders building is on offer for €7.75m, with Irish Life expected to run the rule over it given its ownership of an adjacent property. In the industrial segment there is an interesting development with UK firm Mountpark commencing construction of the first of three logistics buildings at the Baldonnel Business Park in South-West Dublin. The €40m, 360,000 sq ft scheme is speculative, but given the paucity of high end industrial space in Dublin it should find it reasonably easy to attract tenants. This brings to three the number of industrial developers in Dublin at this time, with GRN and Rohan also active.
The Irish Times also releases its monthly Dublin Crane Count today. This shows that 78 cranes were visible over the city on March 1st, with 60 of these south of the River Liffey. This represents a decline of one m/m and a drop of two from the peak of 80 recorded in December 2017. We expect to see a moderation in new build activity in the commercial property sector, so these moves are not a surprise to us.
Irish Economy: Exorcising the ghost estates
Press reports (Irish Examiner) state that government data due for release later today will show ongoing progress in the resolution of unfinished housing estates in Ireland. The government has been releasing annual data for this issue since 2010, when it was starting to tackle the legacy of the property bubble here. Back then, 2,846 developments were inspected, which included 78,195 complete & occupied units; 23,250 complete & vacant units; 19,830 units at various stages of construction and 58,025 plots where no construction had commenced and/or planning had expired. The latest published report, for 2016, shows that the number of unfinished developments had fallen to only 420 by that stage, containing 8,651 complete & occupied units; 1,121 complete & vacant units; 4,987 units at various stages of construction; and 10,075 plots with no activity and/or expired planning. According to the paper, by the end of 2017 there were 256 unfinished estates (less than a tenth of the starting position in 2010). These contained 3,608 units at various stages of construction and 5,739 plots which had not been commenced, in addition to 678 complete but vacant units.
Economic Releases
10.00      EC      GDP QoQ/YoY

12.00      US      MBA Mortgage Applications

13.00      US      Fed's Bostic speaking

13.15      US      ADP Employment Change
13.30      US      Trade Balance
15.00      CA      BoC rate decision