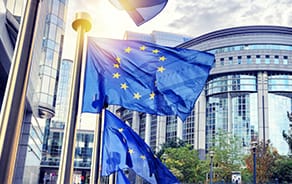 Trump causing further division
The first stop on Donald Trump's European tour was yesterday's NATO summit.
Usually a show of unity for member states, yesterday's meeting was characterised by a discord and confrontation with the US president taking aim at the levels of contribution of its members and particularly singling out Germany for its reliance on Russian supplied gas. The US president stated that the country was "completely controlled by Russia", prompting a stern rebuke from Angela Merkel and rejection of the statement from France's Macron. Trump already caused controversy by kicking off his tour with a tweet again criticising the EU's trading position with the US, prompting an immediate rebuke from EU council president Donald Tusk. The next step of the tour is due to take him to the UK, where the US president is reportedly steering clear of London to avoid planned protests against his visit. Most controversially perhaps, the tour will wrap up with the US president meeting Russian president Vladimir Putin in Helsinki, the first one-on-one meeting between the pair since Mr Trump became president.
 
Brexit White paper due for publication
 
The government is set to publish its Brexit White Paper later today which will expand somewhat on its three page announcement after the Chequers Summit last Friday. Media reports suggest that the paper will abandon the government's hopes of a system of mutual recognition between the UK and the EU's financial services industries and instead aim for a system of enhanced equivalence. The publication comes as the Times publish a YouGov poll suggesting that public opinion is turning against Theresa May's Chequers deal. Oddly, one positive aspect from the poll for May could be the fact that the poll showed Labour overtaking Tories in voting intention, with Labour holding steady on 39% while Tories dropped to 37% from the last YouGov poll. This may be enough to deter any remaining Conservative dissenters from supporting a motion of no confidence in Theresa May.
 
ECB policy makers split on timing of first rate hike
 
Last month's policy meeting saw ECB President Mario Draghi advise that the central bank expects to keep rates at their current low levels through the summer of 2019. According to sources in Frankfurt, the ambiguity of the exact timing of a potential rate increase has split policymakers with some saying an increase is possible as early as July 2019. Others on the other hand see a rate hike only in autumn 2019. The conflicting interpretations of the ECB's next move comes after comments made yesterday by French central bank Governor Francois Villeroy that the central bank could raise rates "at earliest through the summer of 2019" – which is not in line with the ECB's guidance for unchanged rates through the summer. With the minutes of June's policy meeting due for release this evening and the next ECB policy meeting set to take place on the 26th of this month, investors will likely keep a close watch on greater clarity surrounding the exact timing of the rate decision.
 
CPL Resources: FY18 financials set to be in line with expectations
 
Ireland's largest employment agency, CPL, released a short trading update this morning following the end of its financial year on 30 June. The company expects PBT for the full-year to be in line with market expectations with year-on-year growth in revenues and profit and "strong cash generation". It highlights the favourable market conditions that continue to prevail (unemployment in Ireland has declined to 5.1% and total employment expanded by 2.9% y/y in Q118) but is conscious of "the impact of political, regulatory and economic events". CPL reported solid interim results in January, but showed a business mix that was shifting towards lower-margin temporary and contract employment with both clients and candidates preferring greater flexibility. Reflecting these changes, revenue from its temporary business segment increased 13% y/y in H118 and the temporary margin increased 70bps to 11.3%, but net fee income from permanent placements fell 2% y/y.
 
Economic releases
 
10.00 EC Industrial Production

13.30 US Fed's Kashkari speaks

13.30 US CPI

17.15 US Fed's Harker speaks