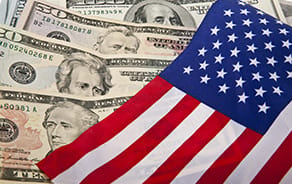 Trump tariff tantrums continue
Last night the US trade representatives published a proposed list of tariffs which would hit $50bn worth of Chinese imports.

Much of the list consists of technology goods in response to what the US sees as infringement of US intellectual property, although in total the list contains 1300 products which range from ultra-high tech items that will aid Chinese industrial policies, including the "Made in China 2025" policy, to the more basic less glamourous everyday household items such as dishwashers and TV's. It's probably worth noting that the tariffs aren't coming into effect immediately and the US authorities have issued a 30 day consultation period in order to invite feedback China has vowed to respond and is set to detail its own response sometime later today. It's beginning to look like a trade war is well and truly under way.
Sterling remains robust on upbeat UK PMI's
The March UK manufacturing PMI rose to 55.1 from a revised 55.0 in February. Consensus expectations including our own forecast were for 54.7. The tone of the report is pretty upbeat, with the survey compiler noting that the tick up in the pace of expansion was particularly encouraging 'given the heavy snowfall during the month'. In the detail of the report, it is stated that companies continued to report solid inflows of new work from both domestic and overseas markets whilst it is reported that new export orders rose for the twenty-third month running too. The pound was already rising in the run up to the release and spent most of the yesterday afternoon grinding higher. The benchmark EUR/GBP rate is heading back towards the pivotal 0.87 level as we go to print this morning.
All eyes on EZ inflation data
The preliminary or 'flash' March eurozone consumer price index (CPI), is due at 10am. Market consensus is pointing to a significant increase in the YoY print to have jumped to 1.4% from last (Feb) months 1.2% print. While the ECB is keen to begin to remove the flood of stimulus it has introduced over the last few years even with the general economy showing signs of latent recovery, markets still have to bear in mind, as ECB President (Draghi) is oft to remind audiences that they (the ECB) are still tethered to their in/around 2% CPI target. A weaker than consensus CPI print will definitely raise questions about the ECB's ability to begin to raise rates and we could see an already under pressure single currency move lower after the 10am release.
Irish Politics: The show 'might' go on…
According to today's Irish Times, a front bench spokesperson for the main opposition party, Fianna Fáil, which facilitates the minority Fine Gael government through a confidence-and-supply agreement, has suggested that the party may withdraw its accommodation after October's Budget. Barry Cowen is a high profile TD (MP) who has been a member of the party's front bench since 2011. The last general election, in 2016, proved to be a messy affair in terms of the parliamentary arithmetic, with no one party securing even a third of the seats on offer. This is unusually limiting where Irish politics are concerned given that TDs tend to slavishly adhere to the party whip in all votes, with a further complicating factor being the fact that the two largest parties (Fine Gael and Fianna Fáil) would view themselves as the natural lead party of government as opposed to parties that would be willing to enter into a coalition with each other. The third largest party, Sinn Féin, has limited policy overlap with the main two. So, 63 days after the 2016 election it was agreed that Fine Gael would form a minority government with independent support, with the passage of legislation facilitated by Fianna Fáil subject to a set of agreed principles. It was also agreed that this confidence and supply arrangement would be reviewed at the end of 2018. Mr. Cowen's comments do not, seemingly, pose any threat to the safe passage of October's Budget. He told the newspaper that: "No more than my leader, I want the Budget to take place", adding it would be "too easy to pull the plug". We would not, however, anticipate that FF would force an election in the immediate aftermath of the Budget given the undesirability of a Christmas election. However, an election in Spring 2019 cannot be ruled out at this juncture. Fianna Fáil has been in opposition for seven years and two months now, its longest stretch off the government benches since the party was established in 1926. It is understandable that its TDs would be itching for a fresh election at the earliest opportunity, but it is not clear that it would benefit from such a move. The latest Irish Times opinion poll gives Fine Gael 34% of the vote, 8pc above the 2016 election result, while Fianna Fail's 25% share is only 1pc above what it got last time out. Of course, recent political events across the West mean that polling data may not be viewed as the be all and end all. In any event, as we have previously detailed, rhetoric aside, there isn't the width of a cigarette paper between the two major parties on core economic policies. So we wouldn't expect any near-term election here to result in any real changes. Separately, we note that the NTMA has signalled that it will conduct one bond auction in Q218, on Thursday 10 May, with a T-bill auction also scheduled for Thursday 14 June. The agency plans to raise €14-18bn from the bond market in 2018 and it raised €6.25bn of this in Q118.
Irish REITs: Charlestown Shopping Centre on the market, Two Haddington Buildings purchased by German fund
Today's Irish Times also contains two articles of note from the perspective of the Irish REITs. The paper says that NAMA is bringing Charlestown Shopping Centre to market with a guide price of €35.5m. The centre, located in north-west Dublin, comprises a retail and leisure offering (available as a single lot or as two separate lots) along with a development site with full planning permission for 247 apartments and 75,346 sq ft of retail space. Elsewhere, German fund Quadoro Doric has made its second acquisition in the Dublin office market, snapping up Two Haddington Buildings in Dublin 4 (south-east of the city centre) for €24m. The 28,000 sq ft refurbished office building provides it with a NIY of 5.4%. The building is part of a complex of three contiguous office blocks that Deutsche Bank acquired from NAMA, with the former set to move on to the 20,000 sq ft Three Haddington Buildings as part of a progressive refurbishment of the whole development.
Airlines: Traffic stats from Ryanair and Wizz
Ryanair March traffic stats included passengers of 10.0m, +6% and load factor of 95%. Rolling 12m passengers were 130.3m. Wizz Air March traffic stats included passengers of 2.476m, +25.2%, with load factor of 91.5%.
Grafton: Topps Tiles trading update
Topps Tiles (n/c) has issued a H1 trading update. In the update for the half year ending 31st March the company reports LfL revenue growth of 0.6%. LfL growth in Q1 was +3.4% and this has reversed to -2.2% in Q2. The company attributes -1.6% of the slowdown to weather factors in February and March and also the timing of Easter but says the balance of -0.6% is due to underlying slowing of the market. Topps Tiles believe they are outperforming the market. "We are retaining a cautious view of market conditions for the remainder of the year". Topps Tiles is the largest specialist supplier of tiles in the UK and has a network of 376 stores and sales of over £200m pa.
Economic releases
10.00 EC Employment Rate
10.00 EC Eurozone CPI
12.00 US MBA Mortgage Applications
14.45 US PMI
14.45 US Fed's Bullard speaking
16.00 US Fed's Mester speaking