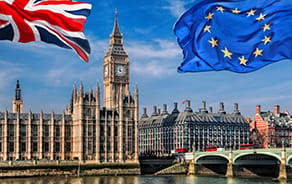 Trumps calls for tariff cuts ahead of EU meeting
Ahead of the US president's key meeting with the European Union today, Donald Trump has proposed that the US and EU should drop all tariffs.
This comes just hours before the bloc's trade chiefs, most notably Jean-Claude Juncker, head to Washington for high level talks. In a tweet released last night, president Trump said "the European Union is coming to Washington tomorrow to negotiate a deal on Trade. I have an idea for them. Both the US and the EU drop all Tariffs, Barriers and Subsidies! That would finally be called Free Market and Fair Trade!" As it stands, the US government has applied tariffs of 10% on aluminium from the EU and 25% on imports of steel. The European Union subsequently struck back with levies on US exports in excess of $3bn, with car imports taking the biggest hit. The talks today will look to alleviate any further tensions in the current trade tug-of-war, despite retaliatory measures being already tabled by both sides should relations sour. Adding to the erratic nature of Trump's views and standpoint ahead of the meeting, the president tweeted "tariffs are the greatest" hours before calling for the elimination them.
 
Focus on "summer" translation ahead of ECB meeting
 
Ahead of the ECB's policy meeting set to take place tomorrow afternoon, market participants will be closely watching for further rate timing clarification. Following on from June's meeting, the ECB president suggested that the first hike since 2011 would not occur until the end of summer 2019. However, the ambiguous statement has provided investors with very little certainty and has even split ECB policymakers, with some asserting that a rate increase is possible as early as July 2019. Interestingly, in languages such as German and French, the end of summer points to the months of June or July. Current market pricing suggests that an increase in the deposit rate from -0.40% is not on the cards until at least December of next year, thus any indication of sooner hike will likely boost the euro.
 
Oil prices higher as tensions rise between the US and Iran. As usual, Trump expressed himself plainly over Twitter
 
To Iranian President Rouhani: NEVER, EVER THREATEN THE UNITED STATES AGAIN OR YOU WILL SUFFER CONSEQUENCES THE LIKES OF WHICH FEW THROUGHOUT HISTORY HAVE EVER SUFFERED BEFORE. WE ARE NO LONGER A COUNTRY THAT WILL STAND FOR YOUR DEMENTED WORDS OF VIOLENCE & DEATH. BE CAUTIOUS!


This tweet came after U.S. Secretary of State, Mike Pompeo, gave a particularly robust speech attacking Iran and its leaders saying that the "The level of corruption and wealth among regime leaders shows that Iran is run by something that resembles the mafia more than a government". Iran's President Rouhani responded later warning the US: "not [to] play with the lion's tail, because you will regret it eternally." None of this tells us much in itself, but it would tend to underline the tough approach the U.S. is likely to take on sanctions.
Brent has touched 74.60 $/b this morning. If it can break psychological resistance at 75 $/b, the next key test is the 50-day average at 76.30 $/b.
 
IRES REIT: Tivway planning permission has encouraging read-through
 
The Irish Independent reports that the State planning authority, ABP, has granted permission for the construction of 460 apartments in Sandyford at the Tivway site, which is adjacent to IRES' largest development site, Rockbrook, where a planning application is expected to be lodged in the coming months. The Tivway permission is for the delivery of 460 apartments across five blocks ranging in height from six to 14 storeys. The site is currently under the control of receivers, who are now expected to bring the site to market shortly. IRES owns a 2.8 acre site adjacent to Tivway. Its Rockbrook site has significant in-place infrastructure, notably a three level basement car park. In 2017 ABP refused permission for IRES to build 456 apartments on the site, but a fresh application to build "in the order of 450 apartments" plus ancillary commercial space is expected to be submitted later this year. While the newspaper says that "IRES REIT is one obvious potential purchaser" for the site, we caution that the weight of money chasing large PRS assets (including development sites) means that this opportunity is likely to be very keenly contested.
 
Permanent TSB: Project Glas final bids due
 
The Irish Independent reports this morning that Lone Star and Elliott are expected to submit final bids today for PTSB's c.€2bn Project Glas NPL portfolio. Project Glas is understood to include around €2.2bn in non-performing loans, made up of a mix of owner occupier and buy-to-let loans, though it has been downsized from the original €3.7bn in loans included within its scope. The sales process has come under heavy media and political criticism since its announcement earlier this year, amid concerns that unregulated 'vulture funds' may acquire these loans. Earlier this month the same paper reported that Cerberus had withdrawn its interest in the loans. Additionally, PTSB has indicated it is hopeful of completing a securitisation of some of its non-performing owner occupier loans before its (delayed) August 29th interim results are published, potentially allowing it to take some of the troublesome split mortgages off its balance sheet.
 
Irish Banks: Mortgages continue rebound after a weak Q1
 
Mortgage drawdowns and approvals data released this morning from the BPFI show that the rebound seen in Irish mortgage demand after the weak weather-impacted Q1 continued through into the end of Q2. Total mortgage drawdowns for the Irish banks came in at €2.01bn in Q218, a 22% increase on Q117, with the H118 figure of €3.7bn also +22% y/y. The Q2 drawdown activity was 18% higher than that seen in Q1 (€1.7bn). There was a total of 17,218 loans drawdown in H118, a 15% increase y/y, while the average loan value YTD increased to €216k, vs €203k for the same period last year. Within the data, we saw a continued increase in the proportion of new lending represented by re-mortgaging (switching) activity, with 15% of loan volumes and 7% of total loans taken up by this category (also indicating average loan values are higher for switchers), the highest level since Q209. We expect switching activity to continue to trend higher as the market becomes more competitive and as negative equity continues to recede and thus becomes less of a restriction for borrowers looking to move to an alternative lender. First time buyers also remain firmly at around half of all demand, with 49% of drawdowns going to this cohort in H118, while average loan values within the drawdown data increased by 8% y/y to €216k, and the number of individual loan drawdowns increased by 13% y/y. Also released this morning was Q218 mortgage approvals data, with €2.8bn in approvals seen on the quarter, +32% vs Q118 and +12% y/y vs Q217. This leaves the YTD figure at just under €5bn, +10% y/y vs H117.
 
Economic Releases
 
09.00 GE IFO Business Climate
09:30 UK Finance Loans for Housing
12.00 US MBA Mortgage Applications
15.00 US New Home Sales