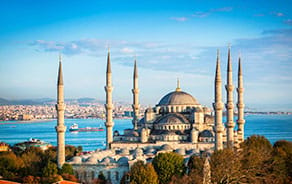 Turkey pulls back from the brink
Emerging Market nerves have settled a bit overnight, with the USD/TRY (Turkish Lira) rate currently trading at 6.8, coming back from the brink of its low of 7.236 yesterday, after the central bank on Monday pledged to provide liquidity while also promising "to take all necessary measures".
So far though, the US has refused to back down on its combative rhetoric, having last week announced an increase in aluminium and steel tariff rates faced by Turkey; indeed it looks as if the US will be continue to play hardball until it sees Ankara release Andrew Brunson, the evangelical pastor, this issue which this recent dispute with the US relates to. Meanwhile concerns over broader contagion across EM markets persists, albeit with the slide in other EM currencies having been halted, but not reversed overnight. The rand is at 14.2515, still around 16% down on its year opening level whilst the Indian rupee managed a small gain overnight, currently at 69.8513. Broadly though, safe haven assets remain in favour with the 10-year US Treasury yield still just below the 2.90% mark. In equity markets, Wall Street closed lower whilst in the Asia session this morning things are mixed, with the Shanghai Composite 0.6% lower currently whilst the Nikkei 225 is more than 2% higher.

Chinese data disappoints

July's run of monthly data disappointed against consensus across the board. Industrial production held steady at 6.0% (yoy), but missed expectations of a small strengthening to 6.3%. Meanwhile retail sales growth softened to 8.8% (yoy) from 9.0% in June and against expectations of a small rise to 9.1%. Similarly fixed asset investment growth weakened to 5.5% (ytd, yoy) (consensus 6.0%), which is the lowest reading in the data which goes back to 1999. Unemployment also rose to 5.1% from 4.8%. Overall this morning's data is likely to raise questions about the pace of Chinese growth amidst the economic headwinds coming from its trade spate with the US.

All eyes on UK employment data

The UK labour market still seems to be tightening. Jobs growth totalled 137k in the three months to May, or 389k over the year. Meanwhile the unemployment rate held at 4.2% for the fourth successive month, a joint low since 1975. We would note that the figures are expressed as three month averages. May's single month unemployment rate was recorded at 4.0%. While we cannot be sure whether or not this is an erratic observation, it will in any case feature in the 'headline rate' (i.e. 3m average) for another two months and a continuation of the tightening trend suggests that the headline rate will come down again soon. Indeed our forecast for June's figure is 4.1%.

Of course, as unemployment falls, the logical conclusion is that wage growth will pick up, as labour becomes scarcer. Indeed this was the conclusion of the findings in the recent REC survey. Furthermore the MPC remarked in August that 'A number of proximate indicators supported the view that the pay environment was strengthening further'. For now though we see relatively few signs of an immediate boost to remuneration. Indeed our forecast for the headline series is that it will remain unchanged at 2.5%, while we expect regular pay growth to slip back a touch to 2.6%.
Origin Enterprise: Acquisition of Fortgreen stake completed

Origin Enterprises this morning announced that it has completed the acquisition of a 65% stake in Brazilian-based Fortgreen and that it expects to complete the acquisition of a 20% stake in Ferrari during H119.

Irish Banks: Ulster Bank agrees €1.4bn NPL disposal

Ulster Bank, the Irish subsidiary of RBS Group, yesterday announced that it had agreed to sell €1.4bn in long term non performing residential mortgages to the Irish affiliate of US private equity group Cerberus Capital Management. The portfolio consists of c.5,200 mortgage accounts, split roughly 55% BTL (€740m) and 45% (€615m) PDH (owner occupier). Ulster Bank said that the NPL portfolio does not contain any performing home loans or any home loans in a restructuring arrangement, which should reduce political and media criticism of the deal. The deal represents around 6.5% of Ulster Bank's Irish loan book, and approximately one third of the €4.33bn in non-performing exposures it held at the end of 2017. The Ulster Bank disposal comes shortly after similar deals announced by both Permanent TSB and KBC Bank Ireland in recent weeks, and is indicative of both a renewed effort by Irish banks to rid themselves of legacy NPLs as well as the significant demand that remains out there from US private equity investors for Irish property-related loan assets.
FBD Holdings: Conclusion of internal investigation process

Irish insurance group FBD Holdings last night announced that the independent investigation into the Chief Executive, Fiona Muldoon, had concluded, with the internal allegations made against her having not been upheld. The independent investigation was disclosed by the company on June 29th, and was led by a team from solicitors William Fry & Co. We expect the focus on FBD to now return to the operating performance of the company and the c.19% stake which Canadian financial group Fairfax Holdings is set to take in the coming months via its convertible bond investment.

Symrise: H118 ahead, guidance raised

Symrise this morning issued a stronger than expected set of H118A results reporting a 0.9% increase in FD EPS to €1.10 despite a 1.8% decrease in EBITDA to €317.1m and a 4.0% increase in revenue to €1.57bn. LFL revenue growth of 9.0% was also reported. At the group level, EBITDA margin contracted 118bps. Guidance has been raised with organic growth now expected to be above the company's medium-term target range of 5% to 7% with "more than 7%" quoted and is now expected to "significantly exceed" market growth. The EBITDA margin guidance remains unchanged at "around 20%". Previous revenue guidance was for it to "outperform" the relevant markets with a market rate in the 3-4% quoted. At the divisional level, Scent & Care reported a 0.4% decrease in EBITDA to €127.9m despite a 3.4% increase in revenue to €660.1m. EBITDA margin contracted 74bps on significantly higher raw material prices. The division recorded very strong LFL revenue growth of 10.1%. Flavor reported a 3.3% increase in EBITDA to €127.0m from a 9.0% increase in revenue to €604.7m. Margins contracted 116bps. Nutrition reported a 13.1% decrease in EBITDA to €62.2m from a 3.6% decrease in revenue to €310.6m. The numbers reflect the flagged temporary destocking of one major company. Symrise has produced stronger than expected revenue growth despite what it describes as a "challenging environment" which has more than offset the expected pull back in margins from raw material price increases and shortages.

Economic releases 

09.30 UK Jobless claims
09.30 UK Average weekly earnings
09.30 UK Employment change
10.00 EU Industrial Production
10.00 EU GDP QoQ/YoY