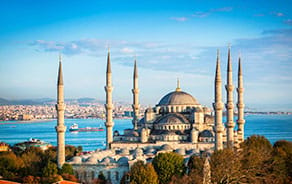 Turkish waves hit European shores
Emerging market currencies have been under pressure this year as concerns over tightening global trade have combined with domestic pressures in a number of countries to rock key EM currencies so far this year.
The South African Rand, Russian Rouble and Brazilian Real are all down over 10% against the US dollar since the start of the year. However none of these compare with the currencies of Argentina and Turkey, both of whom are battling concerns over their large fiscal de3fecits and potential bond defaults, and who have seen their currencies, the Peso and the Lira slide over 33% against the dollar year to date. The Lira has recently overtaken the Argentinian Peso as the worst performing currency as a failed coup against Erdogan, growing tensions with the US and rampant inflation have rendered the Turkish Central Banks 9% of rate hikes since June ineffective in boosting the currency.

Concerns spread to Europe

The contagion has spread beyond EM currencies as focus has turned to the significant exposure that non-Turkish banks have to the Turkish economy. In particular, an FT article overnight noted a growing concern over the exposure of European banks. European banks index has opened 1.5% lower this morning, with major lenders from France, Spain and Italy all drawing scrutiny for their significant operations in the region. The growing concern has been touted as responsible for the Euro's latest drop, with EURUSD falling top fresh YTD and 12 months lows, trading below 1.1500 for the first time since 20 July 2017.

UK Data

While UK focus remains on Brexit and the Bank of England's recent actions, today's run of UK data might give some distraction with a big run of key data releases. GDP figures for June along with the first estimate for Q2 will be the main focus. We expect Q2 GDP to rebound to 0.4% from Q1's 0.2% growth. In addition to GDP, sector data for June will also be released in the form of Industrial, Construction and manufacturing Production figures for June. Though manufacturing output expanded 0.4% (mom) in May, the lack of a more substantial rebound from April's 1.3% decline was certainly disappointing. Sluggish underlying momentum demonstrates the extent of the sector's recent poor performance, with growth of 1.2% (3m/3m) the weakest recorded since December 2012. Wider industrial production contracted 0.4% (mom) in May, building on the 1.0% slump seen in the previous month, we see some recovery (+0.4%) driven by increased storage capacity in the oil & gas sector. Also release are UK trade figures for June and Business investment. With such a wide array of data released at 9.30am this morning we can expect the market to take a few minutes to digest everything, which could see increased volatility in GBP crosses around the time of the release.

Outgoing MPC member McCafferty calls for more hikes

In an interview the Guardian newspaper published yesterday, Bank of England policymaker Ian McCafferty has cited that the central bank has not left it too late to raise rates further, even as wage growth could potentially reach 4 percent next year. On wage growth, the outgoing BoE member (due to leave his post this month) said that it "might creep up towards 4 percent-ish" in 2019, which is more than the BoE's forecast of 3.25%. As such, McCafferty, who has long been one of the Bank of England's most ardent hawk, has called for another two hikes in the next 18 to 24 months. Acknowledging "the potentially huge risks" from Brexit, the policymaker asserted that the UK economy "is not going to get back to 2% inflation unless we have a modest but gradual reduction in the stimulus that has been provided".

Irish Economy: CPI +0.8% y/y in July

Prices on average, as measured by the CPI, rose 0.4% m/m in July, helping the annual rate of inflation increase to +0.8%, its highest since April 2017, from June's +0.4% y/y reading. The spike in prices in the month of July was mainly due to a 3.2% m/m rise in Transport related prices (within that, air fares rose 31.9% m/m and ferry prices were +17.3% m/m). In terms of the annual move, Housing-related expenses (+5.4% y/y, with increases seen across rents, home maintenance expenses and electricity and fuel prices.); Restaurants & Hotels (+1.8% y/y, due to higher eating out costs); and Transport (+2.2% y/y, due to higher fuel prices) costs were the main drivers of the overall increase. Three sub-indices that we closely monitor are Private Rents, Accommodation Services and Insurance. Taking those in turn, Private Rents were +0.3% m/m and +6.0% y/y, driven by the ongoing mismatch between supply and demand in the housing market. Accommodation Services rates were +2.4% m/m and -0.2% y/y, with the annual decline a surprise given that we'd have expected that this summer's fine weather would have seen more Irish people opting for 'staycations'). Insurance rates were -0.9% m/m and -5.7% y/y, primarily down to lower motor insurance charges reflecting a change in the claims environment. Despite buoyant economic growth, the annual rate of inflation in Ireland has been sub-1% in each of the past 65 months. This is because factors such as lower mortgage rates and imported deflation (we suspect the weak pound is pushing down on prices in areas such as Furnishings, -3.9% y/y despite the uptick in housing market activity) are countering the upward pressure on prices arising from the domestic strengthening. In any event, with the latest data showing growth in nominal wages of 2.4% y/y in Q118, it is clear that overall real wages are rising at a solid clip.

Bank of Ireland Group: UK boss Crowley to retire

Bank of Ireland has announced that Des Crowley, the head of Bank of Ireland's UK subsidiary, is to retire next year. Pending his retirement Mr Crowley will continue in his role as a member of the Group Executive Committee, while an internal and external selection process will now commence to find his replacement. Mr Crowley has been the CEO of Bank of Ireland UK since 2012, and he has been with the bank for more than 30 years. His decision to retire is not a huge surprise given the significant changes being implemented across the bank via the arrival of new CEO Francesca McDonagh last year and the multi-year transformation programme which is currently being rolled out across the group, but his presence over the last twelve months has been an important source of stability for the group amid this backdrop and while these changes have been bedding down.

Novozymes: Solid Q218A, guidance maintained

Novozymes issued solid Q218A numbers this morning reporting a 7.3% increase in FD EPS to DKK2.65. EBIT was down 0.6% to DKK957 and revenue was down 1.1% to DKK3498m. LFL revenue growth of 5.0% was impacted by a 5.1% FX headwind and the sale of Albumedix. In its FY17A and Q118A results releases, management guided FY18E net profit similar to FY17A despite expected organic revenue growth in the 4-6% range. EBIT margins were guided at c.28%. This guidance has been maintained "on all parameters". Household Care (32.0% of Q218A Group revenue) reported -2.0% LFL revenue growth which was further clipped by a 3.3% FX headwind, giving a reported revenue decline of 5.5% to DKK1118m. A 4.0% LFL top line growth in Food & Beverages (29.8% of Q218A revenue) was impacted by a 3.8% FX headwind resulting in reported revenue growth of 0.2% to DKK1043m. In Bioenergy (19.9% of Q218A revenue), strong 20.0% organic revenue growth was hit by a 9.3% FX headwind resulting in a 10.7% increase in reported revenue to DKK695m. The Agriculture & Feed division (12.6% of Q218A revenue) generated LFL revenue of 13.0% which was tempered by FX headwinds (-10.0%) resulting in reported revenue increasing 3.0% to DKK441m. The Technical & Pharma division (5.7% of Q218A Group revenue) reported a 22.7% decline in revenue in the quarter to DKK201m primarily driven by the Albumedix disposal last year (-19.0%), compounded by a 3.7% FX headwind. LFL revenue was flat. A "softer than expected" quarter in the Household Care division was attributed to "region-specific challenges in Brazil and North America". While FY18 guidance has been maintained, management has not unexpectedly noted "continuing high uncertainty around global trade and agricultural markets". 

Economic Releases

09.30 UK GDP
09.30 UK Trade Balance
09.30 UK Industrial Production
09.30 UK Manufacturing Production
13.30 US CPI