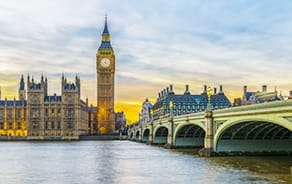 UK government backs Customs Bill amendment
Yesterday, the UK government chose to back all four amendments to the Customs Bill that had been tabled by Tory eurosceptics.
Though all four were passed, the Prime Minister came within a whisker of suffering a defeat in the Commons with the most contentious motion winning by just 305 to 302 votes. The subject of the narrowest vote was an amendment put forward by Jacob Rees-Mogg, which would prohibit the UK from handing over tariffs collected at British borders to the EU unless the latter similarly did so on a "reciprocal basis". There were also further resignations, with government members Scott Mann and Guto Bebb both quitting yesterday (albeit from opposite sides of the Brexit debate). Today sees the Trade Bill return to the Commons, which may similarly see Tory MPs split over proposed amendments. For instance, The Sun reports that pro-EU Tory MPs are set to table an amendment that would require the UK to join a customs union with the EU if the government fails to establish a "frictionless" free-trade area for goods with Brussels by 21 January 2019. In an effort to bring to an end the infighting within her own party, the Prime Minister is set to ask MPs to vote today to bring forward their summer recess by five days to Thursday. GBPUSD had closed in near to $1.33 yesterday, whilst EURGBP had traded sub .8830, as Eurosceptic resignations from her Cabinet raised the chances of a "soft Brexit". However both currency pairs surrendered gains for the day after the government accepted the four Customs Bill amendments.
 
Oil prices fall on supply outlook
 
The oil market experienced further losses yesterday as concerns about Iranian oil supply disruptions eased, with US officials stating they would be open to considering requests from certain countries for permission to import Iranian crude. US Treasury Secretary Steven Mnuchin was quoted on Friday as saying "we want people to reduce oil purchases to zero, but in certain cases if people can't do that overnight, we'll consider exceptions." Reuters reported that these comments were embargoed for release on Monday given the fact that other US officials were expected to begin talks in India this week on cutbacks in Iranian oil supplies. China and India consume around half of the 2.2mn bpd Iranian oil flow and as such India is strategically important for the US – in terms of having India onside from a sanctions perspective, and also as they look to push their own crude as a replacement for Iranian supplies. The US is being stern in its expectation of compliance from its allies as well. French newspaper Le Figaro reported over the weekend that French finance minister Bruno Le Maire said Washington had rejected a request for waivers for its companies operating in Iran. Paris had singled out key areas where it expected either exemptions or extended wind-down periods for French companies, including energy, banking, pharmaceuticals and automotive.
 
UK unemployment & average earnings figures due
 
The UK unemployment rate held steady at 4.2% over the three months to April, its lowest level since 1975 whilst employment gains remained robust. However, pay growth moderated from 2.6% (3m yoy) to 2.5% whilst stripping out bonuses it also edged down to 2.8% from 2.9%.

With the signs there that economic momentum has picked up in the second quarter we expect headline labour market metrics to remain broadly solid. However we judge that it is a close call this time whether we will see a three month unemployment rate of 4.2% or 4.3%, given that we lose the 'low' 4.0% February single month print from the three month calculation. On balance we suspect 4.2% is most likely.


Pay growth figures for the three months to May are likely to show pay growth edging down a touch; we look for a drop from 2.5% to 2.4% (yoy). However this would not come as a surprise to the Bank of England. Indeed the minutes to the June MPC meeting highlighted that annual wage growth 'was expected to slow a little over the coming months before strengthening again'.
 
SKG/Mondi: SCA to raise white-top kraftliner prices by €50/tonne
 
SCA has announced that it is to raise white-top kraftliner prices by €50/tonnefrom September 1 across all markets. White-top kraftliner is a premium grade particularly suitable for high end packaging, facilitating high quality printing for example. Pricing in this grade is less volatile than other types of kraftliner. Over the last 12 months, for example, unbleached kraftliner in Germany is up €85/tonne, while white-top kraftliner is +€60/tonne. SCA produces both white-top and unbleached kraftliner so it appears that at the time being it sees the potential for white-top to catch up with the unbleached price increases already implemented. Both Mondi and SKG also produce white-top kraftliner, but less than traditional unbleached kraftliner so this price increase in itself is unlikely to move the dial for either of them in a material fashion. Nonetheless it is a positive sign that the overall market remains broadly tight.
 
Irish Economy: Trade surplus jumps to €5.2bn in May
 
Goods Exports and Imports data from the CSO show that the seasonally adjusted trade surplus widened to a four month high of €5.2bn in May (April: €4.4bn). This outturn was produced by a 5% rise in exports in the month, with imports falling by the same magnitude. Unadjusted data show that in the year to date exports are +7.1% y/y, while imports are -0.3% y/y, producing a trade surplus of €23.1bn that is 19.8% above year-earlier levels. Multinational dominated sectors are flattering this outcome, however, with exports of 'Chemicals and related products' increasing by €6bn over the prior year period, while the fall in net imports of aircraft helped push imports into negative territory. Perhaps a better way of gauging the underlying health of merchandise trade is the fact that only four of the nine commodity groups recorded growth in exports in the first five months of 2018, while five of the nine saw a rise in imports.
 
Irish REITs: JLL comments on the industrial market
 
JLL yesterday released its latest Dublin Industrial Market Report, covering Q218. The report shows that take-up fell 21% q/q to 560,754 sq ft in Q2, an outcome which is blamed on the "lack of quality stock currently in the market". The average deal size was just 11,931 sq ft, which is a 17 quarter low, while the lack of quality stock is underlined by the fact that prime spaces accounted for just 31% of take-up in the quarter. Given the lack of quality supply, it is no surprise to see that prime rents have strengthened to €9.25 per sq ft (+9% y/y). At this level they are flirting with the level at which the economics of new build start to stack up, although we expect that most development activity will remain at the bespoke / super high end segment of the market for some time to come. Lease terms are unchanged at 10 years with a break at the end of year five. In terms of the outlook, JLL sees demand remaining steady over the coming quarters. While it sees continued rental growth, this will be concentrated towards the higher end of the market, given supply constraints.
 
Economic Releases
 
09.30 UK Claimant Count Change

09.30 UK Unemployment Rate

14.15 US Industrial Production

15.00 US Fed Chair Powell Testifies