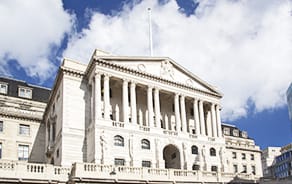 If you'll remember correctly, last month's release of some pretty awful (first estimate) Q1 UK GDP print was the last of a handful of UK disappointing data points throughout April and it was the last push lower sterling needed to jolt the benchmark EUR/GBP rate up over the pivotal 0.88 level.
First estimates of GDP released a month ago recorded a +0.1% increase in GDP. This compares with a 0.4% rise in Q4 2017 and represent the weakest pace of quarterly economic growth since Q4 2012. In contrast with the insistence of the ONS, our suspicion is that poor weather during the period played a significant role in the weakness of the rate of growth. Subsequently data on industrial production and construction for March were largely as the ONS envisaged at the time that it compiled the GDP data. The odds now would seem to be tilted slightly towards an upward revision for the 2nd estimate, though the magnitude of the net change is not sufficient for us to take this on as an official forecast. Much of course will depend on the ONS's new estimates of services (it assumed a 0.2% decline in February and a 0.1% increase in March within the GDP data). As well as a more up-to-date estimate of GDP as a whole, we will also get data on the expenditure components this time. We would expect that the pace of quarterly household consumption growth will slow from the +0.3% recorded in Q4. Given an improvement in weather conditions our forecast still encompasses a significant bounce back in growth during Q2. Our full year GDP forecast remains +1.6% for 2018 as a whole.

BoE ready to act

In a speech last night BoE Governor Mark Carney warned that the MPC was ready to take action in the event of a 'disorderly' Brexit, stating that the BoE has the appropriate tools to support demand if necessary. Dr. Carney insisted that the BoE "will be prudent, not passive. We will respond to any change in the outlook in these exceptional circumstances to bring inflation sustainably back to target while supporting jobs and activity, consistent with our remit." On the other side, he stated that the intended pace of rate increases would be greater than May's conditioning path if business investment picked up more strongly than expected. Sterling showed little reaction to his comments.

UK retail sales

Retail sales rose by more than expected in April with an increase of 1.6% on the month whilst ex-fuel sales rose by 1.3% month to month. Consensus had been for +0.9% on the headline and +0.5% on the core, so this is a decent beat. We had +0.6% and 0.5% on the core. Note that after the weather affected March reading, the bounceback in today's figures provides some confidence that consumer spending maintains a degree of momentum. This should increase further as the year goes on amidst falling inflation and slowly rising pay growth. Sterling climbed back above $1.34 against the USD after the data release yesterday, with EURGBP remaining within a tight .8760 -.8640 range.
 
US Construction – Existing home sales fall more than expected, new home sales also down

Data released by the National Association of Realtors have shown that existing home sales has declined -2.5% MoM in April to an annual rate of 5.46m units, more than the -0.2% that was expected. New home sales were -1.5% below March's revised figure. This month's decline comes in the wake of two straight months of MoM increases. YoY there was a similar decline, with existing home sales declining -1.4% vs April 2017. Across the four regions, sales were down the most in the Northeast (12% of existing home sales), which fell -4.4% MoM. Sales were also down in the South and West, with the Midwest unchanged. For new home sales, strength in the Northeast (+11.1%) couldn't offset the performance of the West region (-7.9%), with the Midwest and South relatively flat. The data are behind consensus estimates though the decline comes after two months of increases.

Grafton – Wesfarmers sells Homebase and retreats from the UK


Wesfarmers has sold Homebase, the UK DIY chain, to Hilco Capital, a distressed debt investor for a nominal sum and is expected to book a further £200m-£230m loss on this investment. Wesfarmers will participate in a value share mechanism with Hilco, which will entitle it to 20% of any equity generated from a sale of the business in the event of a successful turnaround of Homebase. Wesfarmers' total loss on its 2016 acquisition of Homebase is almost A$1.4bn (US$1bn), which amounts to one the largest destruction of shareholder value in a UK merger since HP's ill-fated purchase of Autonomy in 2011, according to the FT. Homebase has 250 stores across the UK and Ireland, employing 11,000 people. The company partially blamed difficult market conditions post-Brexit but it also faced criticism on its strategy execution.
Economic Releases
09.30 UK GDP

13.30 US Durable Goods Orders

14.15 EC ECB's Coeure speaks

14.20 US Fed's Powell speaks

16.45 US Fed's Kaplan speaks

16.45 US Fed's Evans speaks

16.45 US Fed's Bostic speaks