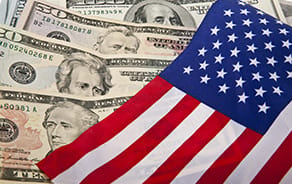 Market nerves over the threat of rising inflation and more aggressive monetary policy normalisation have for now been superseded by worries about the growing risk of protectionism after President Trump announced new tariffs on aluminium and steel imports.

Market direction is likely to be determined by whether the US announces any further barriers to trade, as well as whether any retaliatory measures are unveiled as threatened by the likes of the EU and China. President Trump's firing of Rex Tillerson as Secretary of State has also not helped risk sentiment. CIA Director Mike Pompeo has replaced him, swapping one of the more moderate members of the administration with a foreign policy hawk, sparking fears that the US is hardening its trade agenda. Reports indicate President Trump is gearing up to slap further tariffs of around $60bn on imports from China. On the monetary policy front, we have a key FOMC decision on Wednesday. We expect Jerome Powell to oversee a 25bp hike at his first meeting as Fed Chair, though we continue to see the 'dot plot' pointing to three hikes this year and continuing to factor in two rate rises in 2019. US data releases include existing home sales on the Wednesday, flash PMIs and jobless claims figures on the Thursday, with preliminary durable goods orders rounding off the week on Friday. For UK-based watchers of the US.
UK this week
Brexit negotiations will be hogging the UK spotlight this week. After David Davis met with his EU counterpart Michel Barnier yesterday to flesh out the final details of an agreed transition period. Reports suggest that a deal is close, putting it on course to be approved by EU leaders at the Summit later that week alongside the negotiating principles for trade talks. If negotiations do indeed proceed in line with the scheduled timetable, this should help to reassure investors that a final deal is indeed possible which should have some more upside for the pound. Somewhat less exciting will be the BoE's MPC announcement on Thursday; no policy changes are expected, but perhaps one of the more hawkish members may be inclined to dissent. The minutes will be eyed for any signs of when the next hike is likely to occur. This week's UK data calendar is jam-packed. Firstly, we have inflation figures for February on Tuesday. Alongside Brexit related news, the inflation figures could be an important driver of sterling, with our forecast for the targeted inflation measure to drop from 3.0% to 2.7%, its lowest level since April 2017. Meanwhile, we will get both labour market figures and public finances data simultaneously on Wednesday, with retail sales following on Thursday.
Europe this week
The highlight will be the flash PMIs on Thursday. Tuesday, meanwhile, sees the release of preliminary consumer confidence as well as the German ZEW survey. Do also note that the Italian parliament is set to convene on Friday, thereby allowing formal coalition talks to begin although even then government formation talks may be slow to move ahead.
Transition agreement boosts pound, but gaps remain
The pound received a significant boost yesterday trading back above 1.4000 against the dollar and close to 0.8750 against the euro. The move came as chief negotiators David Davis and Michel Barnier announced significant progress on a transition deal. Citizens' rights and the final settlement bill have been agreed, and David Davis also announced that the UK would be able to ratify new trade deals during the 21 month transition period which will begin from the end of March next year. The issue of the Irish border remains a sticking point, with the backstop agreement on no hard border likely to raise opposition Theresa May's allies in the DUP.
While the pound remains elevated from Friday's levels, the exuberance was limited with the pound giving up a good portion of its gains as it became clear that the border issue remained as a clear sticking point. With the Bank of England and the EU leaders summit still to come this week, we suspect further positivity for the pound could be a theme this week, and orders could be a useful tool to take advantage of volatility that such an event filled week should bring.
Food Ingredients: Frutarom FY17 numbers released
Frutarom this morning issued FY17A results reporting a 38.8% increase in net income to $151.6m from a 23.1% increase in reported EBITDA to $267.5m and 18.8% increase in revenue to $1.36bn. While acquisitions were the main driver, it is notable that the company reported an impressive 6.4% LFL revenue growth. The Flavors division reported a 21.1% increase in revenue to $1025.4m while the Specialty Fine Ingredients division grew revenue by 14.1% to $260.1m. Looking forward, management restated its mid-term goal of at least $2.25bn in revenue and an EBITDA margin from core activities of 23% by 2020. Having completed 11 acquisitions in 2015, eight in 2016 and 12 in 2017, plus taken up remaining options in three companies in 2017, the company has already announced two bolt-on deals in 2018 to date.
Mincon FY17 Results: New acquisition fleshes out the Nordic Hub
Mincon FY17 results have been released this morning, with revenue and operating profit €97.3m, +27.8% YoY and €14.0m ,+38.0% YoY, respectively. EPS was 4.8c. In the breakdown, third party products, as expected, shrunk as a percentage of overall revenue as acquisitions of previous third party suppliers came in line with the group and the company's own manufactured product revenue increased +33% YoY. This was offset by raw material cost inflation, with the group unable to fully push this through to customers which resulted in slightly lower than expected margins. Raw material costs increased notably as a percentage of revenue, from 22% to 25%. However, management do guide that conditions remain favourable with expectations that it expects to see upward price movement for the product ranges in 2018. FX had a negative impact on earnings, with the company taking a c. €1m hit, mainly due to weakness in the USD vs the EUR. Mincon has also announced the acquisition of Driconeq AB alongside its results. Driconeq is a global supplier of high quality drill pipes and accessories for down-the-hole, rotary and reverse-circulation applications. The company's combined businesses for FY17 had revenues of approximately €25.2m, with EBITDA of €1.82m. The acquisition cost is roughly €8m, with the vast majority being paid upfront using cash Mincon has at its disposal. Driconeq was previously a third party supplier of Mincon, with the Shannon based company accounting for approximately 16% of its revenue. The company has given its initial indication of performance for FY18, noting that the acquisition of Driconeq should allow it to break the €100m revenue barrier for the first time for a total of €120m. While revenues are forecast to grow, a substantial amount of this will be due to acquisitions, with the company anticipating single digit organic growth due to this year's strong performance.
Irish Banks: Finance Ireland to decide on mortgage market entry
Irish alternative lender Finance Ireland will shortly decide on whether or not to enter the Irish residential mortgage market, according to reports in the both the Irish Times and Irish Independent this morning. Finance Ireland is an Irish alternative lender led by former Irish Permanent (which eventually become part of Permanent TSB) CEO Billy Kane, and has until now focused primarily on car finance products, as well as some SME, agri-finance and commercial real estate lending. However it is now looking at entering the Irish mortgage market in conjunction with an external funding partner, with a final decision set to be made next month. We currently estimate the top five high street banks (AIBG, BIRG, PTSB, Ulster Bank and KBC) have over 95% market share (and probably close to 100%) of new mortgage volumes, with relatively little in the way of challenger or alternative lending competitors within the sector. At end-2017 Finance Ireland had a total loan portfolio of approximately €668m, a 58% increase y/y, with new lending increasing in the year by 43% y/y to €435m, as it delivered a pre-tax profit of €8.3m. Its biggest shareholders are US investment house PIMCO and the State's Irish Strategic Investment Fund (ISIF), but it is currently undertaking a €30m equity placing in order to support its further expansion. Finance Ireland's CEO has previously suggested the potential for an IPO of the business in a few years' time.
Irish Economy: Planning Permissions +27% in 2017
Data from the CSO released on Friday show that permission was granted for 20,776 new dwelling units in 2017, which represents growth of 26.9% on 2016's outturn. The strongest growth last year was in apartments, where permissions climbed 37.0% to 5,336 units. Apartments made up 26% of permissions last year, coincidentally the same proportion seen from the turn of the Millennium up to the high water mark of the Celtic Tiger in Q217, but still too low a share given the structural trend towards smaller household sizes (before you even get onto the absolute number of permissions discussed below). Permissions, by their nature, are a lead indicator for completions and these figures give comfort to our current forecast of 21,000 units to be completed in Ireland in 2018 (although we suspect the risks to this are tilted to the upside). While this would be the highest number of annual completions since 2009, it is still significantly adrift of even the low point of the range of estimates of annual new household formation in Ireland (30,000 - 50,000). So, while housing output continues to grow it is likely to be some time in the next decade before completions rise to meet the 'flow' of new demand, much less put a dent in the 'stock' of unmet housing need in Ireland.
Irish Economy: Trade surplus widens in January
The latest Goods Exports and Imports release from the CSO shows that the seasonally adjusted trade surplus widened to €5.5bn in January from €3.8bn in December. The strong growth in the trade surplus is mainly down to exports, which surged from €10.7bn in December to €12.3bn in the first month of 2018. Given the extent to which merchandise trade data can be distorted by the multinationals (two-thirds of exports relate to the pharmaceutical and biotech sectors) we would caution against reading too much into a single month's data. Stepping back, our view is that the positive developments in the global economy (world GDP is forecast to grow by 4.0% in 2018, its best rate of expansion for seven years) should ensure another year of progress for Irish trade.