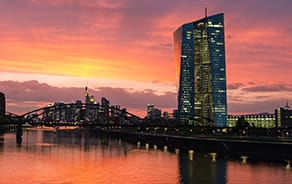 There are a number of events of note this week in the US.
One key market event will be the trade mission by US Treasury Secretary Mnuchin (and possibly also Trade Representative Lighthizer, among others) to Beijing. The fact that a dialogue seems to be taking place is positive for risk assets and helps to ease fears of a protracted slide towards a trade war. As ECB President Draghi remarked at last week's press conference, a drift down in business confidence could turn out to be economically destructive.
Note that April's US jobs report is due on Friday. Our expectation is for a rebound in the rise in non-farm payrolls to +200k from March's soft +103k. We judge that such solid jobs growth will not be offset by rising participation rates and so we are forecasting a fall in the unemployment rate to 4.0% this time, following six consecutive months at 4.1%. Markets of course will also keep a close eye on hourly earnings growth, which at 2.7% in March, is close to the 2.1% to 2.8% range which has held for the past three years. Lastly, the FOMC also meets next week - its policy announcement is on Wednesday. We view this to be a 'steady hand' meeting, with the Fed funds target range held at 1.50%-1.75% and no changes to the committee's balance sheet reduction plans. No press conference is scheduled, but we will be on the lookout for any subtle tweaks in the wording to the accompanying statement.
Europe this week
In the eurozone, Q1 GDP is published on Wednesday (Eurostat terms these 'preliminary flash' estimates). A recent run of soft monthly indicators points to a slowdown, and our forecast is that growth slowed to +0.4% on the quarter, after a run of three outturns of +0.7%. French and Spanish estimates tomorrow (Friday 27 April) may well help to shape forecasts. A rebound in growth in Q2 seems likely, as special factors such as the weather, strikes and a 'flu epidemic unwind, but perhaps the best period of Euro area growth is behind it. In addition, April's 'flash' HICP inflation estimate is due on Thursday. Final March data showed the annual headline rate at +1.3% and the core (ex-food, energy, alcohol & tobacco) measure at 1.0%. Base effects (i.e. a sharp increase in April 2017) do not help prospects for a rise towards 2%. Nor does the early timing of Easter, given a possible moderation in travel costs in April
UK this week
In the UK, this week may represent a lull before the storm provided by the 10 May Bank of England Inflation Report and MPC announcement. Bearing in mind Mark Carney's comments last week about mixed data, the decision may be more finely balanced than we had envisaged. But we judge that the MPC will believe that the tight labour market will override the softer than expected short-term inflation environment. This of course is the Fed's mindset. Thursday's release of April's services PMI may be important though given last month's near three point retracement. We are forecasting a sharp rebound and the MPC may be reticent to raise rates if this key survey reading remains subdued.
Amber Rudd resigns
Amber Rudd resigned as Home Secretary on Sunday, following two weeks of pressure that saw her come under fire from the Windrush saga and departmental deportation targets. Her departure deprives Prime Minister Theresa May of a key ally at her former department. Ms May is set to hold a Brexit cabinet on Wednesday to flesh out the government's preferred customs plan, with reports indicating that ministers are split down the middle between the two options unveiled last August.
Ms Rudd's successor is therefore expected to be unveiled today with the favourite being incumbent Communities Secretary Sajid Javid, an appointment that could prove decisive in determining the government's post-Brexit customs position. In the event of a tie, the Prime Minister would have the casting vote with reports suggesting Ms May's preferred option is for a so-called customs partnership which has been dismissed as unworkable by Eurosceptic MPs.
Paper & Packaging – Mondi: Makes small bolt-on acquisition in Egypt
Mondi has agreed to acquire 100% of the National Company for Paper Products and Import & Export for a total consideration of EGP510m (€23.7m) on a debt and cash free-basis. NGP is a privately owned industrial bags producer, operating one plant near Cairo. In 2017 it generated revenues of €29m and EBITDA of €5m. Mondi already has strong presence in the Middle East in this division and management pointed out how this deal complements its presence in the region and also gives it a leading position in Egypt.
Irish Economy: Weather dampens the retail sector
Retail sales data for March, released by the CSO, show a very weak performance which is primarily explained by the inclement weather that was a feature of much of the month. Headline retail sales fell 2.2% m/m in volume terms and were 3.4% lower in value terms m/m. On an annual basis sales were -2.8% in volume terms (-4.1% in volume terms). Core sales, which exclude the volatile Motor Trades were -1.4% m/m (volume) and -1.7% m/m (value), the first monthly decline for both this year. On an annual basis core sales were +2.3% in volume terms and +0.2% in value terms. Data for the 13 different segments of the retail sector illustrates the extent to which the weather weighed on performance. All but two of the segments posted m/m declines in volume terms, with a slim majority posting an annual decline. There was particular weakness on show from some of the discretionary areas, such as Hardware, Paints & Glass (-11.4% m/m) and Furniture & Lighting (-8.4% m/m), while the treacherous driving conditions during the snowfall contributed to the 4.1% m/m and 4.8% y/y decline in fuel volumes.
Irish Banks: Q1 mortgages show slightly slow start to the year
Mortgage approvals and drawdowns data released from the BPFI indicate a slow start to the year for the market, no doubt at least somewhat impacted by the inclement weather conditions and the early Easter which both arrived in March. Total mortgage drawdowns for the Irish banks came in at €1.7bn in Q118, a 22% increase on Q117. It is 24% below the Q417 figure of €2.2bn, though there is always a strong (negative) seasonal effect on the Q1 data (Q117 saw a 23% drop vs Q416, but the FY17 figure still increased by 29% y/y). Of interest within the numbers, we saw a continued steady increase in the proportion of new lending data represented by re-mortgaging (switching) activity, with 13% of volumes taken up by this category, the highest level since 2009. Average loan values within the drawdown data increased by 8% y/y to €216k, while the number of individual loan drawdowns increased by 13% y/y. Also released this morning was Q118 mortgage approvals data, and as we had previously suggested, the March data seems to have been materially impacted by the combination of inclement weather conditions (Ireland had its heaviest snowfall in over 35 years) and the early arrival of Easter. March saw €763m in new mortgages approved, a 10.4% m/m increase but dragging Q1 into a 7% q/q decline vs Q417, and an 8% y/y increase vs Q117. March 2018 itself was 3% lower than March 2017.
Weekend Press Review: Banks, REITs, SKG
Bank of Ireland: It has emerged that staff affected by the closures announced last week were encouraged to relocate from the retail division to the affected service centres last year. The initial deal was part of a drastic branch overhaul as part of a larger cost-cutting exercise being rolled out by the former CEO, while the current cuts are part of the new CEO's plans. (Sunday Times)

AIB: AIB has joined the R3 consortium of international banks that aims to use block-chain technology to speed up transactions, reduce risk and free up capital. If successful, the technology that is being developed by the consortium will allow for secure and instantaneous transfers of assets between banks. (Sunday Times)

AIB: The AGM last Wednesday should have been an opportunity to focus on a positive trading update but most of the attention was drawn to the attempt by the Board of Directors to bring in a deferred share incentive plan for senior staff according to an article in this weekend's Sunday Business Post. The paper says that while the intentions may be right and that institutional shareholders may be in favour of more effective incentivisation of staff that the move was doomed given the clear resistance of the Government (71% shareholder) to such a proposal.
The article also points out that the lingering negative effect of the tracker mortgage issue also heightens the political sensitivity of any proposal to bring back executive bonus schemes for banks which are still majority controlled by the Government. (Sunday Business Post)

Banks: A hard hitting editorial highlighting the recently published quarterly report from the Central Bank appeared in the Sunday Business Post this week. It says that the repeated mantra from the Irish banks that they put customers first is not reflected in their behaviour and cites the ongoing tracker mortgage issue as an example. It goes on to note the resistance of the Minister for Finance to the plan to bring back an executive bonus scheme for AIB. (Sunday Business Post)

Glenveagh: Glenveagh Properties and Panda Waste are among a number of parties who have expressed an interest in buying a West Dublin quarry with a guide price of €3.5m. The site is being sold by Knight Frank and is located at Bay Lane in Dublin 15, close to Dublin Airport. It spans 36 acres and is located near the M50 and M1 motorways. It is being marketed as a landfill opportunity likely to be attractive for disposing of building waste rather than generating fresh materials. (The Sunday Independent)

Irish REITs: US private equity giant Oaktree is lining up Cormac McCarthy as chairman for a new Irish retail-focused real-estate investment trust (REIT) that is preparing for a stock market floatation in Dublin.
The firm is planning to roll a number of retail property assets, from a controlling stake in The Square shopping centre in Tallaght in Dublin to retail parks around Ireland managed by Sigma Retail Partners, into the REIT. (The Irish Times)

Irish REITs/Housebuilders: Tetrarch Capital, a Dublin-based real-estate investor, has received planning permission for a significant construction project in Dublin city centre in which it plans to invest some €80m. Plans for a 393-bedroom budget hotel, a 202-unit aparthotel, a large ground floor restaurant and an apartment block with 21 units were approved this week. (The Irish Times)

Zamano: It is reported that cash-shell company Zamano is in talks with house builder Seamus Ross about a possible reverse takeover. The company has signed a MOU with unnamed party to acquire certain operating assets. (Sunday Times)

Smurfit Kappa: An article in Sunday's paper speculates that the upcoming Smurfit AGM on Friday will renew the focus on what shareholders may want from a potential takeover of the company by International Paper and force management to clearly articulate their arguments against such a tie-up. (Sunday Business Post)
Economic events
13.00    GE    CPI
14.45    US    Chicago Purchasing Index