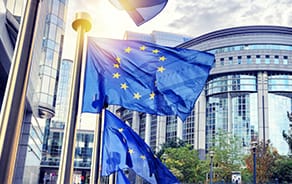 It is unclear whether President Trump's withdrawal from the Iranian nuclear deal will result in a notable increase in Middle East tensions or if perhaps somehow, Iran could be brought back to the negotiating table.
The second is the state of play in the trade talks between the US and China. An inconclusive set of negotiations last week will be followed by a second round this week, with Chinese negotiator Liu He heading to Washington. Interestingly the presence of such uncertainties in recent days few days have not prevented global stock markets from making gains this week. The key economic numbers out of the US this week should be Tuesday's retail sales and Thursday's Philly Fed survey. They will be taken to be yardsticks of whether the economy is enjoying a decent degree of momentum.

Europe this week

In the euro area 'flash' (i.e. second!) estimates of Q1 GDP are due on Tuesday. German figures were unavailable at 'preliminary flash' stage last month but will be published a few hours before those for the zone. Our feeling is that our +0.3% q/q forecast is consistent with the eurozone number remaining unrevised at +0.4%. March's industrial production data for the EU19 is out at the same time as the Eurozone figures. Data from national sources have been broadly consistent with a positive dynamic in the manufacturing sector towards the end of the quarter. The following day sees final HICP (i.e. inflation) figures for April. According to flash estimates, headline inflation fell to +1.2% and the core measure (ex-food, energy, alcohol and tobacco) to +0.7%. To our minds this number will be less key than next month's figures in determining whether the timing of Easter depressed the readings, as we suspect. In Italy, government discussions appeared to have progressed well over the weekend, we have a more detailed note in our 'Thought of the day' piece below.
 
UK & China this week
 
In the UK, the sole major release will be labour market data on Tuesday. Last month's report was consistent with a tightening in conditions and rising (regular) pay growth. We are forecasting the unemployment rate remaining at its 43-year low of 4.2% and although headline earnings growth is likely to slip, it is the ex-bonuses figures which the Bank of England watches more closely, and here we see a further strengthening. Indeed the outlook presented in the latest Inflation Report was very similar to that in February. The critical point is whether the relatively soft economic numbers in Q1 were mainly temporary, or signalling something more pernicious. While no-one can be certain, we are in the latter camp and we stand by our call that rates will rise in August. Amid some fears that Chinese credit dynamics are slowing, we have April's monthly indicators, such as industrial production and fixed asset investment data all due early on Tuesday morning.
 
Italian government talks
 
Newswire reports suggest that discussions between the 5* and (Northern) League in forming a government have progressed well over the weekend, with talks close to completion. What is not yet known is who will be named as PM. However neither party leader (di Maio nor Salvini) is expected to take the role, with stories circulating about a 'technocratic' (i.e. neutral and non-political) appointment. Furthermore President Mattarella has warned both parties that he has the power of veto over policies that are non-constitutional, a thinly veiled message not to endanger the country's already shaky fiscal position. Over the weekend, a legal ruling ended the ban on former PM Silvio Berlusconi standing for parliament, a year early, a move which could have a profound effect on Italy's political dynamics.
 
REITs/Housebuilders: Construction PMI; ILIM buys PRS scheme

 
The latest Ulster Bank Construction PMI shows an uptick in the rate of expansion for the sector in April, likely flattered by the weather events in March. In other property news, Irish Life Investment Managers (ILIM) has paid north of €100m to acquire a scheme of 262 apartments currently under construction in leafy Dublin 14. The headline Construction PMI improved to 60.7 in April from 57.5 in the previous month. The recovery was broad-based, with both residential (62.0) and commercial (63.1) posting stronger growth compared to March, while Civil Engineering moderated to 51.8 from 53.5 in the previous month. Encouragingly, the New Orders index strengthened to a nine month high of 61.6, while employment growth quickened to its highest level since early 2017. In other news, ILIM has agreed to pay more than €100m to acquire 262 apartments that are currently under development at Fernbank in Dublin 14 (South Dublin). In a sign of the imbalance between supply and demand in the market, more than 1,000 people had registered their interest in the scheme, which will be completed in stages between now and Q1 2020. The Irish Times reports that this is likely to be the first of a series of direct PRS investments by ILIM. This transaction will also be of interest to HBRN, as c. 90% of its apartments are in the same postcode, and GLV, which is building 93 apartments at Herbert Hill next to Hammerson's Dundrum Town Centre.
 
AIB: CBI confirms MREL requirement

 
AIB has confirmed that its MREL requirement has been formally communicated by the Central Bank of Ireland and it equates to 28.04% of RWA as at end-2016, to apply from 1st January 2021. This requirement is in line with previously guided issuance of €3bn - €5bn. AIB is the first Irish bank to receive formal communication of its MREL requirement and it is in line with the group's expectations. We expect most of the €3-5bn of issuance to be in the form of HoldCo senior debt, though there is some scope for T2 HoldCo issuance as well, in addition to the refinancing of existing T2 (€750m) and AT1 (€500m) with calls in 2020. AIB has already conducted the first issue of senior HoldCo debt by any Irish bank, issuing a €500m five-year bond (03/23) in March, at a spread of mid-swaps (ms) +115bps and a coupon of 1.50%.
 
Hostelworld: CEO stepping down

 
Hostelworld has announced that the CEO, Feargal Mooney, is to step down in June. Feargal has been with the company for sixteen years, the last ten as CEO. Feargal joined just after the company was established and has held the roles of Chief Operations Officer and Finance Director prior to his appointment to the CEO role. He is to step down on 11 June at the AGM and will be replaced as CEO by Gary Morrison who is joining from Expedia where he was most recently Head of Retail Operations – Gary was with Expedia for seven years and previously headed up Expedia's EMEA region after previous spells with Google and Motorola. Feargal's departure follows that of Mari Hurley the previous CFO who announced her intention to leave last December.
 
Weekend Press Review - DCP, Banks, REITs, Builders

 
Donegal Investment Group: A company linked to Monaghan Mushrooms boss Ronnie Wilson has been bought out of Donegal Investment Group, the Sunday Independent understands. Donegal recently told the market it had bought 495,000 of its own shares at €8.50 each, a deal worth almost €5m. It is understood the shares were bought from Danbywiske, a company which is owned by Wilson. (The Sunday Independent). 
Irish Banks: Rabobank is preparing to offload its residual ACC loan book in a deal that could push the stock of mortgages sold by Irish lenders in 2018 to more than €15bn. The news comes as AIB has reportedly selected Cerberus as the preferred bidder for its Project Redwood portfolio of more than €1bn of distressed commercial loans. (The Sunday Times)
 
GRN/HBRN/IRES: Plans have been lodged by Cerberus to demolish Shelbourne House, a 1960s office block in leafy Ballsbridge and replace it with a 10 storey mixed use office and residential development. In other development news, Swedish student accommodation provider Prime Living has begun talks with the State planning agency about an 828 bed student housing complex in Sandyford, South Dublin. (The Sunday Times)

 
CRN/GLV: Private house builder Victoria Homes is to seek planning permission for 850 homes in South County Dublin, in what would be one of the country's largest residential building projects since the onset of the recession. The planning application for the €375m scheme will go straight to An Board Pleanala under the fast-track process. The homes are planned for Glenamuck Road, in Carrickmines. (The Sunday Independent)

 
Affordable Home Fund: A new real estate group, Forecastle, has secured significant funding to provide thousands of affordable homes. It has secured €350m from AIB and this may be followed with a potential state-backed element according to one source who has worked with the Department of Housing, the Housing Agency and AIB. Expectations are to deliver 3,500 to 4,000 homes over a four to five year period with total deployment of funds amounting to c.€1bn. (SBP)
 
Economic Releases
 
11.00   EZ   ECB's Mersch Speaks

11.15   EZ   ECB's Lautenschlaeger Speaks

14.40   US   FOMC Member Bullard Speaks

17.15   EZ   ECB's Praet Speaks