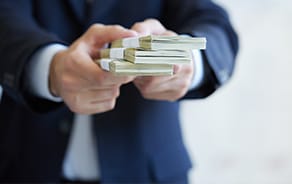 In recent weeks market movements have been dominated by concerns over a possible trade war following the announcements of tariffs by the US administration.

Whilst equity markets appeared to have regained at least some poise last week, news on Sunday that China is to retaliate to the US steel and aluminium tariffs with their own tariffs on a vast swathe of US imports ($3bn worth), we have more detail in our 'Thought of the day' piece below. The week is shortened by the Easter holidays, but nonetheless the economic calendar is set to be relatively busy. The key macro figures are due from the US, where March's labour situation report will be the number one focus. After last month's surprisingly strong 313k non-farm payrolls gain, markets will certainly be keeping a keen eye on this month's number. Aside from the headline payrolls print there are a number of other important data points within the report to watch out for, including the hourly earnings numbers. In addition to labour market figures, there are also two important surveys due, in the form of the ISM manufacturing and non-manufacturing ISMs.
UK this week
In the UK, surveys will also be in focus with both the manufacturing and service sector PMIs due. We suspect that the wintery weather during the month may have had an impact and are forecasting a two point fall in the services PMI to 52.5 and a more modest half a point drop in the manufacturing PMI to 54.7.
Europe this week
The key release from the euro area next week is set to be March's 'flash' HICP inflation estimate. March's ECB Governing Council meeting saw the ECB remove its easing bias from its QE guidance, taking another small step towards policy normalisation. How the ECB moves forward will be very much dependent of how inflation evolves, which has shown little convincing evidence of a sustained upward trend to target, despite the strength of the economy. March PMI data will also be published, but for the majority of the large eurozone economies, these will be the final estimates.
China this week
China will be in focus on two fronts next week. Certainly trade developments with the US will be front and centre, but data will also be prominent with both the official and Caixin PMIs published, which should provide the most up to date insight into the health of the Chinese economy. China will also be on holiday from Thursday due to Tomb Sweeping Day.
Irish Economy: Storm Emma disruption reflected in latest Manufacturing PMI
The latest Investec Manufacturing PMI Ireland report shows the effect that Storm Emma had on the sector in March, with clear evidence of disruption to sector output and distribution. While the headline PMI still points to growth, at 54.1 in March (versus 56.2 in February) it has moderated to a 12 month low. The Output index was only marginally in positive territory last month, falling to its lowest since August 2016. The timing of this was particularly unhelpful, given that it coincided with yet another sharp rise in New Orders (extending the sequence of growth here to 20 months). Panellists benefited from rising demand from both domestic and overseas markets (the Eurozone was mentioned as a source of strength in the latter). The mismatch between output growth and demand saw the rate of increase in Backlogs of Work quicken to its highest since December 2016. This was in spite of the utilisation of inventories by companies in an effort to fill customer orders, with Stocks of Finished Goods depleting at its fastest rate in just over six years – and this pace would have been quicker were it not for the consistent build in stocks in the four preceding months. Notwithstanding the weather-related disruptions to production, Irish manufacturers continued to add to headcounts during the month. On the margin side, Input Prices recorded another sharp increase in March, led by rising raw materials costs, notably for steel. Companies were able to pass at least some of this pressure on by hiking Output Prices once again, but it wasn't enough to prevent a second successive sub-50 reading for the Profitability Index, indicating a deterioration in this metric. The Future Output Index of expectations was little changed last month, with c. 11 times as many manufacturers anticipating growth over the coming 12 months versus those who foresee a decline. Given the generally supportive international backdrop we view this optimism as well-founded. All in all, we wouldn't read too much into this release given the weather distortions and would expect a marked improvement when the April Manufacturing PMI report is released.
IRES/HBRN/CRN/GLV/Banks: Daft.ie comments on the housing market
The latest report into house prices from the country's largest property website, www.daft.ie, shows solid growth across most of Ireland in Q118. The report segments Ireland into 54 local markets and, of these, 53 posted a rise on a quarterly basis (Monaghan being the outlier) and, coincidentally, the same proportion saw an annual improvement (Donegal proving the sole exception here). The national rate of inflation in asking prices was 2.5% q/q and 7.3% y/y in Q118, versus 0.0% q/q and 9.3% y/y in Q417. The annual rate of inflation has slowed to a two year low, but this is not a surprise. Asking prices across Dublin, where all of the REITs' residential exposures and a large proportion of the housebuilders' landbanks are located, climbed by between +6.4% y/y (North County) and 15.3% y/y (City Centre) in Q118. Across the Dublin commuter belt (where the housebuilders also have large exposures), asking price inflation ranges from +5.5% y/y (Meath) to +10.0% y/y (Wicklow). The average asking price nationwide is €247k, which equates to 3.2x average earnings (assuming two people on average earnings per household). It should be noted that the Central Bank of Ireland has an LTI limit of 3.5x for most new lending. That residential house price inflation is running at a large multiple of the growth in the CPI (+0.5% y/y in February) is explained by a mismatch between supply (19,271 completions in 2017) and demand (annual new household formation estimates range from 30,000 – 50,000). Bridging the gap between the two is what's required to materially cool the growth rate in prices, but lead indicators (planning permissions, the housing component of the Construction PMI) suggest that there is no quick fix on the horizon.
IFG: Saunderson House to be retained
IFG has this morning released a statement announcing that it no longer intends to proceed with the sale of its Saunderson House business. IFG revealed in early February that it was exploring the potential for the sale of its Saunderson House business, and had received a number of enquiries in relation to this. However, this morning it has released a statement saying that the board has decided, having reviewed the offers in detail, that these offers were not wholly aligned with the strategy of Saunderson House and would present significant execution risks that would likely create lower shareholder value than from retaining the business. As a result it has concluded that a sale of the business would not be in shareholders' best interests. IFG has said that management is now focused on continuing the development of the business, and will provide £1.5m in short and long term retention awards for senior management and employees of Saunderson House in each of 2018 and 2019.
Weekend Press Review: GNC, PVR, CRN, GLV, BIRG, Banks, INM, C&C
Greencore: It is reported that London-based event-driven hedge fund Melqart Asset Management has increased its stake in Greencore to 7.17% through CFDs. This is after Greencore's share price fell on the back of difficulties in parts of its US operations. (Sunday Business Post)
Providence Resources: Providence Resources shares jumped this week on the announcement that it has completed a farm-out deal for its Barryroe prospect. The deal is expected to formally close in the third quarter of 2018. (Sunday Business Post)
Residential Property: Savills has warned against providing landlord incentives in a bid to increase rental market supply. There was no evidence that investment is being curtailed due to high costs or rent controls according to the agents - a view that stands in contrast to that held by fellow agents Sherry Fitzgerald. (Irish Times)
CRN/GLV: A site of up to 1.6 hectares housing the former DCC HQ adjacent to The Grange Apartments in Stillorgan is to be brought to market shortly with a price expected at up to €40m. While it does not currently have planning permission, the land is bordered on all sides by residential developments. (The Sunday Times)
BIRG: In a memo to staff CEO Francesca McDonagh has reportedly signalled an effective pay freeze for senior managers in the group. Future pay awards will be "heavily weighted" towards more junior management pay grades. Press reports last week indicated that the group was looking to shed 200 middle-management roles in a bid to create "a more streamlined, leaner organisation", according to the memo. The bank may have to increase the terms of its voluntary redundancy package to tempt senior managers to depart as part of an upcoming cost-cutting drive. Previous schemes have offered three weeks for every year worked on top of the statutory two week entitlement. (Sunday Business Post) (The Sunday Times)
Irish Banks: Lloyds has delayed the sale of its residual €5bn Irish mortgage book following political opposition to the sale of performing home loans here. The yield impaired book is all it has left in Ireland after previous sales of NPLs. (The Sunday Times)
INM: The Sunday Times carries details on the Office of the Director of Corporate Enforcement's planned probe into INM, which requires High Court sign-off. The ODCE's affidavit ran to more than 200 pages, supported by hundreds of pages of appendices. Any investigation is likely to be lengthy and costly. (The Sunday Times)
C&C: The group has been linked with a bid for the troubled Conviviality Retail's distribution business Matthew Clark. However, any approach would be likely contested by pub groups and retailers. In other C&C news, the introduction of Ireland's planned sugar tax has been pushed back by nearly a month to 1 May due to a failure to secure timely EU approval. (The Sunday Times)
Economic events
09.30    UK    Manufacturing PMI
14.30    US    Fed's Kashkari speaking
21.30    US    Fed's Brainard speaking