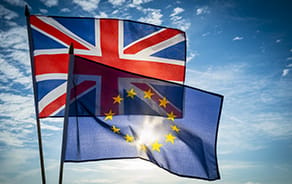 Over the past few weeks, market sentiment has continued to hang on the every word of the US and Chinese administrations as investors continued to size up the evolving threat of an all-out trade war.

At the start of last week, The benchmark S&P 500 index closed its first trading week of Q2 down close to 1.5% amidst these concerns and as fears over the growth outlook for tech stocks set in. Sentiment looked set to deteriorate more sharply mid-week following further tariff announcements from the US and Chinese administrations. However, a concerted effort by White House Economic Advisor Larry Kudlow to settle the mood seemed to do the trick. US stocks moved higher after he said he thought the US was 'going to come to agreements' [with China] and that Beijing will 'back down and will play ball'. Further support to sentiment also came from Commerce Secretary Wilbur Ross's comments, signalling that the door was open for a negotiated solution with China on trade. However the comment itself also served to highlight that the US and China are deep into negotiation now. This reminds us that talks look set to run on and that we can expect plenty more by way of rhetoric from both sides before any deal is struck. It is a decent bet therefore that the mood music in trade discussions will be an important driver of sentiment again this week.
US this week
Another key driver of the risk backdrop, is likely to come from any new steers from the Fed on its forward policy plans. The Fed's March policy meeting minutes are set for publication this Wednesday. These will be assessed for clues on what more it will take the Fed to step up the pace of its rate rises and any further information on how the Fed views the trade discussions and the scope for these to limit its appetite to raise rates more rapidly than the 'dot plot' implies. US focused markets will also be closely watching the CPI inflation figures due Wednesday, for any further impetus for Fed normalisation momentum; the early consensus view is that the headline inflation rate will have accelerated from 2.2% to 2.3%, its highest since March last year. We note that Chinese trade figures for March are due towards the end of the week. Given the focus on China-US trade flows, these may gain even more attention that they typically do. Chinese CPI inflation figures are also due mid-week.
UK this week
We suspect that Brexit news will remain relatively quiet over the coming week with Parliament in recess until 16 April. Instead, the focus is likely to be on data releases, with industrial output and trade figures for February due. On the retail front, the BRC retail sales monitor is set for publication providing information on the extent to which retail sales suffered at the hands of heavy snow through March. From the Bank of England, the Credit Conditions and Bank Liabilities surveys are due, whilst BoE Governor Mark Carney is being honoured at an event in Toronto.
Europe this week
In the euro area, the data calendar for the week ahead looks relatively light with February's industrial production figures likely to be the main focus for markets. Italian government formation discussions are set to continue next week, although a quick agreement on a final government arrangement seems a way off.
US labour market update
The headline non-farm payroll gain for March came in at 103k, well short of expectations (consensus 185k, Investec 255k). That softer reading followed the very robust (upward revised) 326k jobs gain in February. The unemployment rate held steady at 4.1% for the six month in a row (consensus 4.0%, Investec 4.1%). Pay growth did tick-up from 2.6% y/y to 2.7% y/y, in line with consensus expectations, however it has still not broken out of the 2.3%-2.8% range in which readings have bumped around since the start of 2015. Overall, last Friday's report is unlikely to leave the Fed feeling any more hawkish when it meets next, particularly when one also bears in mind trade developments over the past month. The reaction in markets had been relatively contained. Losses on US stock futures were reduced slightly whilst the USD and Treasury yields were little changed from before the release. For now, markets will shift attention once again to trade war developments. On this front we note that China has said that it is fully prepared to respond to Trump's new tariff threat and that the two sides have not engaged in any negotiations.
Permanent TSB: Pricing battle heats up as PTSB cuts rates
PTSB yesterday added to the recent battle for market share in the Irish mortgage market by announcing a series of fixed rate mortgage cuts to their product suite. PTSB has announced price cuts of 5-15bps (avg 11.25bps) to its three year and five year residential mortgage fixed rates, with these the core offering within their mortgage product suite. PTSB is now offering three year fixed rate mortgages at between 2.95-3.15% (previously 3.05-3.30%), and five year fixed rates of between 3.05-3.25% (previously 3.15-3.40%), depending on the amount being borrowed and the LTV at origination. It is also offering a 2% cashback on these products, making the effective rates lower again. The price moves count as moderate in size but are indicative of the heightened competitive dynamics which the market has experienced over the last 12 months, but in particular since last Autumn, when all five of the main high street banks announced large across the board cuts to their mortgage rates. The rate cuts announced by PTSB follow similar recent moves by Ulster Bank and KBC as competition for market share remains firm.
Irish REITs: Solid investment volumes in Q118
The latest (Q118) Investment Report from JLL shows a solid start to 2018 on the transactions front.  In the opening quarter of the year some €930m worth of property changed hands in 51 transactions. This is in-line with the average quarterly volume (€920m) since the start of 2014. Office was the dominant sector in Q1, accounting for 53% of volumes (€497m across 18 deals). This was followed by mixed-use (22%) and PRS (14%). Dublin remains the focus of activity, with €693m of transactions located in the capital, but there is meaningful activity taking place across the rest of Ireland. Some 26% of transactions were outside of Dublin, including five of the 10 largest deals in the quarter (led by the sale of the Elysium PRS building in Cork). Overseas interest in Irish commercial property remains buoyant, with non-Irish buyers accounting for 63% of transactions. A key test for volumes this year is the full-year impact of the trebling of stamp duty on commercial transactions to 6% in last October's Budget. As the agents note that "many of these transactions were agreed in the final months of 2017 but are only now completing" and quarterly transactions here can be volatile (a reflection of the small size of the market) it is hard to discern much meaning at this stage in terms of the impact of the stamp change. In terms of the outlook, JLL sees "in excess of €2bn" of transactions in 2018, which is broadly in-line with the €2.3bn of sales that took place in 2017 and the 15 year annual average of €1.8bn. JLL sees significant interest in the PRS and student accommodation segments, but more "limited opportunities in the office sector which will lead to strong competition". The agent also anticipates more granular opportunities coming to market "as loan buyers work through their books" (we anticipate this too). On pricing, JLL sees "limited scope for yield compression across all asset classes".
Weekend Press Review - HBRN, CRN, GLV
Hibernia REIT: The REIT is amongst those that are reported to be interested in the New Ireland building on Dawson St that has been brought to the market by Bank of Ireland. The jaded building will be sold with vacant possession and may provide a demolishment and rebuild opportunity given the strong tenant demand at nearby developments, including Green REIT's One Molesworth St. Savills are said to be looking for bids in the region of €35m. (Irish Times)
CRN: The Irish housebuilder is planning more than 500 units for a site in Douglas, Co.Cork. The newspaper reports that Cairn Homes is aiming to submit a fast-track planning application for the site by the end of May. (Sunday Independent)
CRN/GLV: Prolific property developer Michael O'Flynn is planning to lodge a fast-track application to the State planning board for the delivery of 220 residential units at Midleton, 16km east of Cork City. Last month O'Flynn received approval to build 608 units at Glanmire, just to the north of the city. Another private developer, Marlet, was given the green light to build more than 500 units at Raheny, to the north-east of Dublin City Centre. Pat Crean, the head of Marlet Property Group, commented on Friday that the fast-track planning process for residential developments of 100+ units should help spur activity in the sector. The comments came as his group secured planning for more than 530 units adjacent to St. Anne's in Raheny despite significant local objections. (The Sunday Times) (Irish Times)
CRN/GLV: Ballymore Properties is to partner with CIE on the delivery of a major scheme next to Connolly Station in Dublin. The area, to be named 'The Connolly Quarter' when completed, will include 82,000 sq m of mixed-use space comprising 50,000 sq m of offices, a hotel and apartments. (Sunday Independent)
KSP, INM, RYA, SKG Kingspan: ISS, a leading proxy shareholder advisory firm, has warned that additional pay rises for Kingspan chief executive Gene Murtagh should only be given in exceptional circumstances. (Sunday Independent)
INM: The cost of the fallout from the suspected data breach will be "exceptional", according to the CEO's message to staff at an internal briefing. (Irish Times)
RYA: The partnership behind plans to build a third terminal at Dublin Airport has begun talks with the State planning authority about pushing ahead with the multi-million euro project. (The Sunday Times)
SKG: International Paper's pursuit of rival packager Smurfit Kappa appears to have ground to a stalemate, with a spokesman for the company saying there was "no clear path forward at this time". SKG has rejected two takeover offers from IP in the past month. The US group also told the paper that "Neither the board or management have chosen to engage with IP". (The Sunday Times)
Economic Releases
14.00   EC   ECB's Constancio speaks
17.45   EC   ECB's Praet speaks