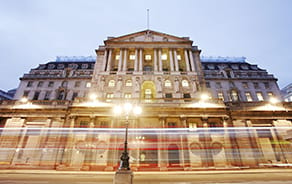 After a tumultuous few weeks for the government, Brexit troubles may settle down this Tuesday as Parliament enters recess for the summer and is not set to return until 04 September.
Recent weeks have seen PM Theresa May faced with numerous resignations and speculation over a leadership challenge. On this last point it is worth noting that a vote of no confidence cannot happen with Parliament away, which means the summer break will give the PM some time to settle Tory rebels. The domestic data calendar is also set to enter a quiet period next week, with UK Finance mortgage approvals and a speech by the BoE's Ben Broadbent the only events of note.
 
Europe this week
 
Within the euro area, Thursday's ECB meeting is set to see policy held steady. However President Draghi's press conference may address a number of issues that have arisen. Firstly, Mr Draghi may be asked to clarify the ECB's interest rate guidance in the wake of recent comments which have suggested that rates could rise as soon as July 2019. Secondly, questions are also likely to arise over a possible ECB version of the Fed's Operation Twist, as has been suggested by recent reports.
On the data-front the Composite PMI for July will provide the first indications of growth in Q3. We suspect the release will show a further recovery in Euro area momentum and we forecast the PMI rising to 55.5. Additionally, the widely watched German IfO survey will be published on Wednesday, whilst French GDP numbers on Friday will mark the first set of Q2 GDP figures from euro area member states.
 
US and ROTW this week
 
Stateside, Q2 GDP numbers will be published on Friday. After the +2.0% (saar) recorded in the first quarter market consensus is for Q2 growth to strengthen to +4.0%. Notably the Atlanta Fed's nowcast model is suggesting growth of 4.5%. Released alongside the GDP figures will also be the quinquennial Comprehensive Update of the National Income and Product Accounts, which may well bring significant revisions to the GDP numbers. Other US data to be aware of includes existing and new home sales figures, as well as durable goods orders. Finally, it is worth noting that G20 Finance Ministers and Central Bank governors will be meeting in Buenos Aries this weekend, where trade tensions will most likely be on the agenda.
 
Markets react to fresh Italian concerns
 
A number of headlines had Italian markets jittering on Friday, with the FTSE MIB underperforming wider eurozone markets, falling just under 1% on the day, whilst 10yr yields rose 6bps to 2.56%. Firstly, Claudio Borghi, who is the economic adviser to the League was in an interview with Corriere della Sera where he voiced his view that he was 'very convinced' that Italy would sooner or later leave the euro. Secondly, Italian newspaper La Repubblica has run a story suggesting that there are tensions within the government, with Salvini and Di Maio reportedly threatening to seek Finance Minister Tria's resignation. Mr Tria has largely been seen as a relatively sensible appointment to the Finance Minister position and his removal could spark some uncertainty over where Italian policy might go.
 
CRN/GLV/IRES/HBRN: Irish residential prices +12.4% y/y in May
 
The latest Residential Property Price Index release from the CSO shows that Irish residential prices rose 0.6% m/m in May, extending the sequence of monthly increases to 17 months. Prices were 12.4% above year-earlier levels. National prices have increased by a cumulative 77.7% since the early 2013 trough, led by prices in the capital which stand 91.9% above their respective low point. The latest data show price growth of 10.7% y/y in Dublin, which is lagging the 14.1% y/y increase in the rest of the country.

Dublin's recent relative underperformance is likely explained by the impact of Central Bank of Ireland mortgage rules which place LTV and LTI limits on the majority of new lending (prices in Dublin are, on average, 81% above those pertaining in the rest of Ireland). The recovery in prices from the trough means that the overall index is now 20.4% lower than peak (2007) levels. This compares favourably with the 30-40% declines that we understand the domestic banks utilise in their provisioning models. The report also provides colour on the volume of transactions in the market. Purchases in May totalled 3,543 units, which represents growth of just 2.5% y/y.

This increase was dominated by new dwellings (volumes +11.0% y/y) while the existing homes market remains sluggish with marginal growth of 0.6% y/y. For the first time the CSO has provided details on residential property purchases by non-household entities (private companies, charitable organisations and State institutions). Non-household buyers acquired 8,766 properties for a combined €2.1bn in 2017, which equates to 17% and 15% of the volume and value of all residential transactions last year respectively. Those purchases were, unsurprisingly, principally driven by Financial entities (€554m of purchases) and real estate companies (€386m of purchases). However, non-household entities sold €4.3bn of assets last year, making the sector a net seller (as it has been in every year since records began in 2010).
 
Economic releases
 
15.00 UK Consumer Confidence
15.00 US Existing Home Sales
18.00 UK BoE's Broadbent speaks