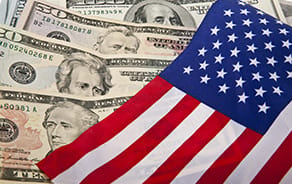 President Trump formally signed a Presidential Proclamation last Thursday, effectively introducing tariffs on steel and aluminium imports.

The key question is whether this is a limited move, particularly in light of the current NAFTA renegotiations or something which could develop into something more widespread. The resignation of Gary Cohn as chief economic advisor will be seen as a loss of a key stabilising voice in the White House. Congressional Republicans have also been arguing for a rethink of tariffs. However, whilst tariffs are constitutionally the responsibility of Congress, various past trade laws allow the President to effectively circumvent Congress to introduce new tariffs. This therefore poses a risk of sparking a trade war, if as threatened, the EU and China retaliate against US introduced tariffs. Aside from trade concerns markets will once again be watching US inflation figures closely. A month ago markets become unnerved by February's labour market report and a stronger reading on CPI inflation. With the strong labour prints (released Friday) and inflation due Tuesday, markets will be alert to either report suggesting pay and/or inflation pressures are building. The rest of the US calendar is set to include retail sales and both the Philly Fed and Empire State manufacturing surveys. Note that US clocks go forward this Sunday, meaning US data will be published 1 hour earlier than usual for the next fortnight.
Europe this week
Italy went to the polls last Sunday in what has proved to be an inconclusive result and ultimately a hung parliament. With no one party or indeed coalition winning enough seats for a majority, both the 5* (largest single party) and centre-right (largest coalition) are vying for the opportunity to form a government. Ultimately the President will decide who will get the opportunity, but given the seat mathematics no political path appears easy. Looking forward informal negotiations are set to begin in days, which may give the first clues on the path of discussions. Formal talks start following the first convening of Parliament on 23 March. Despite the uncertainty, the Italian equity market has actually outperformed its euro area peers, the FTSE MIB gaining nearly 3% since last Friday's close (2-Mar) versus a gain of nearly 2% on the Euro Stoxx 50. Meanwhile Italian 10yr yields have nudged up a marginal 4bp to 1.983%. Euro data and events to watch out for include the ECB conference where President Draghi will speak, as well as final euro area HICP figures due Friday.
UK this week
There is not a single data release due out of the UK this week. However two events to watch out for will be the Chancellors' spring statement and the BoE's FPC statement. The spring statement will give the Chancellor the opportunity to provide an update on the economic and fiscal outlook. Meanwhile no new fiscal measures are expected. See our full preview below. With regards to the BoE, one point to watch out for is whether the Bank's Financial Policy Committee gives any steer on the Counter Cyclical Capital Buffer (CCYB). In November it was raised to 1%, with the FPC also indicating that it could be increased further in H1 2018.
US payrolls another boost to rate hike expectations
US employment data released on Friday significantly outperformed expectations along with positive revision to data from the last few months. The 313k headline figure was the biggest beat, compared to only 205k job additions expected, along with another 50k of positive revisions to the previous months' numbers. The release was tempered slightly by worse than expected earnings and unemployment rate, but overall, there was nothing in the release to dampen expectations of a rate hike from the FOMC next Wednesday (21/03). This week's US Inflation data (Tuesday, 12.30pm), and Retail sales (Wednesday, 12.30pm) will be the main focus for Fed watchers, but even a major disappointment is unlikely to  derail the Fed from hiking rates next week, and if anything, the focus will be on how the data will impact the prospects of further hikes in 2018, with the market fairly evenly split between 3 and 4 rate hikes from the Fed in 2018.
Irish Economy: All three PMIs moderate in February
The Ulster Bank Construction PMI for February, released this morning, shows a reading of 59.2, down from January's 61.4. This follows a similar softening in the implied rate of growth for both the Services (57.2 vs 59.8) and Manufacturing (56.2 vs 57.6) sectors last month from the Investec PMIs, although it should be noted that the pace of expansion for all three sectors is still very strong. The Construction PMI shows good momentum across all three segments of the industry. The Housing component strengthened to a nine month high of 61.0, Commercial activity was a robust 59.3 and Civil Engineering extended its sequence of growth to three months by posting a 52.7 reading.  Apart from the recent moderation in growth implied by the headline PMIs, another common factor across the surveys is buoyant confidence. The Sentiment index of the Construction PMI improved to an eight month high (and to one of the highest readings in the 17 years that these data have been collected), with over 60% of firms expecting to see growth in the coming 12 months. Given this and the (not unrelated) improving international backdrop we would expect to see stronger Irish PMI readings across the board as 2018 progresses.
Aryzta: H118 results
Aryzta has issued H118A numbers reporting a 42.1% decrease in Group adj. EPS to 57.1c. At the operating level, Group EBITDA was down 29.6% to €161.3m from a 6.3% decrease in revenue to €1.79bn. LFL revenue decreased 2.2% and the EBITDA margin contracted 299bps to 9.0%. Management is guiding that disposals are on track to exceed €450m by the end of the financial year. While the Cloverhill and Cicero deals were previously announced (raised €57m), the company has also agreed to sell its stake in Signature Foods for €34m and guides that €140m has been realised to date. Net debt at the end of the period was €1.62bn with net debt/EBITDA at 4.21x (4.15x at H117A). ND/EBITDA covenants have remained unchanged at 4.75x at H118 reducing to 4.00x at FY18E and 3.50x at H119E. On a divisional basis, Europe (56.3% of H118A EBITA) reported a 17.7% decline in EBITDA to €90.7m despite a 0.8% increase in revenue to €868.3m. While the division reported organic growth of 1.7% profit was impacted by a 235bps margin contraction. North America (31.0% of H118A EBITDA) EBITDA decreased 49.6% to €50.0m from a 14.1% dip in reported revenue to €786.4m and 448bps margin contraction. LFL revenue declined 7.5%. Rest of World (12.8% of H118A EBITDA) reported a 4.9% increase in EBITDA to €20.6m from a 2.2% increase in reported revenue to €131.9m and a 40bps expansion in margin. LFL revenue grew by 9.1%. €140m of disposals have been completed.
Weekend Press: Dalata, IRES, Paddy Power, INM, Homebuilders
Dalata: Ireland's second largest hotel group ,Tifco, is going on the market and is likely to be worth up to €600m. The Goldman Sachs-backed hotel group owns 18 hotels as well as sites for two new hotels in Dublin. In its most recent results for 2016 the company reported revenues of €35m, but this did not include the 12-strong chain of Travelodge Inns acquired in late 2016. (The Irish Times)
IRES: Cardinal Capital Group is planning a second €300m property development fund after committing almost all of its previous pot a year ahead of schedule. The investment firm is led by financiers Nick Corcoran and Nigel McDermott. The original fund provided subordinated property debt financing to a number of developers in recent years seeking to refinance debt owed to Nama. (The Irish Times)
Paddy Power Betfair: It is reported that Paddy Power Betfair is coming under pressure on several fronts including greater gambling regulation and taxes in Australia and the UK combined with strong competition in both the UK and Europe. The company is looking to combat this with increased marketing spend. (Sunday Independent)
Independent News & Media: It is reported that INM is to make significant investment in the company as it shifts to a subscription model for on-line content over the next two to three years. Development of the new model will include investing in new content and product as it focusses on audiences in niche sectors and specific geographic locations. Elsewhere, the CEO of INM has said that he wants a swift conclusion to the investigation into the company by the Office of the Director of Corporate Enforcement (ODCE) ahead of the company's EUR10m restructuring investment. (Sunday Independent)
Homebuilders: Cairn Homes and Glenveagh Properties are set to face off in a battle for one of Dublin's best remaining brownfield housing projects at the site of the former Player Wills cigarette factory. The site is controlled by NAMA and is currently in receivership, and could accommodate more than 500 apartments as well as commercial units. (Sunday Business Post)
PTSB, AIB, Banks
PTSB: The Minister for Finance has signalled that PTSB's planned jumbo loan sale may be broken up into different lots. Separating out the performing loans would increase the possibility for these assets to be acquired by another one of the domestic banks. PTSB's planned sale is said to have triggered a wave of engagement from customers who, up to now, were failing to co-operate with the lender. (The Sunday Times)
AIB: The pillar bank has announced a unilateral 0.35% increase in pension payments to c. 4,000 retired employees. This will increase the scheme's liabilities €10m but is unlikely to result in a decline in the pension surplus from the €96m reported at end-2017 when the bank next reports its results. (The Sunday Times)
Irish Banks: The Irish parliament's powerful Public Accounts Committee is to recommend the introduction of a 'sunset clause' into laws concerning the usage of the large deferred tax assets (DTAs) owned by each of the three domestic Irish banks (AIBG, BIRG, PTSB). The proposal, which would have no legal effect but which would increase the focus on the size of these DTAs, would recommend that their usage be capped at a period no greater than 10 years. (Sunday Business Post)
Irish Banks: KKR is one of two investors to express an interest in the government's mortgage-to-rent scheme. The scheme provides for 4-5% State-backed returns in exchange for leasing properties to local authorities for use as social housing. The other investor to have expressed interest is Home for Life, an initiative backed by a local Irish broker. KKR's bid is in conjunction with Pepper, which has completed 121 mortgage-to-rent deals, more than any other bank. (The Sunday Times)
Economic events
EU        Eurogroup finance ministers meeting
US        Clock go forward one hour