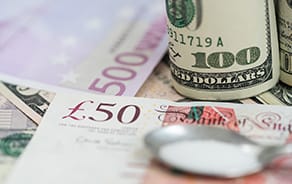 Concerns over growing protectionism have receded last week after China refrained from retaliating against the US's latest $100bn threat and signalled it would still push ahead with reforms.

In a keynote speech at the Boao forum, Xi Jinping repeated past pledges to open up Chinese sectors to foreign investors and to lower import tariffs. While this has seemingly helped to satiate the US President for now, who thanked Mr Xi for his "kind words", he has nevertheless turned his sights in the direction of the Kremlin.
US-Syria tensions
Following an alleged chemical attack in Syria, Donald Trump has warned Russia to "get ready" as missiles "will be coming". Fears of what the fallout could be from increasingly strained relations between the former Cold War foes has quickly shifted to the forefront of market sentiment. Last Wednesday saw investors piling into safe haven asset classes. Since then however, a global effort to head off a direct confrontation between Russia and the US has helped the S&P 500 and 10-year Treasury yields reverse their losses such that they were up 0.3% and 3bp on Tuesday's close respectively. Subsequent market direction is likely to remain closely tied to developments in Syria and on the trade front.
Europe this week
It's a very quiet week for Euro area releases with final HICP readings for Italy (Tuesday) as well the common currency area (Thursday), while preliminary consumer confidence is on Friday. Rather, European investors' focus is likely to centre more on the outcome of ongoing Italian government formation discussions. Reports suggest that President Sergio Mattarella currently favours 'centre-right' coalition leader Matteo Salvini and may ask him to try to form a government as early as next week.
UK this week
Across the pond, it has again been rather quiet on the Brexit front with Parliament in recess. Things should start getting back to normal once MPs retake their seats today. In terms of data, labour market figures (which are now released on Tuesdays) are expected to show a further firming in earnings growth, while CPI inflation (now published on Wednesdays) is expected to ease even more. While our forecasts indicate real wages (3m yoy) will have turned positive in February, we don't expect this to have offset the impact of the snowfall on Thursday's retail sales release.
US this week
The US data calendar is largely peppered with second-tier releases. Retail sales start the week off, while we will also get the NAHB index and new housing starts. Also released are industrial production figures as well as the New York Fed and Philadelphia Fed manufacturing surveys. Additionally, the Fed will publish its regular Beige Book on Wednesday.
Update – Syrian air strikes
The US, UK and France launched a series of air strikes in Syria in the early hours of Saturday, targeting three sites that are supposedly linked with the manufacture of the chemical weapons that the government is accused of using (most recently on the town of Douma). Western leaders have been keen to stress that the strikes aren't aimed at bringing about a change in regime, with US Defence Secretary James Mattis "right now this is a one-time shot" dependent on whether there is a repeat of the supposed use of chemical weapons, with UK Foreign Secretary Boris Johnson echoing that sentiment. Notably, Moscow was given advance warning of the strikes and so refrained from retaliatory measures such as shooting down the missiles as had been threatened. This has helped to prevent an escalation in the military conflict, with the US-Russia spat appearing to have been contained to more diplomatic measures. Washington is reportedly preparing further sanctions against Russia and Moscow is similarly preparing its own in response, with aerospace and nuclear industries reportedly being targeted. Domestically, Prime Minister Theresa May is set to give a statement to the House of Commons today at 3:30pm which is expected to be followed by an emergency debate among MPs. Afterwards, the Labour party will be able to call a retrospective Commons vote on the strikes, if PM May does not pre-empty this and call for the vote herself beforehand. The Conservatives have issued orders for all their MPs to be present for a potential vote today. With concerns that the military action could escalate having been abated, markets have seen a relief rally. The Nikkei closed 0.3% higher and futures markets point to the S&P 500 rising 0.4% on the open, while 10-year Treasuries have edged up to 2.84%.
Cairn Homes – Strong demand at Glenheron and Hanover Quay
A couple of media reports this morning and over the weekend highlight the strong demand for Cairn's developments at Glenheron in Greystones and Hanover Quay in Dublin city centre. At Glenheron, the group sold 48 homes during a sales launch at the weekend, with prices ranging from €435k to €700k according to the Irish Times. 25 of the homes were the remaining portion of the first phase of the development, while 23 houses are currently under construction as part of another phase. Separately, the Irish Independent reports that there has been strong institutional interest in acquiring Cairn's Hanover Quay development of 120 apartments, including from the usual suspects of Kennedy Wilson, Hines and Patrizia. Bids in the first round reportedly reached €96m which would imply a cost per unit of €800k and a yield in the region of 5% based on prospective rental levels in the area. Strong demand at these sites, both from individual and institutional buyers, bodes well for Cairn's future developments. The group has three sizeable plots of land in the Greystones area that may ultimately accommodate more than 1,000 units, while the sale of Hanover Quay to an institutional buyer highlights the sale options that Cairn will have at similar apartment developments in the coming years.
Economy - Construction PMI shows slower expansion in March due to weather, expectations remain strong
The latest Ulster Bank Construction PMI shows a moderation in the implied rate of growth for the sector, with the headline PMI softening to 57.5 in March from February's 59.2. As with the Services and Manufacturing PMIs, both of which recorded slower growth in the month, it seems that inclement weather was a key factor behind this out-turn. Suppliers' delivery times lengthened in the month at a pace last seen in 2005. In terms of the different segments of the construction industry, growth was led by Housing (60.3) and Commercial (58.0), with a slower pace of expansion recorded in Civil Engineering (53.5). Encouragingly, New Orders rose at a sharp pace, helping to push the rate of job creation up to a seven month high as firms responded to this increased demand. On another positive note, the rate of Input Cost inflation slowed to a four month low, with higher raw material prices the main source of upward pressure on firms' cost-bases, notably steel. Significantly, the Expectations index was unchanged on February's out-turn, suggesting that the softening in the headline PMI in March was a weather-related blip. With that being said, all three PMIs suggest a slower finish to Q1, but we would be optimistic of a bounce-back in Q2.
Weekend Press Review – Banks, INM, Property, SKG, IAG, RYA, HSW, APGN
Banks: A record number of Irish home-buyers are opting for fixed-rate mortgages, according to Central Bank figures. In the three months to February, 56% of all new mortgage loans taken out in the State were on a fixed interest rate. That is the highest figure since the Central Bank began recording data 15 years ago. (The Irish Times)
Banking sector: It is reported that almost 36 Irish-based bank executives were paid close to €2m each in pay and bonuses in 2016. It is noted that Irish banks have been subject to restrictions since 2018 whereby salaries are capped at €500,000. (The Sunday Business Post)
BIRG: The paper affords more coverage to new CEO Francesca McDonagh's restructuring intentions. Shortly after joining the group last October she hired BCG and McKinsey to identify ways to streamline the organisation. Implementation will be on a staggered basis rather than coming on stream all at once. Some 250 middle-management roles will be eliminated as part of the process. In other news, the group has emerged as the main lender to Kilmona Holdings, one of Northern Ireland's largest property groups, after leading a refinancing of Kilmona's borrowings which were previously with US fund Jefferies LoanCore. (The Sunday Times)
AIB: Pressure is growing on the Finance Minister to declare whether or not he intends to support a plan to award share options to its senior executives as the State still owns more than 70% of the bank. Shareholders are being asked to approve a scheme whereby key staff could be awarded deferred shares worth up to 100% of salary. The vote at the AGM in two weeks time is, however, non-binding. (The Sunday Business Post)
INM: The company is coming under increasing pressure from shareholders to deploy radical solutions to combat the falling share price. Shareholders are concerned that recent events, including the data breach and the attempt to buy Newstalk, are the drivers behind the "deeply depressed" share price. (The Sunday Business Post)
INM: An affidavit relating to a 2014 data breach and other controversies at INM receives much attention in the Irish Times. The paper quotes details of contact between key players, including the company's former chairman Leslie Buckley and its largest shareholder Denis O'Brien. Disclosures by former CEO, Robert Pitt, about the disputes with Leslie Buckley have led directly to an application that is to be mentioned on Monday (today) before the president of the High Court, Mr Justice Peter Kelly, for the appointment of inspectors to INM. (The Irish Times)
IRES: Cairn Homes looks set to secure over €100m for an apartment scheme it is looking to sell in its entirety at Hanover Quay in Dublin's Docklands. The scheme comprises 120 apartments and has attracted initial bids from IRES Reit, Patrizia Immobilien, Hines and Kennedy Wilson. Cairn Homes bought the site for €22m and expects to spend around €40m on its development. (The Sunday Independent)
Cairn/Glenveagh: A major row is brewing between the Environmental Protection Agency (EPA) and the building industry. Builders face costly ambiguity about the cost of disposal of construction waste which up to now has been specially exempted with regard to non-contaminated soil. Now builders face a basic fee of €12 per tonne to dispose of soil and up to €140 per tonne for "contaminated" soil. (The Sunday Independent)
GRN/HBRN: Facebook's negotiations to take 800,000 sq. ft of office space at AIB's Bankcentre campus, enough space for >5,000 staff, are said to be "70% complete". (The Sunday Times)
SKG: Activist fund York Capital has taken a 2.35% stake (via CFDs) in SKG. (The Sunday Times)
IAG/Ryanair: The revelation that IAG has taken a 4% stake in Norwegian sent the shares up by 37% on Thursday but it still leaves Norwegian with a fairly modest market cap of $1.2bn. The market seems less convinced on the move from IAG's point of view with the shares up only 1%. With the paper speculating that this could be a precursor for a full takeover at some stage and that the Norwegian business model is still unproven it thinks that Ryanair/Michael O'Leary has got it right by sticking to what it does best. (The Sunday Independent)
Hostelworld: While the current political climate is posing challenges for the travel sector, Hostelworld's CEO believes the company can navigate the headwinds. These are listed as currency volatility, geopolitical instability, slow economic growth and travellers' fears of terrorist attacks in Europe. Europe has been soft since 2016 although there was some recovery in 2017. (The Sunday Business Post)
Applegreen: There is an interview with Jacob Schramm, operations chief for Circle K (Alimentation Couche Tard) in Europe. The company has 2,754 convenience stores, many of them filling stations also, spread across nine countries in Europe and the company is this week kicking off a €20m rebranding of its Topaz business in Ireland (420 sites). He talks about the company's dual approach to protecting its existing carbon fuel franchise but also preparing for the change to electric cars. They have recently joined forces with Ionity (along with BMW, Daimler, Ford, VW, Audi and Porsche) to build a pan-European high-power charging network for electric vehicles to facilitate long-distance travel. (The Sunday Independent)
Economic events
13.30   US   Retail Sales
17.00   US   Fed's Kaplan & Kashkari speak
18.15   US   Fed's Bostic speaks