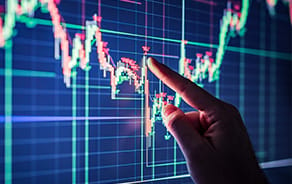 The main focal point for markets will be the publication of the January FOMC minutes.

These will be from Dr Yellen's last meeting at the helm of the Fed. They will no doubt reinforce expectations that the Fed is firmly on track to raise rates again under its new Chief Jerome Powell on the 21 March. However, with bond markets in particular jittery about Fed normalisation plans, any further hints that the Fed might be considering moving more aggressively than the Fed's 'dot plot' (3 hikes in 2018) implies could set off another wave of nervousness. In this respect the tone of broader US economic releases also remains important for global sentiment, although we note that the US data calendar is thinner this week, with the week curtailed by today's Presidents' Day holiday.
UK this week
UK focused investors will continue to closely track Brexit related news. Faced with widespread criticism that the government's plans for the next phase of Brexit talks are, at best, unclear, PM May and several ministers are set to deliver a series of speeches seeking to clarify the government's position, demonstrate that the Cabinet is unified and provide some impetus to allow PM May to move forward with transitional phase talks with Brussels. We can expect a substantial speech from May and other key Brexit ministers, probably following the planned gathering of the Cabinet at Chequers. For sterling and UK focused investors more broadly, that speech will be key in shaping sentiment amidst rapidly waning optimism that the UK will be able to reach a transitional arrangement deal over the coming weeks or even months.
Europe this week
In the eurozone, we are into the final run up to the 04 March Italian election. It looks highly likely that the outcome will be a hung parliament, raising the prospect that Italy may once again be faced with the prospect of a technocratic government if a 'grand coalition' fails to come together. Markets remain relaxed about this however, given that this is unlikely to lead Italy down the path of holding its own referendum on leaving the EU. Turning to data releases, the euro area calendar includes the 'flash' PMIs for February alongside the German Ifo survey. Finally, the euro area week ahead will include a discussion of the long-term EU Budget (technically the Multiannual Financial Framework), which may well carry repercussions for Brexit discussions. Indeed, it may strengthen the UK's hand, if it leaves the EU even keener to get its hands on any UK financial contribution to help fund its spending goals.
UK households feel the squeeze
Friday's reading of UK retail sales volumes rose just 0.1% mom in January (consensus 0.5%, Investec 0.3%) following a 1.4% drop in December. Excluding fuel, sales volumes were similarly up 0.1% (consensus 0.6%, Investec 0.4%) after having fallen 1.5% previously. Figures over the seasonal shopping period (i.e. November to January) have been distorted in recent years by Black Friday which has caused purchases to be frontloaded in November. Even so, the underlying trend was tepid with headline sales volumes growing just 0.1% in January on a 3m/3m basis, the weakest since April 2017. Weighing on headline volumes growth the most was a drop in predominantly food sales, while some offset came from stronger-than-usual sales of athletic apparel, suggesting the British public may have (somewhat unusually) remained steadfastly committed to their New Year diet and gym resolutions. Market reaction was muted in the wake of the weaker-than-expected figures, with 10-year gilt yields shedding just 1bp to 1.61% and GBP was broadly unchanged after having drifted down in the lead-up to the release.
Cairn Homes: Concerns raised about public infrastructure at Maynooth site
Cairn Homes raised concerns about the provision of infrastructure at its Mariavilla site in Maynooth, Co. Kildare at a meeting with the Department of Finance last November, according to documents obtained by The Irish Times. Irish Water, the semi-state utility with responsibility for the country's water infrastructure, told Cairn that there was supply capacity for just 40 homes at the site, according to the newspaper's report. We currently expect Cairn Homes to close the first of its units at the Maynooth site in FY19 and, as such, there is plenty of time for the company and Irish Water to resolve the issues at the site. We would also expect that at least part of the motivation on the part of Cairn of raising this issue with the Department was to encourage the public sector to address some of the blockages that are constraining housing supply.
HBRN: Marine House extension in the works?
The Irish Times reports that Hibernia REIT (HBRN) is planning to expand the footprint of its Marine House asset by c. 25%. HBRN acquired the 1970s era office building in March 2016 at a NIY of 4.3% (with significant medium-term reversionary potential) in a €26.5m transaction. Marine House is very attractively located near the Docklands, a favoured area for technology firms (it is next door to Velasco, a 51,000 sq ft office building occupied by Google). Marine House currently comprises 41,000 sq ft of office accommodation arranged over six floors above a double basement. According to the report, HBRN is planning to add 11,367 sq ft of space to the building in an extensive refurbishment comprising external and internal works, the addition of a glazed facade and a 3.5m extension. The REIT is also to reconfigure the building from 'own door' offices to a modern open plan layout.
Donegal Investment Group: €45-50m of cash to be returned through share buyback tender offer
On Friday afternoon, Donegal Investment Group (DIG) announced that it has received €41.5m in completion of the settlement of its shareholder oppression claim. A further €2.0m is to be paid on or before 15 February 2018 with a further €2.0m to be paid on or before 15 February 2020. As the company is in a "significant net cash position" it concurrently announced a return of between €45m and €50m in capital through a share tender offer following release of H118 results on the 19th of April 2018. It was noted that the shares will be acquired at a premium to the company's H118 expected NAV per share, which the Board currently estimates will be around €8.30. In addition, DIG has announced that it is reviewing its strategic plans for its specialty dairy business trading under the Nomadic Brand, in which it holds an 80% stake. On trading, the Board is satisfied with the performance to date with all businesses trading to plan.
ICG: Trade through Belfast grows by 3%
Trade through Belfast Harbour increased by 3% 23.7m tonnes in 2017. Within this figure RoRo traffic grew by 2%, while other categories like animal feeds and grains rose by 11%. Container traffic also grew by 1.6% to 125,000. While it is encouraging to see volumes grow, the level of growth remains below that seen at Dublin Port. For Dublin Port total tonnage increased by 4.3%, with RoRo units +5.0% and container freight +5.2%.
Grafton: Acquisition in UK
Grafton Group has announce the acquisition of 100% of Leyland SDM for £82.4m. The deal is debt and cash free and will be funded from Grafton's existing cash and debt sources. Leyland is London's largest independent specialist decorator's merchant (SDM) and has a network of 21 mostly high-street stores based in central London. Many of the stores are in prominent locations such as King's Road Chelsea, Kensington, High Street, Shaftesbury Avenue, Victoria, Clerkenwell, Notting Hill, Battersea, Clapham High Street, Putney. There is also a new distribution centre in Wembley. The business has been family run for c.30 years and services both trade professionals and DIY customers. Products sold include, paint, tools, ironmongery and accessories. Grafton considers the Leyland SDM business will complement the Group's larger Selco branches in Greater London.
Weekend Press Review - Economy, REITS, Builders, Banks...
Irish Economy: The latest Sunday Times poll shows that the main government party, Fine Gael, has opened up a commanding lead, with 36% support (+4pc). Fianna Fáil is -1pc on 25%, Sinn Féin -2pc on 16%, Labour -1pc on 5% and others flat on 18%. (The Sunday Times)
Banking sector: Mortgage sell-off is in doubt as Fianna Fail plays hardball. The move comes as Ulster Bank and AIB prepare large loan sales. The stance could halt PTSB's plan to sell 20,000 struggling mortgages (Sunday Business Post)
REITs: Shared working space giant WeWork is to take 10,000 sq m at the Dublin Landings development on the north quays at a rent of €538 psm. (The Sunday Times)
CRE REITS: It is reported that Core Industrial REIT has a pipeline of up to €220m of acquisitions under active consideration with around €14.5m currently under negotiation. The property investment vehicle is planning to raise €225m on the Dublin and London stock exchanges next month. (Sunday Business Post)
House builder sector: Dublin Chamber research suggests that constant intervention in the standards governing apartment building may be holding back development. It is reported that developers have withdrawn planning applications to include more units after new regulations were published. (Sunday Business Post)
FBD, RYA, Greencoat, CRH
FBD: The Irish Times reports FBD joins with An Post in new car insurance venture. The move is part of a plan by Post Insurance to more than double its share of the car insurance market. (The Irish Times)
Ryanair: Aer Lingus pilots vote for 11% pay increase over three years. A tribunal chaired by senior counsel Gerry Duncan recommended pay increases and more flexible work practices for Aer Lingus following a year of talks involving their union and the company. (The Irish Times)
Greencoat Renewables: Greencoat Renewables to buy wind farm for €22.5m. Irish renewable-infrastructure company Greencoat Renewables has agreed to buy Lidowney, a 9.2MW wind farm in Co. Kilkenny, for €22.5m. (The Irish Times)
CRH: Breedon Aggregates is in talks about the possible purchase of all or significant parts of Lagan Group (annual revenues £350m). (The Sunday Times)
Economic Releases
10.00      EC      Construction Output MoM/YoY
17.45      UK      BoE Carney speaking