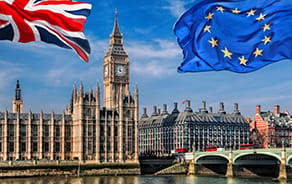 A 'no deal' Brexit could encompass a multitude of sins, from an agreement to trade on WTO schedules preceded by an implementation period, to (an extreme) complete standstill in relations between the UK and the EU.
These should not, in our view, be considered as the same scenario as they would have very different implications. But the general negativity of the headlines have rattled currency markets, with sterling being the main focus point. More recent media stories have reported a conditional willingness on the part of EU leaders to accept Theresa May's plan to aim for a free trade zone in goods, which could be discussed at a special EU Summit in Salzburg next month. This could help to stem further sterling selling pressure if repeated this week. In this sense we note that the EU/UK negotiations resume on Monday. In terms of indicators, Britain sees a busy week. In short, we expect; the unemployment rate to tick down to 4.1% in June, thereby establishing a fresh 43-year low; CPI inflation to rise to 2.6% from 2.4% as clothing price weakness fails to match that recorded a year ago; and retail sales volumes to drop back by a further 0.3% in July. But from the point of view of market importance, Brexit progress (or the lack of it) continues to outweigh even key data points.

US this week

The run of economic indicators due this week includes the NFIB, retail sales, the Philly Fed index and the University of Michigan consumer sentiment index. Our view continues to be that the FOMC will raise the Funds target range twice more this year, taking the number of hikes over 2018 as a whole to four. The Fed Funds futures strip is currently fully pricing in a third increase and views a 60%-65% chance of a fourth hike (to 2.25%-2.50%) by end-year. Markets will await a further steer from the Fed's Jackson Hole symposium on 23-25 August.

Europe & ROTW this week

Euro area releases are somewhat sparser. Tuesday's GDP revisions for Q2 (confusingly named 'Flash' estimates by Eurostat) should result in no change to the initial release showing a 0.3% gain on the quarter. First estimates of German numbers are due the same day. Final HICP data for July are released on Friday. All eyes will obviously continue to remain on Turkey and the emerging market contagion spread, we have a more detailed note below in our 'Thought of the Day' piece. Chinese market volatility has continued, largely prompted by continued tensions over trade with the US. Despite some respite in the most recent session, the Shanghai Composite index is down 15.5% on the year, while the currency (CNY) is trading at 6.82 (against the USD), just 2% or so from its lows at the start of 2017. In this respect markets will look closely at July's data on monthly activity (early Tuesday morning) to determine whether the signs of softness, evident especially in the investment data, are maintained. Last, we may see continued volatility in other currency markets such as Turkey and Argentina. We note that the Turkish Lira hit a new low of TRY5.50 against the dollar this afternoon.

Emerging market sell-off continues

Risk sentiment has soured further in this morning's Asia session with equity markets sharply lower, with a further sell off in Emerging Market currencies, not least the Turkish Lira. The Lira was hit on Friday by the defiant talk and lack of decisive action from the Turkish authorities and that has continued through the weekend. Turkish President Erdogan continued to urge Turks to take dollars, euros and gold held and convert it to lira to prop up the currency, whilst in an interview with the Turkish newspaper Hurriyet, Finance Minister Berat Albayrak said that "precaution and action plans" were ready and would be presented today. However despite this the mood was still one of defiance with Erdogan over the weekend describing the currency's drop as a foreign operation. The Turkish lira fell to a record low of 7.2362 to the US dollar (currently 6.657) whilst EM currencies were weak across the board with a sharp selloff in the Indian rupee, the Indonesian rupiah and, not least, the rand which fell sharply to its lowest level in two years at 15,5517 at its intraday low. Even the euro and pound were not exempt from the flight to dollars, with €:$ just a touch below $1.14 this morning and cable at $1.276.

Irish Economy: Construction PMI strengthens to 60.7 in July

The latest Ulster Bank Construction PMI shows an acceleration in the pace of growth in activity, with the headline PMI rising to 60.7 in July from the previous month's 58.4. The sector has now recorded 59 successive months of expansion. The strongest growth in activity was seen in the Housing segment, where the PMI firmed to 63.9 from the previous month's 60.4. There was a slight moderation to (a still high) 60.9 in the Commercial segment from June's 62.0, while the Civil Engineering segment returned to growth (53.7) following two months of modest contraction. The sustainability of this uptick in expansion of sector activity may prove short-lived, however, as growth in New Business slumped to a four month low in July, while the rate of growth in purchasing activity eased for a second month. Last week the SCSI warned of strong levels of construction cost inflation in Ireland, so we are unsurprised to see another sharp increase in input prices during July, with higher costs for insulation, steel and transport mentioned by panellists, along with higher staff costs. As we approach the five year anniversary of the current sequence of growth for the construction sector, the outlook for further expansion seems positive, given the structural undersupply of housing and buoyant demand for commercial space (notably office and higher grade industrial).

Irish Economy: New car sales -4.5% in the year to date

The latest Vehicles Licensed for the First Time release from the CSO shows that new car sales continue to struggle. The 20,743 new private cars licensed in July was 2.7% lower than the figure for the same month last year. In the year to date, new car sales are -4.5% y/y. Total car sales, which includes imported used private cars, were +0.7% y/y in the first seven months of 2018 as imports of second hand cars rose 11.3% y/y in the period. Some 1.8 private cars were sold for every one second-hand car in January – July 2018, which compares to the average ratio of 4.3:1 recorded over the past 20 years. A large element of the popularity of second-hand vehicles relates to sterling weakness, which incentivises motorists to seek bargains from dealers in Northern Ireland and Great Britain. Structural changes in the auto industry are also influencing this outturn, with sales of new diesel cars down 20.5% in the year to date – these accounted for 54% of car sales in the year to date, well down from the 65% share enjoyed in the same period of 2017. Sales of new electric and hybrid vehicles were +72% y/y in the opening seven months of the year, but with total sales of 7,324 units their combined share remains relatively modest, for now at least. Given the dynamics underpinning the new car sales market at this time, we do not view this series as accurately reflecting the underlying health of the Irish consumer. For this we look at ex-auto retail sales which, helped by strong growth in employment and rising wages, were +2.7% y/y in value terms in H118.

Aryzta: Highly dilutive rights issue announced

Aryzta this morning announced that it plans to raise up to €800m of equity capital to provide strategic and financial flexibility to implement its business plan. The money will primarily be raised through a rights issue with pre-emptive rights for existing shareholders. The proceeds will be mainly used to reduce debt. With year-end July, management also notes that Q417 trading was in line with expectations, with EBITDA expected to be in the €296 to €304m range, and confirms that it was in compliance with its covenants in FY18. Management also notes that it is committed to the previously announced deleveraging target of €1bn including at least €450m from disposals, including its stake in Picard. At the current share price, raising €800m would require the issue of c.117m shares implying a 126% dilution, a 10% discount would see this dilution rise to 130%. Previously we opined that given such a dilutive impact, Aryzta would look to renegotiate bank loans and covenants to help it work through the current balance sheet and on-going business difficulties. The Board and management, however, have obviously decided that a once off hit to the share price to provide substantial cash resources to deal with the debt overhang in one fell swoop is the best and more sustainable way forward.

Economic releases

09.00 IT CPI