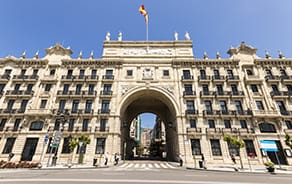 Within the euro area, the developing political situations in Italy and Spain (detailed note below) are set to remain in the spotlight.
Italian markets have endured a tough week with the FTSE MIB falling 3% and Italian 10-year yield spreads (over Bunds) widening 26bp to 191bp. Developments over the week have seen the President formally hand Giuseppe Conte the Prime Ministerial mandate, but the formation of a government looks unlikely after Italian President Matarella rejected (over the weekend) PM–designate Conte's candidate for finance minister – Paolo Savona, an avowed Eurosceptic. Political developments are therefore set to dictate Italian market sentiment still and may also influence wider eurozone markets. Away from Italy and Spain there are also a number of notable eurozone events. May's 'flash' reading of HICP inflation is set to be the pick of the data. After HICP inflation slowed to 1.2% in April, partly on account of Easter affected holiday prices, markets will be eyeing a rebound in May's figures. Final euro area manufacturing PMI numbers will also be published next week. The 'flash' estimates released last week posted another unexpected fall in the PMI. The details included in the final surveys may shed a little light on why they have continued to soften. Finally final estimates of Q1 GDP are due from a number of member states including France, Italy and Spain.
US this week
Over recent weeks there has been an increasing focus on US Treasury yields and the strength of the USD dollar. 10-year Treasury yields hit their highest level in seven years two weeks ago, whilst the dollar index printed its high for the year last Friday. One spillover of a firmer USD has been in Emerging Markets, where a number of EM central banks have had to intervene to support their currencies. For example Wednesday saw Turkey's central bank enact an emergency 300bp rise in its Late Liquidity Window rate (its main policy rate remained steady). Given this focus on US rates and the dollar, there are a number of key data points across the week which could drive further market moves. As usual the first Friday of the month is set to see the publication of the US non-farm payroll report. After last month's jobs gain of 164k, we are expecting jobs growth of 190k. The other key number to watch from the report will be the average hourly earnings figure. Aside from the labour report other important releases include the second estimate of Q1 GDP, Conference Board consumer confidence, PCE inflation (the Fed's favoured inflation measure) and the ISM index, all of which make for a busy US data calendar.
UK this week
The UK week is set to be shortened by the Late May Bank Holiday in the UK (and the US) on Monday. Through the remaining four days Brexit may see a renewed focus ahead of the 28-29 June EU Leaders' Summit. There have been some reports that talks with Brussels will begin again on Tuesday. Meanwhile the Tory party has been put on notice for an early June return of the EU Withdrawal Bill to the House of Commons after its spell in the Lords. On the data front key figures to watch out for include May's Manufacturing PMI, household lending figures and GfK consumer confidence.
 
ROTW this week
 
China should receive some focus as markets attempt to gain further insight into the health of the economy in the second quarter. Survey evidence in the form of both the Caixin and official PMIs is set to be released on Thursday and Friday. Finally on the monetary policy front the Bank of Canada is the only major central bank rate decision due.
 
Spanish developments
 
Markets in Spain took a hit on Friday as political concerns increase. Specifically the former Treasurer from the ruling centre-right Popular Party (PP) was sentenced to 33 years in jail on Thursday, following his role in a fraud involving the embezzlement of funds connected with public transactions. The PP itself has been ordered to repay €245,000 as a result of the scheme. This was followed by the main opposition Socialist Party (PSOE) threatening a vote of no confidence. Technically the government is a minority administration where the PP rules with support from other parties, but the PSOE requires the support of other parties to win the vote of no confidence. A key issue here is that PSOE is calling for its leader Pedro Sànchez to become PM if it wins the vote. The fourth largest party in parliament, the centrist Ciudadanos (Citizens), is calling for immediate new elections instead. We would argue that the political uncertainty in Spain is on a lesser scale to events in Italy, where the country may embark on a collision course with the EU. Opinion polls currently put Ciudadanos in front, the PP second, PSOE third and the far left Podemos (We Can) fourth. On this basis fresh elections would result in 'conventional' parties increasing their grip on parliament, albeit with no single party able to command a majority.
 
Global Cement and Concrete Association names Board: Albert Manifold/CRH first Chair

The newly founded Global Cement and Concrete Association (GCCA) has elected Albert Manifold, CEO of CRH, as its first Chairman. The association will focus on construction challenges and promote the use of cement and concrete as a building material. The initial membership of the association comprises ten companies; CEMEX, CNBM, CRH, Dangote, Eurocement, HeidelbergCement, LafargeHolcim, Taiheiyo, Ultratech and Votorantim. The initial Board appointments will be on an interim basis until formal elections take place at the first AGM in London in November 2018. The AGM will be accompanied by a high-level conference aimed at exploring ways to promote innovation in the construction value chain.
 
GRN: Westend Retail Park sale
 
Green REIT (GRN) announced on Friday that it has exchanged contracts for the sale of its Westend Retail Park in Blanchardstown, West Dublin, to a DWS real estate fund. GRN will receive a cash consideration of €147.7m for the asset, which is broadly in-line with the most recent valuation of €147.1m at end-2017. The sale is expected to complete by the end of June. Westend produced €8.5m of GRN's annual contracted rent (c. 11% of the group total) and it accounted for about a tenth of its portfolio GAV. GRN will use the net proceeds to reduce its rcf (€170m drawn at end-2017), therefore freeing up significant capacity to help it invest in its strategic land holdings at Central Park (office) and Horizon (logistics).
 
GRN/HBRN: Development devil is in the detail


The latest Skyline Survey from Savills suggests that only half of the 202 office buildings planned for Dublin over the next three years will actually be delivered. The survey, which maps developers' ambitions, estimates that 11.94m sq ft of new office space is envisaged for the capital by end-2021. At first glance, this is equivalent to a quarter of the existing stock, but it is important to note that 2.51m of existing stock will be refurbished or replaced if all of those schemes are to come to fruition. The report's authors, point to a historically "stark rate of slippage" with developers tending to overstate how much new space is brought on stream, with 2018 completions in the Dublin CBD only likely to come in at 45% of what had been forecast back in 2015, while expected 2019 completions are 17% below what had been projected in May 2017. There are 46 office schemes currently underway across Dublin which will deliver 4.5m sq ft of space between now and end-2020. Significantly, 42% of this space has been pre-let, with this high share reflecting lenders' understandable reluctance (given the lessons of a decade ago) to finance speculative schemes. A further 6.5m sq ft of potential development has planning but it is not on site – and it remains unclear if or when it will start.

Weekend Press Review: RYA, Economy, SKG, DHG, INM

Ryanair – Belgian authorities are looking into alleged breaches of employment at Ryanair's operation in Charleroi Airport. The inspectors are reportedly focusing on pilots' and cabin crew's status as independent contractors. Around 20 of the office's inspectors were said to have interviewed 60 Ryanair pilots and staff at Charleroi on Thursday night. (Irish Times)


Irish Economy – Sinn Féin, the country's third largest party, has made scrapping the government's rainy day fund (essentially, a sovereign wealth fund) a priority in any future coalition talks. An election is not due to be held until 2021, but given that the supply and confidence deal propping up the minority government rolls off later this year, a 2019 poll seems likely. (The Sunday Times)


SKG – IP's bid for SKG faces a make-or-break week, with pressure rising from institutional investors for the company to engage in talks, and calls from analysts for IP to hike its bid. (The Sunday Times)


DHG – Marlet is planning to build a 256 bed hotel, a 507 unit aparthotel and student accommodation with 638 bed spaces at Grand Canal Harbour, close to Dublin's Guinness brewery. In a reversal of that strategy, the same developer is also planning to deliver 164 apartments at the former Baily Court Hotel in Howth, North Dublin. Elsewhere, The Dublin Loft Company has acquired The Big Tree tavern in the north inner city, which it plans to replace with a new hotel. (The Sunday Times)

INM – Newly-appointed managing director of 'Publishing for Ireland', Richard McClean, is to meet editors and senior commercial executives at the media group next week. McClean, who was previously managing director of INM Limited (Northern Ireland), will hold a central role at the group under a new structure at INM. (Sunday Independent)


INM – In a sign of the difficult operating conditions faced by traditional media groups here, profits at DMGT's Irish titles halved to €950k in the year to end-October 2017 on turnover that was down a tenth to €15.8m. (The Sunday Times)

Economic releases
 
09.00 IT PPI MoM/YoY
 
UK Bank Holiday
US Bank Holiday