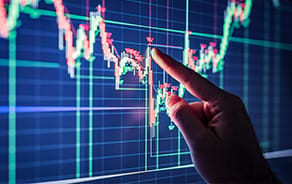 Weighing on markets at the end of last week was the decision by the US to impose steel and aluminium tariffs on the EU, Canada and Mexico.
Retaliatory measures of equivalent magnitude have been threatened, with some expected to be unveiled this week. US Commerce Secretary Wilbur Ross travelled to China on Friday for further trade talks however these ended unsuccessfully with China warning that should the US press ahead with its threat to impose tariffs on $50bn of Chinese imports, it would rescind its offers made in previous rounds. In terms of the release calendar, it is relative sparse, with the ISM non-manufacturing index and JOLTS figures being the only noteworthy releases.
 
Europe this week
 
Looking at the euro area data calendar, the services PMIs are out for May on Tuesday for a number of countries as well as the final composite PMI for bloc as a whole. This is followed by the second estimate of EU19 GDP on Thursday, whereas French, German and Spanish industrial production data for April round out the week.
 
UK this week
 
It looks relatively quiet over the coming week, with the highlight being Tuesday's services PMI which we forecast will edge up 0.4 points to 53.2 in May. Other scheduled releases have a distinct consumer focus; the BRC's retail health check, SMMT's new car registrations and the Halifax house price index are all due this week.
 
ROTW this week
 
Over in Asia, a revised estimate for Q1 GDP is due for Japan. Additionally, trade figures and services PMIs are out for both China and Japan. Finally, G7 finance ministers and central bank governors are set to meet today ahead of the main summit next Friday. Any comments regarding the future direction of monetary policy and recent movements in sovereign debt markets are set to be closely watched.
 
BoE's Tenreyro says UK can afford to leave rates on hold
 
In a lecture yesterday evening, Bank of England MPC member Silvana Tenreyro said that she believed a gradual tightening in monetary policy was needed but that the timing of any rate rises remained an open question. She noted that the inflationary impact of sterling's post-referendum depreciation was fading faster than the BoE expected, though highlighted that domestic costs were simultaneously picking up amid the tightening of the labour market. Tenreyro also argued that much of the weakness seen in the UK economy across Q1 was likely to be "erratic", though there was a possibility that there was some underlying weakness in demand. With regards to recent political uncertainty in Europe, she warned that the BoE needed to remain "watchful" of the global economy.
 
Building Materials: May UK Construction PMI unchanged from last month
 
The UK Construction PMI was maintained at the level seen in April, coming in at 52.5 for the month. In terms of the sub-components, Residential fell slightly, coming in at 56, with Civil Engineering also declining a little but remaining above the 50 no-change line. Commercial was responsible for the PMI being unchanged this month, as it offset the declines in the other subsectors at a level of 52. The PMI staying in expansion territory chimes nicely with commentary we've been seeing from companies on the UK construction market which is now a tad more optimistic than what we saw at the beginning of the year.
 
Ryanair: May traffic stats
 
Ryanair May traffic stats grew 6% to 12.5m customers with a load factor up 1% to 96%. Slightly disappointing numbers but explained by thunderstorms and ATC strikes in France with disruptions caused by air-traffic controllers leading to over 1,100 cancellations vs 43 in May 17. The increase in traffic was driven mainly by low fares.
 
INM: Small bolt-on acquisition; ODCE latest; Board changes
 
Just before the Bank Holiday weekend INM announced that its subsidiary Reach Group has acquired the remaining 50% stake in Reachmount DAC, trading as Reach Retail Services. The group has also outlined a number of board changes, while the High Court has dismissed its application regarding the ODCE investigation. To start with the acquisition, Reach supplies packaging materials to convenience stores and forecourts, such as branded shopping bags and coffee cups, paper napkins, containers for food-to-go offerings and till rolls. No information has been provided on Reachmount's financial performance. Reachmount sits inside INM's Newspread distribution division and this deal follows the Hegadon/Supreme Stationery acquisition (for a maximum €4.7m, of which €0.2m is deferred) that closed earlier this year which gave the group a >20% share of the stationery retail market. Separately, INM yesterday detailed a number of changes to its board to ensure ongoing compliance with the Board and Committee composition recommendations of the UK Corporate Governance Code. This follows the departure of two non-executive directors from the board in recent weeks. Finally, on Friday INM's application to have the ODCE's decision to appoint inspectors to the company overturned was dismissed by the High Court. This news did not come as a surprise (indeed, the share price barely budged on Friday amid low volumes). No date has yet been set for the ODCE's application to the High Court for the appointment of inspectors, although it is likely to happen in the current weeks (the Trinity sittings run to 31 July, before the Court goes on its summer break until the start of the Michaelmas sittings on 1 October). INM says that it will consider Friday's ruling "and the further action that the company might take in the interests of the company and its stakeholders".
 
Gaming : Press speculation regarding legislative approval for gaming in NJ
 
Following the recent repeal of PASPA the NY Post and others are reporting that New Jersey will legalize sports betting by the end of this week. The legislature is expected to pass on Thursday, which will then be signed into law shortly after. Elsewhere Delaware plans to start taking sports bets from today.
 
Economic Releases
 
09.00 EZ PMI


09.30 UK PMI


10.00 EZ Retail Sales


11.00 UK BoE MPC Member Cunliffe Speaks


14.45 US PMI