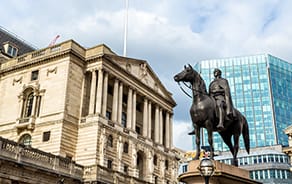 After a period when market attention has been fixed on politics, central banks take centre stage this week.
The ECB meets on Thursday in Latvia and while a timetable for higher rates remains off the schedule for now, we expect a serious discussion about winding down QE over Q4 this year. Several senior Governing Council (GC) members have made upbeat comments over inflation converging towards the central bank target (voicing their views just ahead of the week long purdah period). But evidence on economic activity is unconvincing and we doubt the GC will want to commit itself to halting asset purchases at this stage. To our minds a more likely option would be to stress that this remains on the cards, but that a final decision will be taken at the 26 July meeting, subject to the economic data. Industrial production data for April through the course of the week (including German figures on 08 Friday, not known at the time of writing) will give us some idea of growth dynamics at the start of Q2.
 
US this week
 
In the US, the FOMC's decision, on Wednesday, should be somewhat easier. With economic momentum being maintained, the labour market tightening and core inflation measures firming, we still predict a 25bp increase in the Fed funds target rate range to 1.75%-2.00%. At the same time we also expect a technical adjustment in the sense that the IOER (interest on excess reserves) rate will be raised by a slightly smaller 20bps. This is due to the tightness of market conditions prevailing at the short end of the yield curve. On the basis that markets have taken this into account, the hike in the funds target is fully priced in. The committee seems set to stand by its strategy of gradual increases, although it is feasible that its 'dot plot' signals four rises in total this year from three in March. Also the Fed is likely to step up the pace of its balance sheet contraction to $40bn per month (with effect from July) from $30bn, as planned. Chair Jay Powell will have the opportunity to elaborate at his second post meeting press conference. A few key US indicators are also due for release. These include the CPI (Tuesday), retail sales (Thursday) and the University of Michigan consumer sentiment index (Friday). It's also worth noting that we have the much anticipated US/N. Korean summit due to take place in Singapore tomorrow, let's hope the current positive tone remains throughout the proceedings.
 
UK this week
 
The forthcoming Bank of England MPC announcement is not until 21 June but the next critical meeting will be on 02 August with data between now and then helping to shape expectations of the timing of the next increase in interest rates. In this respect this week sees some important indicators which may help to address the question of the extent to which the pace of activity has stepped up a gear, following a disappointing Q1. In summary we expect a rebound in manufacturing output, a further increase in retail sales and a small rise in regular (i.e. ex-bonus) pay growth. Also our forecasts suggest a tick up to 2.5% in CPI inflation, in part due to higher petrol prices. There will be little if any let up in the UK Brexit soap opera, following a (last minute) agreement in the UK's backstop proposal on the NI/RoI border issue. The EU Withdrawal Bill is set to return to the Commons on Tuesday and Wednesday, with the government trying to overturn up to 15 amendments from the House of Lords. In particular the debate on the Lords version of a 'meaningful vote' could prove problematic for the PM.
 
Italy's finance minister vehemently stands by euro
 
Italy's newly appointed finance minister has said that the new government was "clear and unanimous" in its desire to keep the country inside the euro. Speaking in an interview with Italian newspaper Corriere della Sera on Sunday, Giovanni Tria asserted that "there is no discussion of any proposal to leave the euro. The government is determined to block in every way possible market conditions that would push toward an exit,". The comments are in stark contrast to the those of Paolo Savona, an ardent euroskeptic who had previously called the euro an "historic error". Savona, initially named as finance minister by the new 5-Star Movement and Lega Nord coalition government, was eventually handed a less important duty in government after his nomination was controversially rejected by President Mattarella. Tria went on to add "not only do we not want to leave the euro; we will act in such a way that there are no conditions approaching that could put into discussion our presence in the euro".
 
Irish Economy: A hat-trick of good PMI readings



The Ulster Bank Construction PMI for Ireland strengthened to 61.8, its fastest for a year, in May, from April's 60.7 out-turn. The sequence of growth for the industry now extends to 57 months. Growth was concentrated in the Housing (65.2) and Commercial (65.6) segments in May, with the Civil Engineering (48.8) component contracting for the first time in six months. New Order growth has picked up to a one-year high, fueling strong job creation and input buying in the industry. However, we note signs of capacity issues in the industry with elevated cost inflation while delivery times continue to lengthen. All three Irish PMIs recorded stronger growth in May, which suggests that the economy picked up a gear in Q218 following the weather-related disruption in Q1.
 
ICG: Stena Line confirms three of six ordered ships planned for Irish Sea
 
ICG's chief competitor, Stena Line, has confirmed that three of the six ships it currently has on order with a Chinese shipyard will be destined for the Irish Sea in 2020 and 2021. One of these new ships will operate Dublin-Holyhead while the other two will be deployed onto Belfast-Liverpool. This announcement does not come as a surprise as Stena had placed the original order with the Chinese shipyard some time ago and even when ICG management announced its own additional capacity for Dublin-Holyhead last year it indicated that it would continue to target ~50% market share. As such it assumed that its competitor would add capacity at some stage too. Stena's new ship for Dublin, the E-Flexer will replace the Superfast X, currently providing a midday sailing. The new ship will have 3.1km of lane metres compared to 1.9km for the Superfast, 4.1km for ICG's Ulysses and 5.61km for ICG's new ship (Build 2) which will also be deployed in 2020.
 
Weekend Press Review: GLV, CRN, INM, Banks, DHG, PPB
 
Glenveagh Properties: The homebuilder may be hit with a vacant site levy of €210k next year as its site at Blackcastle Demesne in Navan has been placed on the vacant site register by Meath County Council. Given that Glenveagh acquired the site less than a year ago, and it is currently building and selling 274 homes at Cois Glaisin in the same town, we suspect it may have grounds to appeal the imposition of a levy to the local council. (Sunday Business Post)
 
CRN/GLV: Developer Michael Cotter is in talks with the State planning board about a fast-track application to build 341 residential units and a creche at Glencairn, South Dublin. Elsewhere, Ziggurat is planning to develop 394 student accommodation units at Galway in the West of Ireland. (The Sunday Times)
 
INM: Kilcullen Kapital Partners, the investment vehicle of businessman Enda O'Coineen, has emerged as a bidder for The Sunday Business Post newspaper, which has been on the market since last year. (The Sunday Times)
 
Irish Banks: Data supplied by the Department of Finance show that credit unions are paying between 4% and 5% of their incomes into no less than eight separate rescue and stabilisation funds. The Central Bank of Ireland has projected that half of the country's credit unions will lose money this year unless investment returns improve. (The Sunday Times)
 
DHG: Fast food magnate Pat McDonagh has bought the Athlone Springs Hotel in the midlands for almost €4m. The 68 bedroom 4 star operation brings his portfolio of hotels to five. McDonagh says that he is open to buying more hotels "if the right opportunities come along". (The Sunday Times)
 
Paddy Power Betfair: Paddy Power Betfair confirmed on Friday that it has signed deals to provide mobile and online sports betting with New Jersey's Meadowlands racetrack and Tioga Downs Casino in New York. Under the deal's terms, Betfair US will offer customers in both states sports betting "pending legislative and regulatory authorisation". Kip Levin, chief executive of Betfair US said that Meadowlands had the potential to be among the best sports betting venues in the US. New Jersey's legislature passed a law legalising and regulating sports betting late on Thursday. It now goes to the state senate and ultimately to governor, Phil Murphy. (Irish Times)
 
Economic Releases
 
09.30 UK Trade Balance


09.30 UK Industrial Production


09.30 UK Manufacturing Production


16.00 EC Merkel meets IMF's Lagarde