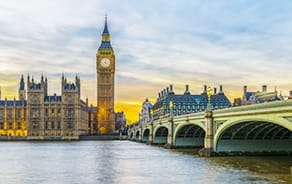 In the UK, the House of Commons rose for its summer recess last week after a tumultuous few weeks.
Still the Prime Minister won't be able to avoid the limelight completely as she is set to visit a number of EU capitals in August to try and progress Brexit negotiations. When MPs return in September, Mrs May will face the challenge of pushing contentious Brexit legislation through the Commons, a more difficult prospect after her majority was eroded by the suspension of the DUP's Ian Paisley Jr. Highlights of the UK data calendar next week include Bank of England net mortgage lending and consumer credit figures, GfK consumer confidence and the various PMIs. Still, the main event will be on Thursday when the Monetary Policy Committee will announce its rate decision alongside updated economic forecasts published within the Inflation Report (IR). With the economy having evolved broadly in line with the May IR projections, we expect policymakers to vote 8-1 in favour of a 25bp hike to 0.75% with Sir Jon Cunliffe acting as the sole source of dissent.
 
Europe this week
 
The Euro opens the week on the back foot following Draghi's reiteration that rates would remain unchanged through the summer of 2019. In terms of data this week, the key Eurozone release will be the 'preliminary flash' Q2 GDP release on Tuesday, which we expect to show that growth has firmed from +0.4% (qoq) to +0.5%. Published alongside this will be the flash HICP figures for July and the unemployment rate for June, with the final PMIs for July released later on in the week.
 
US this week
 
In US markets, the tone has been set by last week's strong GDP print, with the 4.1% quarter on quarter growth the strongest experienced in the US for nearly 4 years. Though this should make the FOMC more confident in pushing on with a gradual path of policy hikes, we expect the committee to stand pat on Wednesday. Data releases next week include PCE inflation, ISM numbers and consumer confidence. Capping off the week will be Friday's jobs report, which we expect will show a 195k payroll gain with the unemployment rate falling from 4.0% to 3.9%.
 
Rest of the World this week
 
In addition to key central bank meeting the US and UK, markets will be keeping a close eye on the Bank of Japan's announcement tonight amid reports that suggest the central bank is considering tweaking its asset purchase programme and/or wider policy toolkit. The Japanese government has capped the yield on its 10 year bonds at 0.10%, but markets have been testing this level in the past week, forcing the BOJ to purchase bonds. Such speculation has seen a broad-based rise in 10-year sovereign yields, with 10-year Treasuries testing 3.00% and Bunds back at 0.40%. Data releases include the PMIs for China as well as Japanese industrial production.
 
Italy Backs Brexit: Salvini Accuses EU of "Swindling" the UK
 
Matteo Salvini, Italy's deputy prime minister accuses the EU of swindling the UK on Brexit. In an exclusive interview with The Sunday Times, Matteo Salvini urges Theresa May to adopt a tougher stance in her Brexit negotiations with the EU, saying "My experience in the European parliament tells me you either impose yourself or they swindle you." Salvini urges Theresa May to be prepared to walk away without a deal stating: "Because on some principles there is no need to be flexible and you should not go backwards.
 
Bank of Ireland Group: H1 a beat on underlying costs and large write backs, offers tangible evidence of initial delivery on CMD strategy
 
Bank of Ireland have reported profit before tax of €454m (€500m pre-exceptional items) this morning, ahead of expectations, with unadjusted EPS 32.5c, and underlying EPS 36.1c. No interim dividend. Income was a bit mixed with NII €1,095m slightly ahead but Other Income €322m a bit behind (due to soft Retail Ireland figures and some negative balance sheet items). NIM came in at 223bps (though underlying NIM was 226bps, offset by NAMA sub debt headwind of 3bps). Net loan book growth of +€0.5bn to €76.6bn, with new lending +16% y/y and all divisions performing solidly on volumes, and Irish mortgage market share stable at 28% for H118 despite the mortgage price cuts announced by the rest of the market. Total costs €1,000m, but within this underlying op-ex was €5m or 0.5% lower y/y and €27m or 3% lower vs H217, with staff costs €21m or 6% lower y/y and €28m or 8% lower vs H217, as staff headcount fell c.500 or 4.5% vs H117 and by 380 or 3.5% vs end 2017. Management expect a tailwind on cost reductions into H218 as well. However, a higher depreciation cost offset these staff cost savings. A €51m income statement expense on the transformation investment was slightly below expectations but also another smooth evolution of investment in the programme.
 
The total spent on the investment programme totalled €141m for the period (in line with recently upped €275m annual guidance) when the capitalised (€39m) and exceptional item (€51m) lines are included. Fully loaded CET1 grew to 14.1% from 13.8% at FY17E (or 13.6% at January 1st after -20bps IFRS9 impact), with this including the +90bps of organic capital creation and -20bps of accrued dividend over the period, this equivalent to a 14c DPS on an annualised basis. Management has also disclosed that the confirmed impact from TRIM in H218 will be 70bps. Management has said a range of potential options are available to offset this impact, should that be deemed appropriate (in particular how they will approach NPEs). NPEs fell by €0.6bn or 10% during the quarter, now sitting at €5.9bn or 7.5% of gross loans. A net impairment write back of €81m was better than the consensus expectation of a net impairment charge of –c.€75m, and management believe the strong economic backdrop should see a positive impairment credit for the FY.
 
Economic releases
 
09.30 UK BoE Consumer Credit
10.00 EZ Consumer Confidence
15.00 US Pending Home Sales