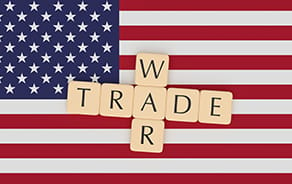 US & Mexico reach trade agreement
The US and Mexico have reached an agreement on a new US-Mexico trade agreement, in what looks to be a step away from the North American Free Trade Agreement (NAFTA) with Canada still refusing to back down on key US demands in talks.
Whilst this is progress on one front, it does little to alleviate concerns over the US throwing its weight around broadly on the international trade front, particularly with Canada left outside of the deal and with US-China trade talks having made little progress last week. US Congress also still needs to vote on the new US-Mexico agreement, whilst it remains to be seen whether Canada can be brought inside too. For now, Asian equity markets look to have benefited from the news, though over a longer timescale we would expect concerns over 'America First' rhetoric to continue.

EUR/USD correction continues

Just over a week ago the benchmark EUR/USD rate was languishing at close to 14 month lows of in/around 1.1350 as the flight to the dollar safe haven peaked after the Turkish/EM wobble of the previous week. Now with Turkey seemingly out of the headlines (for the moment), US & Mexico jumping back into bed and a less hawkish Fed at their annual Jackson Hole gig, the EUR/USD has thrown in a remarkable comeback. As this dollar move still looks to have some legs on it, it's worth noting that the EUR/USD rate ran into some heavy resistance in the mid/high 1.17's right through the month of July. During the period of 6th of July to 31st of July the rate topped out anywhere between 1.1739 and 1.1791 on 10 separate days, needless to say the FX markets will be keeping a keen eye on those levels if/when we reach them.

EURGBP at 50 week high as "No deal" talk continues to dominate

The "No deal" headlines continued to weigh on the pound yesterday and overnight with EURGBP reaching a 50 week high after breaking the 0.90p level earlier this week. The latest push comes as France joined the UK and EU in stating that it was preparing its own contingency plans for a no deal Brexit. Theresa May's attempts to calm the current focus on the prospect of a no deal was also counterproductive as her claims overnight that the UK could still make a success of Brexit without a deal, and that a no deal scenario would still be better than a bad deal only served to further focus attention on the lack of progress in negotiations with the EU.

EURGBP remains a distance away from our own No deal scenario, which we believe could see EURGBP trade above 0.97 and possible match all-time high's in EURGBP reached at the height of the global financial crisis. However, if UK politicians (and markets) continue to fixate on the likelihood of crashing out of the EU without and agreement, and negotiations continue to produce little tangible results, EURGBP could continue to creep higher particularly as we approach the EU summit on 18th October.

Dalata: Dublin room deficit to persist beyond 2020

A new report from Failte Ireland, the State's tourism development body, has found that the supply deficit in visitor accommodation in Dublin will persist into 2020, in contrast to its findings one year ago which indicated that Dublin would have a surplus of rooms by 2020. Failte Ireland, in conjunction with Fitzpatrick Associates Economic Consultants, first examined the supply of visitor accommodation in Dublin in June 2016 and has published updates in 2017 and 2018. Despite a significant increase in new room supply set to come on stream by the end of 2020, which the report puts at a net 4,900 and is modestly higher than the 4,200 new rooms projected in 2016, stronger than expected demand from overseas tourists is the main driver of these revised projections. Failte Ireland now estimates the Dublin room shortfall to be 3,400 rooms in 2018, before reducing to 2,400 rooms in 2019 and 1,100 in 2020. Last year's report projected the supply shortfall to be closed by 2019 before moving to a surplus of 1,140 rooms in 2020. Furthermore, the updated projections do not take into account what it terms "supressed demand" – the scale of potential business lost due to the non-availability of accommodation at peak periods.

Economic releases 

12.00     EC ECB's Praet speaking
15.00     US Richmond Fed manufacturing index