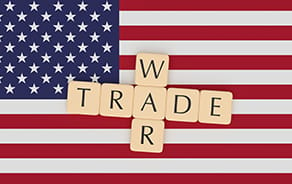 The US administration announced yesterday that it would start to levy the tariffs on steel and aluminium on the likes of the EU, Canada and Mexico, bringing an end to their temporary exemptions which have been in place since plans for steel and aluminium tariffs were first outlined back in March.
As such, they will now face a levy of 25% on steel and 10% on aluminium. South Korea will be made exempt from steel tariffs after agreeing to a quota of 70% of 2015-17 average exports to the US, but will nevertheless be subjected to the aluminium tariff. As one would expect, we have seen these countries fire back with threats of retaliation. In particular Canada and Mexico have detailed plans to retaliate; Canada, the largest supplier US supplier of steel, will impose tariffs covering C$16.6 billion on imports from the US, including whiskey, orange juice, steel, aluminium and other products. European Commission President Jean-Claude Juncker has also made it clear we can expect a robust response from the EU. The US administration is clearly hoping that the removal of the exemptions will push the likes of the EU and NAFTA nations to be more responsive to US demands. However NAFTA talks remain stuck, with the US continuing to demand any new trade arrangement comes with a sunset clause, something Canada views as wholeheartedly unworkable. It is also not clear, how quickly discussions with the EU can progress and therefore how long these tariffs, in their current form, will remain in place.
 
Italy
 
After a week of uncertainty Italy finally got some definitive news on a new government. Following Thursday's discussions between Luigi Di Maio and Matteo Salvini, it was announced last night that the two parties would be forming a coalition government, one which has been accepted by the President, after the two parties dropped their call for the anti-Euro Paolo Savona to act as Finance Minister. The new government is set to be sworn in later today (around 4pm local time), with a confidence vote in both the Chamber of Deputies and the Senate early next week, either Monday or Tuesday. In terms of the government makeup, 5 Star and the League have stuck with their original choice of Prime Minister, Giuseppe Conte. The heads of 5 Star and the League will both act as Deputy Prime Ministers, whilst they will also take key cabinet positions as well. Salvini will be Interior Minister and Di Maio will lead a new combined Labour and Industry Ministry. Giovanni Tria will be Finance Minister replacing the populists' previous choice of Paolo Savona, who will still receive a cabinet position in the form of European Affairs minister.
 
Spain update
 
The no-confidence debate in parliament on PM Rajoy continues. In terms of the likelihood of the motion lodged by Socialist Party leader Pedro Sánchez passing in the planned vote today, the arithmetic remains perched on a knife-edge. Spanish media sources suggest the 5 MPs from the moderate Basque Nationalist Party will vote for in favour which, unless Rajoy resigns first, would almost certainly ensure a defeat for the ruling PM. As we mentioned earlier, in terms of economic policy, a change in government would probably not entail a lurch in another direction – Sánchez has pledged to maintain the existing budget ahead of fresh elections, possibly in a few months' time. However one wonders what price Catalan nationalists may have extracted to support the vote, which takes place today.
 
Irish Economy: Manufacturing PMI at a three month high of 55.4
 
The latest Investec Manufacturing PMI Ireland report shows that overall business conditions continued to improve in the sector during May. The headline PMI ticked up to 55.4, a three month high, from April's 55.3 reading. A key positive from the latest survey was a marked acceleration in the rate of growth in New Business, which rose at its fastest pace since January amid stronger demand from both home and abroad (growth in New Export Orders recovered after a sharp moderation in April). Despite this stronger demand, Backlogs of Work rose only modestly. This was, we suspect, largely due to the utilisation of inventories to meet customer orders (Stocks of Finished Goods depleted for a third successive month), as the rate of increase in the Employment index slumped to an eight month low. The report also shows that inflationary pressures remain very high for Irish manufacturers, with the latest rise in Input Costs driven by rising oil, plastics and metal prices. Companies were, however, able to pass some of this cost pressure on to end-customers, but this wasn't enough to prevent a fourth successive sub-50 reading for the Profits index. Notwithstanding this margin pressure, firms remain very upbeat on their prospects, with close to three-fifths of panellists expecting to see a rise in output over the coming 12 months. This confidence was linked to expectations of increases in New Orders, particularly from overseas.
 
Irish Banks: CBI warns on potential counter cyclical capital buffer use
 
The Deputy Governor of the Central Bank of Ireland, Sharon Donnery, yesterday suggested that the CBI should look to set a positive countercyclical capital buffer (CCyB) sufficiently early in the economic cycle, in order to build resilience and mitigate pro-cyclicality in a downturn. The CCyB has been set at 0% since its implementation in 2016. We note the recent increase in warnings from the CBI on the dangers of the Irish property sector overheating (Governor Philip Lane noted the risks of another property price crash in the coming years in some comments he made earlier this month), given the significant increases seen in property prices and rents in recent years, and the accompanying increase in new residential mortgage lending alongside it. As such, a discussion as to whether policy needs to be enacted to rein in any potential credit-inspired excesses is entirely appropriate. However, we would note that while the growth in new lending remains high (new mortgage lending increased by 29% in 2017) the stock of total lending has only begun to stabilise, having fall by over half since the 2008 peak (according to CBI adjusted calculations for this measure of private non-financial sector credit stock). This sees nominal new mortgage lending of €7.3bn in 2017 at less than 20% of peak lending volumes (€40bn in 2006), and still significantly below the €12-14bn that we would perceive as being a 'normalised' level of activity. Additionally, the CBI's own calculations for the current credit gap in the Irish economy (the difference between credit as a % of GNI and the estimated trend level of credit-to-GNI) remains highly negative (-80%) and supportive of a zero CCyB. Other indicators which are used to inform the calculation of the CCyB such as long term average property prices, credit growth, measures related to bank balance sheet strength, and household debt service metrics would all also support a continuation of the 0% CCyB, albeit some of these metrics have shown signs of potential initial excess. The CBI's current rules-based analysis supports a continuation of a zero rate CCyB. However, yesterday's comments suggest the CBI may be minded to act earlier than previously expected if its analysis starts to show signs of the credit gap and other related economic metrics starting to tighten.
 
Economic releases
 
09.00 EZ Manufacturing PMI

09.30 UK Manufacturing PMI

13.30 US Nonfarm Payrolls

13.55 US FOMC Member Kashkari Speaks

14.45 US Manufacturing PMI

15.00 US ISM Manufacturing PMI