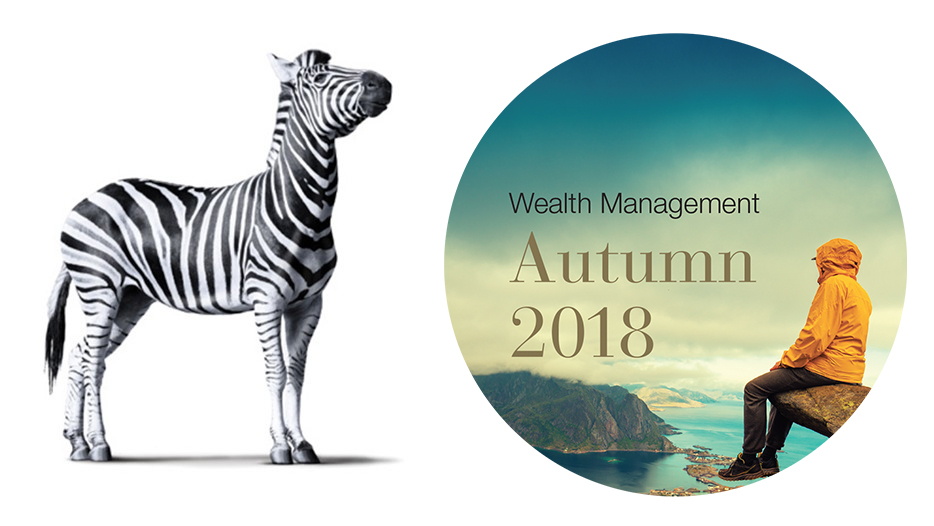 Wealth Management Autumn 2018
As we move towards the end of the third quarter of 2018, once again we have seen global equity markets climb the proverbial 'wall of worry'
At the time of writing the global equity market is up c.7% year-to- date in euro terms, which comes against a backdrop of generally bearish media commentary. As always, we accept our inability to predict the short-term and remain focused on the areas where we believe we can help our clients achieve their long-term goals. In this respect, high-quality, diversi ed portfolios will continue to deliver satisfactory long-term returns – as long as we can tune out the distracting background noise. 
We are looking forward to hosting our Annual Investment Conference in Dublin on September 19th and, with the conference theme of 'disruption' in mind, we have some interesting pieces on that theme in this edition. On page 04, our Head of Investment Strategy Ian Quigley gives a general overview of how we are seeking to ensure that our clients' portfolios aren't left behind in this fast-changing environment of technological progress. Moving on to some speci c areas of technological disruption, we are delighted to feature the two guest speakers at our conference: On page 08 Baillie Gifford's Gary Robinson outlines the extent to which technological progress is impacting the global economy; and Paul Major of Bellevue Asset Management discusses the remarkable advances that are occurring in the healthcare space on page 12. 
Back to some of our regular themes, on page 32, our Head of Tax & Financial Planning Andrew Fahy reminds us that 'wealth management' isn't just for the super-wealthy. On page 24, our Head of Retirement Planning Joe Hanrahan examines the special circumstances that apply to the retirement options for professional athletes. Investec Wealth & Investment's Louise Savage covers the critical area of long-term retirement planning, and the importance of seeking quality advice in respect of formulating a robust plan on page 28. 
On page 20 our Chief Economist Philip O'Sullivan has used census data to create a fascinating piece on the changes in our country between his own birth in 1981 and the birth of his son in 2016. Helen Fitzgerald from the Specialist Lending team highlights how her team have the ability to provide bridging nance for residential property purchases on page 16. On page 36, Alan Harrison from Investec Treasury reminds us that Irish corporates will have to think about protecting against rising nominal interest rates as the ECB hint at a rate hike in the not-too-distant future.
Finally, as the Ryder Cup approaches, who better to speak to than Paul McGinley, the winning Captain in 2014 and a lynchpin of the victorious European teams of 2002, 2004 and 2006. Nobody knows more about the Ryder Cup than Paul, and we were delighted to be able to pick his brain in advance of this year's showdown at Le Golf National (page 40). 
I hope you find this edition an engaging read; as always, get in touch with your questions, opinions and feedback. 
View full PDF here.